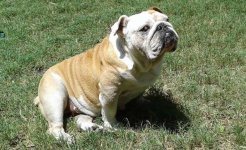 Please welcome Senior Saint Mae to the Lone Star Bulldog Club Rescue family. Many thanks to our volunteer Mary who picked up Mae from a local shelter today. Mary says Mae has lost many of her teeth. Her eyes are cloudy and it appears she's had several litters. She weighs only about 30 pounds, according to the shelter. Stay tuned for more details about Mae.
2/1/16 Update: Poor poor little Mae. I picked her up at the shelter Saturday and have never seen a more emaciated bulldog. It looked like someone had hooked her up to a vacuum sealer and took ALL the air and life out of her. I was amazed she could even walk. She couldn't see well as her eyes were all matted with green gunk…..but that little tail was just spinning 90 to nothin! Mae went to see Dr. Randy this morning and she has a few issues we need to get cleared up and she needs to put on some weight. She'll be spayed on the 19th. She looks like she has had a litter(s) of puppies but there is no c-section scars(?). We received meds for yeast infected ears..abraded corneas plus dry eye. AND she does have her teeth….they are just worn completely down to her gum line, but it doesn't hold her back from eating at all. I'm feeding her 4 small meals a day to not overwhelm her body. We'll give her time before I say she may need to be an only dog. She is very aggressive with my other bully (and Bylthe will fight back) but Mae can't do any damage with no teeth! She does sometimes try to start with the big dogs but they just walk away. A spray from the water bottle calms her down.
Mae has the most beautiful face and eyes and will follow you every where. If you come to her she'll cower down and flop over for you to rub her belly. So we have a little work to do, but soon Mae will be waiting for her perfect family!
2/4/16 Update: Prayers are needed for foster girl Mae! She's currently at the vet clinic being treated for pneumonia. We believe she'll be there for at least 3-4 days for aggressive antibiotic fluid therapy. Thankfully, her blood work looks OK and she doesn't appear to have any kidney or liver issues. Mae is an older girl, so she needs all the well wishes and prayers you can send. Stay strong, Mae!
2/6/16 Update: Mae was released from hospitalization after 3 days intensive treatment today. She had a pneumonia with aspiration with perfuse lung involvement. She was on IV drug and hydration therapy with nebulizer and coupage tratments 3 times daily. She NEVER lost her appetite and have even gained 2# since picking her up last Friday I can continue nebulizer and coupage tratments at home while giving her crate rest for another 10 days…then she goes back for reassessment. Mae is strong and a fighter and has the most sweetest little face…..she will make any family fall in love with her and five her the BEST forever.
2/7/16 Update: Little Lady Mae is on the mend. This poor little girl could eat her way through a 30 pound bag of food in one day if she could. She's timid, but she's getting confidence and has had no accidents in her crate. She's getting tired of bed rest, I think… barking at me several times today to let her out and I can't say no. Hopefully, at her checkup next week, we'll get a spay date and she'll be on her way to her new life.
2/15/16 Update: Mae is starting to NOT looked like a piece of shrunken dried up leather. She eats 4 times a day and is always ready for more. Mae is smart and knows the food closet and where the treats are kept, and has no problem with trying to help herself by climbing to get something if she feels the need. With that pretty little cherub face, you can't get mad at her. She'll just do her wiggle dance and roll over and give you a belly rubbing wiggle too! Mae is feeling better everyday and is almost finished with all her meds. She has a recheck this Friday.
2/24/16 Update: Little Miss Mae is well on the road to recovery. She has gained 4 pounds since we pulled her from the shelter and is starting to look like a Bulldog, instead of a shrunken piece of hide. Mae knows her feeding times and waits patiently on the kitchen mat hoping to make it come sooner. Since Mae came in heat this week, it'll be at least three weeks until we can get her spayed. Then she'll be ready for her forever family. Mae gets more confident every day.
3/21/16 Update: Little Miss May is doing well and has gained weight fantastically! She now looks like a Bulldog. May is so cute and funny….she reminds me of a shuffling, little old lady….who TOOTS the whole way….ha..ha..ha. She has the LOUDEST and LONGEST TOOTS …..you'd think she was standing right beside you and she's sleeping in the OTHER room! And the…y dont embarrass her at all….she will take a treat or loving and toot the whole time.
I've reduced her feedings now to 3 times a day since she's looking so good….hopefully, that might reduce the passing air. May sounds like an old, rusty lawnmower when she snores too. May loves to lay out on the back porch and sun herself or curl up with one of the big dogs and take a nap. She's just an old curmudgeon, and you can't help but love that beautiful little face (after you clean out all the eye boogers).
May goes for her spay this Friday and she will begin earnestly looking for her furever home.
3/25/16 Update: I dropped little Miss May off at the clinic this morning for her spay. She was not impressed with the no breakfast thing! She followed close on my heels all morning, as if to say, "Hey! I'm here. Did you forget something? Tummy's talking!"
3/27/16 Update: Little Miss Mae did well with her surgery Friday. She was very sleepy coming home that afternoon buy was ready to EAT after 6p…lol! Saturday morning Mae was back to her old self and NOT happy with the crate confinement. Mae's jiggly bits are shrinking up nicely but dont allow much air yet to her tummy sutures…..thinking about "tapeing things UP" to allow more air circulation! Since Mae and my other bully dont see eye to eye most days she'll have to be kept crated for at least 5 days….dont want any issues with bleeding or stiches. It just breaks my heart to see her alone in the crate. So Mae is just hanging and enjoying a little sunbathing time in the afternoons….patiently waiting for her suture removal and meeting her furever family. another bit of good news is that she has gained 12 pounds and is now up to 42 pounds and looks so much better.
5/1/16 Update: Life is a set a challenges for May. This past week, she had an angry, angry eye, so she was sent to an eye specialist. May did so well resting her head on the scope so the doctor could see the growth.
We're all hoping its an inflamation granulation, so stronger, different meds were prescribed and we'll hope for improvement. If not, the eye will be removed as it could be a rare type of cancer. May sits well for her eye meds hourly and it doesn't stop her from anything! Mae has started guarding the doggy door… letting no one in or out. She's the smallest in the group, but she runs the room. May needs a furever family that is wise to Bully ways, but ready for all the love and affection this senior gal has left to give and she has a LOT!
6/20/16 Update: Little miss Mae is just waiting for her furever family. This girl migjt be a senior but you cant tell by her energy level. She will play and play and play…..till I stop her and make her rest! Mae gets along fantastically with all the dogs here except for my personal bully :/ They just both want to be top bully and really can't stand each other. But otherwise from my grandson's young healer to my daughter's huge mastiff …to the old man dobie Mae does just fine. She will share her toys or take them outside when she wants to start a game of keep away. Mae is so easy to care for ….she doesn't mind nail trims or bath time or eye meds. She loves to be brushed or to cuddle on the couch or bed and watch tv. She knows the schedule and will put herself in the kennel when the time is right….lol Mae would make any family the perfect little bully!
7/13/16 Update: Little Miss Mae may be a senior with nubs for teeth, BUT she has no lack of energy! She plays with most all the other dogs in residence and will play and play and play….. like the Energizer bunny!Mae has her quirks and isn't perfect, but you cant help not to fall in love with this little munchkin when she greets you with the rotor tail a twirlin' and the paw being offered to hold. Then she'll flop right over to give you a big toot and lets …you rub her belly…..lol. Her eyesight isn't the best and loud noises or quick movements can startle her…. but she just backs up and barks at "it". She is just the sweetest little ol' lady who wants a furever family to love
7/24/16 Update: Little Miss Mae has some good news to share. She went to see her eye specialist and he sees improvement in both eyes…YAY! Of course, we still don't know if the vascularization in her right eye is cancerous without a biopsy for sure, but this is great news! She's even making TEARS….tears, I say, in BOTH eyes. She had been making 0. Mae just continues to be Mae. She plays well with most others, eats well and takes her eye meds like a champ. She loves to offer her foot and then roll over so you can give her a good belly rub. She would lay there all day for a belly rub. Mae's just patiently waiting for her forever family to come along.
8/16/16 Update: To me, Mae is too precious for words! She is just the cutest, most energetic senior girl out there. I cannot resist her little helicopter tail or her holding up her front foot to entice a belly rub… a nice loooooong belly rub, please. Mae just wants to be a part of everything. She gets along with all the other dogs in the house, except for my Bully. They BOTH want to to be top lap dog and vie for the closest proximity to me. Mae loves being brushed, going on short walks and riding in the car and making me smile everyday
May would be the perfect houseguest for any family.
9/6/16 Update: Little Miss Mae is just the cutest, sweetest most loving senior girl there ever was. When I pocked her up from the shelter she was a shriveled up piece of leather with eyes globbed shut!! NOW…she is called chunky monkey and has the most beautiful soulful eyes I've ever seen. She makes my heart smile daily when she puts up her little paw then rolls over to get a belly rub. I swear she'd stay that way all day if you kept rubbing She's bright, energetic and the best napper anyone could cuddle with. Her forever is out there…
10/16/16 Update: Little Miss May just waits patiently for her furever family. I don't see how anyone can resist this little face and that twirling helicopter tail. May is happy, happy, happy at all times – unless she can see my personal Bulldog, then "the stare" is on! She gets along with everyone else in the house and loves to run and play with them and sleep with them. May is shy in new situations, but warms up quickly and wants attention from anyone and everyone. She puts the little right front foot up begging for a pet and then flops on her back for a.good belly rub. She could stay in that position all day.
May is the best snuggler on the couch or on the bed and will stay as long as you do! She follows me room to room to room when she has full access and she loves to sun herself on the back porch. May loves to play with the puzzle ball that occasionally drops food out or is content to lick peanut butter out of the King. Whenever she eats, she makes these "lip smaking noises" that are so cute! Anyone would be extremely grateful to enjoy this little girl and to call her their own. She's a sweet bundle of lip-smacking, booty-tooting LOVE.
10/25/16 Update: Another week without a furever. This little girl maybe a senior but you'd never know it…she's like the energizer bunny. She can go and go and go! Mae does choose who she'll be friends with and she LOVES to play. You couldn't find an easier bully to care for. She sits well for her eye meds…doesn't mind a nail trim at all and tolerates her bath (she prefers not to get her face wet). She will sleep anywhere, in her crate on a pallet, or in your bed. She will sit for her cookie after her eye meds and wrinkle wiping. She is just the sweetest little lady and deserves her very own family. You won't be disappointed.
11/13/16 Update: Little Miss Mae spends her time dreaming of her furever family. She knows they're out there for her! Mae loves loves loves when she gets a peanut butter kong—the whole gang just goes crazy for peanut butter. Mae doesn't care for the rain much but is enjoying the cooler weather.
3/1/17 Update: Little Miss Mae, what can I say? This is the most loving, energetic-charismatic bully around. She just brings a smile to my face each morning as she's ready to get up and waves her foot at me and bounces around. Mae has the routine down and knows eye wiping and drops come first….so she gets up on her cot and sits—ready for the drops and that all IMPORTANT cookie……drooling the whole time. Mae plays well with the other dogs and loves her sun time on the back porch. She's just effortless to care for! I'm not sure why she's not had much interest but she would make anyone happy to have her for their very own. I really wouldn't even consider her age as she's just in the best of health now and you just can't help but to smooch that face and rub that belly!
4/5/17 Update: Mae has come so far! She was a little wispy thing that had green goopy eyes and could barely walk she was so malnourished! Mae had a tough few months starting in rescue. She got pneumonia and had to be hospitalized a few days, then broke out in ringworm. Her spay had to be pushed back because then she came in heat and her poor little eyes. What a mess. But just look at her now!! She's the little energized bunny. Mae wakes up happy and ready to start the day. I think Mae is younger than we originally thought (because she was in such rough shape). Mae went back to see Dr Cichoki, her eye doctor, to recheck her granuloma in her right eye and it's reducing in size ever so slightly. Of course she will need to be one her dry eye meds forever but her eyes are beautiful and the window to her soul! Mae wants to be in whatever room foster mom is and quickly runs to her room for meal time! She's now a whopping 46 pounds. I really had my doubts if this little girl would survive at first but she's thriving!! She waves her little foot at you to say she needs a belly run or just some attention and is the BEST nap snuggle bug.
8/5/17 Update: Miss Mae, here wondering where have all the supporters gone? I know I'm a mature… now FULL-figured Southern lady who doesn't want to chase a ball or go on a 2-mile hike! I just want to relax and sunbathe on the patio and drink some sweet tea…. lol. I know my manners and will "go to my room " when it's fine dining time and jump up on my cot when it's time to get my "beauty treatment" done on my eyes I do have standards and some other fur babies just aren't to my liking… but when I do choose a friend, we love to play and rest together on the settee. I know Foster Smother loves me and says I can stay as long as I want and I appreciate that…. but I would like a home where I'M the GOLDEN GIRL! Not having to wait behind the gate and being able to visit any room I choose, anytime I want because my arch enemy isn't there. I have lots of good things to share and lots of love to give and get…. so let's get this "forever " thing going. Love and kisses ~ xoxo, Mae
10/1/17 Update: I have some vision issues and Foster Mom thinks some hearing issues (but I just respond when I choose…. haha) but otherwise, I'm sassy, spunky and active for a lady my age, 11+. Foster Mom says it's hard to believe that the shriveled up, gunky eyed girl she picked up at the shelter is now the chunkiest Bulldog here. I DO love the meal plans here and the cookies I gert for sitting still for my eye drops and nail trims. I'm patiently waiting for the BESTEST forever family, but I'm told every day that I'm loved and welcome to stay here as long as I want. That's good because I've gotten used to the routine here and I really, really enjoy my couch time in the evening. Here is a pic with me and my BFF (she's a Mastiff…. I don't care for the other Bulldog here) and also a pic of me peeking over the gate wanting my couch time. Hope everybody has a good week and I'll see y'all soon .
Wanna Adopt?
Please view the adoption process and fill out an application at their website ---> dfwbulldogrescue.org
To view more available English Bulldogs from this rescue, click this link ---> Lone Star
Please let them know you found them on English Bulldog News!