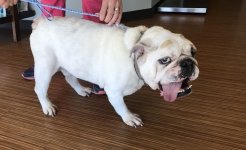 They say you cannot teach a old dog new tricks. For 9 year old Maximus, the new trick was learning how to live with a new baby around the house. Unfortunately, he just could not seem to learn that new trick. His parents surrendered him to us so we could find him a quiet and calm home for him to live out the rest of his days. We will do for Maximus what we do best, and find him that new home. What about yours?
2/19/17 Update: I am single, 9 years old, very handsome and loving life. I was sprung from Dr. W's on Friday after some dental work (just eight teeth pulled) and… can anyone tell me what's neutering? I am feeling a bit lighter! Anyway, I moved into my foster home and met the other dogs, including Hopscotch. They are nice, but I do not get along with them. Once I get settled, we'll try getting together again. I am a little unsure about all the new things, but I am feeling more comfortable everyday.
I enjoy going outside and having the whole yard to myself. I like to play with all of the toys and especially tug-a-war with Foster Pop. He says I am the perfect house guest. I also like to talk a lot and make Foster Mom laugh when I "flutter my flaps!" Hey, whatever gets me an extra treat!
3/5/17 Update: Maximus checking in… Nothing new going on with me. Just taking it easy at my foster home. I did relocate to the kitchen, so the other dogs could hang out in the living room (I still don't get along with them). I think I got the better deal! This is where all the food is! I like to eat. I help (supervise) when all the meals are cooked for the hoomans ~ of course, I have to taste test everything. I also make sure all of the dogs' food is fixed just right. Maybe my furever family is looking for a kitchen helper?
3/19/17 Update: I just wanted to let everyone know I have had a good week. I have started a collection of toy bunnies that I keep safely tucked under my pillow. Foster mom gave me my Easter bunnies (PEEPS) early. She just loves me! But what's not to love? I am the perfect house Bulldog. Foster mom and dad have been working with me to get along with the other dogs, puppy steps they say. Until next time, I'll be here, looking for more bunnies.
4/17/17 Update: Happy Easter, everyone! I am doing great and am still a model Bulldog. I decided I needed to expand my space and now, I have a bed in my foster sister's room. So I think I'll keep my stuffed bunnies safely hidden under my crate bed so the others won't take them!
5/2/17 Update: The great Maximus checking in. I hope everyone had a great week. I have just been hanging out in my crate and other bed in foster sisters' room. I love to sleep and eat! I have my foster family trained to give me a treat every time they want me to go in my crate — so they can let the other dogs out. Don't tell them…but they really just have to ask me — no treat required. I got a new blanket and mini-Peep for Easter. Foster mom was looking for the giant Peep but is still on the hunt. Check out my picture of my cool crate setup. Waiting patiently for my furever family — Maxi
7/10/17 Update: Maximus checking in…. Not much going on here; still hanging out and being the best Bulldog ever! I have discovered a new rubber football that squeaks. As soon as I found it, I took it to my crate. It is now safely tucked under my pillow with all of the peeps! I must hide it from the Little Scottie. Little Scottie and Nola have been hanging out in the kitchen with me when Foster Mom is in here and we get along pretty good. I am still not liking the boys in the house, but I think I like these girls. Even the new girl, Dottie, got to hang out with me. I am a very good boy and help out with all of the happenings in the kitchen and I oversee the laundry duties, too. Just call me "The Inspector." Until next time, Max-e
7/24/17 Update:Hello everyone… Maximus here. I have had a great week and have found some new toys for my collection! A little blue whale and another PEEP! The whale was outside just lounging in the grass, so I scooped him up and he is safely tucked away under my bed pillow. The little PEEP mom found in the toy box, and just knew I was the perfect Bulldog to take care of it. I am still working on allowing other "girl" dogs to hang-out with me. It is a slow process. They keep wanting to check out my crate, but sorry girls, that is off-limits! I am also very happy for my foster sister Dottie on her adoption and new furever family. Congrats! In honor of Dottie, I have decided to sport some "dots." Until next time — Maxi
8/30/17 Update: Hi every bully, It's me Max. Just wanted to let you all know that I am doing just fine and living the life of a senior. I sleep, wake up, go outside, eat, nap, open my eyes to check on things…then nap some more. It is really tough but some bullie has to do it! And I think I am the perfect bullie for the job. This of course is in addition to my house food inspector job that I already have. Foster mom even took a picture of me, watching while she makes our food, just in case a "kibble" decides to jump out of the bowl. I will get it, not one nugget will get past me! I stay busy! Is that why I have to nap a lot? Any how, I have also been allowing some of the other dogs in the house to hang out with me — Nola & Little Scottie and I even allowed Eddie Grant to snooze outside of my crate. Nola and I have gotten into a small disagreement, of course over some food, but other than that we are good.
9/26/17 Update: Mr. Max here…just wanted to let everyone know that I am doing great and loving this spoiled life! I keep asking foster mom if anyone has asked about me. I am a pretty easy going guy. You just need to feed me, let me out and give me lots of love.
The other day I discovered I like tennis balls. Squeaky ones! Foster mom brought some home from Hollywood Feed and Little Scottie and I snatched them up! I immediately took mine into my crate and put it in its place. Foster sis took some Snapchat shorties of me and said I should get a commercial gig for HF. I am not sure what either of those things are but as long as I look good, I'm okay with them. Hope everyone has a great week. Until next time — Max
Wanna Adopt?
Please view the adoption process and fill out an application at their website ---> dfwbulldogrescue.org
To view more available English Bulldogs from this rescue, click this link ---> Lone Star
Please let them know you found them on English Bulldog News!