Pistol Packing Bullyagrapher

Staff member
May 5, 2010
7,482
734
Country

United States
Bulldog(s) Names

Vegas and Orion
At first, documenting anything and everything Vegas related was very important to me. I wrote this article for a sister forum that has since been shut down. Thankfully Lisa was able to save this article from being deleted. Over the years I've referred people to this article simply to let them know that they are not alone. This article was originally written several years ago and it was a compilation of current events and events that had already happened and were either posted in my blog or somewhere else on EBN. I've gone thru it and added some stuff and kind of brought his story up to date. I had a lapse in his story during the time my mom was diagnosed with breast cancer.. during her fight and her death to the disease.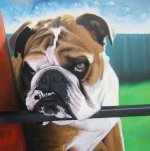 ​
Sunday, June 15th 2008.
This is the night my life changed forever. The weekend had been nice. Vegas and I attended our first English Bulldog meetup on Saturday. Sunday was a relax day for him. He seemed to be tired and worn out from all the playing. I had fallen asleep that evening on the couch and something woke me up. Vegas, just 10 months old, was foaming at the mouth. Not only was he foaming but his head and body were shaking and spasming. He was also pooping. I had no idea what was going on. It kept happening. Foaming, shaking and pooping. I thought my baby boy had been poisoned. I started screaming for my husband Mark, who was upstairs sleeping. We were at a loss as to what to do. Our vet's answering machine directed us to the only 24 hour Emergency Vet which was about a 45 minute drive away. It was the longest and scariest 45 minutes I've ever had. Whatever was wrong with Vegas continued during our drive. I held him the best I could, but his whole body was spasming and with each spasm, he lost bowel control. We called ahead and they met us in the parking lot with a team of people to take him in. It was now past 1 am. We were left in the waiting room while they worked on him.
We were interviewed to try and determine if he was poisoned and what kind of poisoning it could be. His body temp was 108, pulse rate was 248 and his respiratory rate was 52. Sitting in the ER that morning, I didn't think our precious baby Vegas would ever be coming home. They had him on the crash table and finally by 3 am his temp had decreased to 104.7 His pulse rate was down to 168 and his respiratory rate was down to 44. By 4 am he'd been diagnosed as having possible epilepsy. By 5 am they asked us to go home. The told us that he had suffered 3 seizures in the last 2 hours but his temperature, pulse and respiratory rates were now normal. They moved him from a level 4 (critical) to a level 3 (serious).
They had pumped his stomach earlier and found nothing but a few pieces of grass. They had loaded him up on phenobarbital and Diazepam. Eventually his body/brain settled and by the time we finally left they said he was relaxed and comfortable. By 9:30 am they told us he was eating. They were going to keep him under observation until that evening so both Mark and I, after getting about 1/2 hour of sleep, went to work. It was the only thing we could do other than sit and worry. As soon as they discharged him, we brought him home.
This terrifying night happened almost 9 years ago. Every day since has been a learning experience and a huge challenge.
Here is more of our story.
In the beginning nothing seemed to "stop" his seizures. Wasn't the purpose of giving twice daily medication to fix what's broken? Why was he having seizure after seizure? His Dr explained it as clustering and he referred us to a neurologist.
The neurologist did several tests on him. From this visit we learned that Vegas, more than likely, suffered from idiopathic epilepsy (means no known cause). All the tests had shown that it wasn't metabolic or structural. There was one more test that could be done that could confirm the diagnosis 100%, an MRI. During this test they would drug him, shave him and stick a needle in his spine. They would also put him under an imaging machine in hopes of finding a puppy brain that was clear of any tumors or lesions. Dr Sanders said that since Vegas was so young more than likely there was no tumor or lesions. If we decided to forego the MRI and spinal tap in favor of the 'wait and see' he told us it would be fairly evident if there was a brain tumor. He told us that if there was a tumor it would grow. And as it grew it will eventually affect how he walks. Dr Sanders told us if he stumbles and starts to fall it was a good sign of a growing tumor.
We decided to make the appointment to have the MRI. It was scheduled a week before his 1st birthday. We had a huge party planned for Vegas. Not only Vegas, but Mark and our good friend Michael were all celebrating birthdays. At the last minute we decided to postpone the MRI. I was being selfish and I was planning on lots of photos. I didn't want his photos to be of a sick Vegas, shaved body an such. I decided that if it was to be his one and only birthday I wanted happy and healthy photos.
We really considered Dr Sanders words. Vegas was too young to seriously think of brain tumors. We called the clinic to reschedule the MRI and Dr Sanders suggested we just wait to see if things got worse.
They did.
The first year after his diagnosis was mostly about learning of this disease. Vegas went from having cluster seizures (these were small seizures that happened often throughout the day) to small seizures less frequent into monthly grandmal seizures. I turned to YouTube looking for help. I wanted to know if the seizures I was seeing were like those of others. I typed in "bulldog seizure" into the search bar and the very first video that came up was a small bulldog puppy that was twitching while sleeping. The original poster of the video was being ridiculed by everyone for asking the question "Is my bulldog having a seizure?" when it was obvious that the puppy was dreaming. I made the decision to try and get video of Vegas and post it. My goal was to help others at this point.
Help others we did. I figured there had to be others out there with epileptic dogs that were looking for answers just as we were. This began my video documentations.
On 10/27/08 Vegas had a grandmal seizure while in his kennel. As best we can tell he rolled onto his back and aspirated on the phlegm. By early morning on the 28th he was vomiting and coughing. We took him to the emergency room (a new ER opened up literally 10 miles down the road from us) where he was diagnosed with aspiration pneumonia secondary to mega-esophagus. They also did expensive testing to determine that he did NOT have Myasthenia Gravis. (This is also the beginning of unnecessary tests from this same clinic over the next few years)
On 1/14/09 I took Vegas to the clinic with a heavy heart. I was scared that a terminal diagnosis would be given to Vegas. The year before the neurologist said that IF he had a tumor, it would progress. As it progressed Vegas would loose control of his legs. This is what was happening. Vegas was stumbling and unable to walk. Vegas was only 17 months old and his chart was already thick and bulging with lab results, xrays and office visit notes. The Dr's on staff did X-rays to rule out among other things, hip dysplasia and spina bifida. Hours later after showing this very video to his neurologist (by having him log view it on youtube), he was diagnosed with bromism. He was being overdosed on his potassium bromide.
I was pissed. Really really pissed. I had shown the ER staff the video first thing but the Dr. barely took note of it. The main thing Vegas is seen for is epilepsy and epilepsy related issues. That should be the first and foremost thing in his file! WHY did it take them all day to figure out what should have been apparent to any doctor right off the bat? I had no idea what bromism was! After showing this video to his neurologist via YouTube (he is located about an hour upstate), Dr Sanders gave a diagnoses within 5 minutes. The relief I felt was tremendous. I thought my baby boy was dying. The doctors at the 24 hour clinic had me in tears all day long as they scratched their heads.
Vegas was seizure free for about 2 1/2 months as best as we could tell.
During June to August 2009 the type and frequency of seizures started to change. They went from cluster seizures to facial and grand mal seizures.
06/23/09 ~ cluster seizures at 5pm, 7pm, 9:30pm, 12am
06/24/09 ~ cluster seizures at 5am, 5:40am, 6:10am, 8:05am, 10:15am, 2:44pm, 4:31pm, 5:53pm
07/03/09 ~ 1:30am
07/18/09 ~ 10:30pm
07/25/09 ~ 11:30pm, 11:35pm
07/26/09 ~ 1am, 1:15am, 2am, 2:20am, 3am, 3:10am
08/29/09 ~ 8:10am small focal seizure during morning meal
08/29/09 ~ 10:30pm focal seizure
09/05/09 ~ 4am sleeping, has seizure
09/15/09 ~ 4pm seizure lasting 45 seconds
10/01/09 ~ 10am seizure lasting 1 to 2 mins
10/16/09 ~ 9:30 pm seizure
10/17/09 ~ 2:45 am Seizure
11/06/09 ~ 4am seizure
11/26/09 ~ 5am seizure, 1:20pm seizure
12/05/09 ~ 2 seizures within an hour, very short..less than a minute
12/10/09 ~ 6:15pm small seizure
From mid April to June, 2 1/2 months without a single seizure then multiple (some weren't even documented)
On 7/13/09 I took Vegas back to the clinic to be examined for limping. This is the same leg that he was favoring in the ataxia video above. Diagnosis: Possible trauma while chasing ball.
On 4/9/10 I took Vegas back to the Dr for Left Rear leg lameness. Dr noted a year earlier that Vegas has "very straight legged confirmation on rear legs, Right Rear is even straighter than Left Rear". On this visit he notes that Vegas has increase laxity in both stifles. May have some effusion in the left knee, pronounced bows in both rear legs. Diagnosis: suspect partial or full ACL tear. Vegas weighed in at 68 pounds.
On 6/30/10, Vegas was under the care of his uncle while we were having a date night. Uncle Rich claims that Vegas climbed on top of his kennel and jumped off resulting in yelping and right thoracic limb lameness. Not wanting to wait until we got home....Uncle Rich rushed Vegas to the ER. By the time a worried mom and dad got there, Vegas was fine. The whole ER visit could have been avoided, but Vegas never yelps and he really scared his uncle Richie.
The following month... (I'm just going to copy from my blog)
Exact blog found on English Bulldog News:
July 17th 2010. Vegas had a seizure out in the yard. I had no idea it even happened until I heard him back inside panting like crazy. I turned around and his little face was all foamed up. I felt bad knowing that he was alone during one of his episodes. He recovered quickly and I left for my photo shoot with my brother's kids. During this time is when he got into the pantry and had himself a snack of corn meal. Vegas threw up his dinner and meds late Saturday night...actually real early Sunday morning. I didn't get any sleep. He has loose stool and he's thrown up twice. Sunday he threw up his breakfast in the yard and his dinner around midnight.
Monday morning he didn't come running with the sound of his food hitting his bowl. That was a huge concern. If he wasn't going to eat he at least needed to take his meds, so I took them to him. Since he has so many pills, I set them on 1/4 piece of bread topped with his liquid Potassium Bromide. He wouldn't take them so I came back downstairs to figured out a way to get his phenobarb tablet into him. The potassium bromide builds up in the system so I wasn't too worried about that one. When I went back upstairs with the pill wrapped in the cheese he had wandered off into another room. I caught up to him right before he had a seizure. A very small one. Right after the seizure he gulped his meds and went down the stairs looking for his breakfast. He kept his breakfast down. He still has loose stools. Dinner time has now come and Vegas will not eat again...or take his meds. The vet told me to force the Phenobarbital down his throat. I really tried. Vegas had another seizure then went to his bowl for dinner. He ate some, not much. I still had to force him to swallow the pill. If things don't improve tomorrow I'm taking him in. I'm so worried about him. (End of blog)
I ended up taking him in on 7/20/10 to the new clinic just down the street. Vegas was down to 64.5 pounds. The Dr wanted to run blood work to test his blood levels. I told him that I didn't think it would be accurate since he'd thrown up all his meds since Saturday. The doctor didn't think it was a problem.
The vet notes in Vegas's chart on 7/29/10 that his Phenobarbital levels are low. He contacts me and wants to rerun them. I tell him, "okay, but at the clinic's expense". I was bullied into having the labs redrawn with only a slight discount in price. Vegas, on this date was still having leg issues and was back up to 66.3 pounds. Dr notes in chart "He was apparently in hind site not on his full dose for the last three days prior to the blood draw". Also notes "The blood test may have been falsely low since he had been vomiting so by increasing the phenobarbital, we may have put him on too high a dose". DDx: is a primary brain lesion which would require MRI to Dx.
9/18/10 is a day that changes Vegas's life for the better.
Vegas is taken back to the clinic for a recheck on his phenobarbital levels. The Dr does not complete a full exam but does let us know that Vegas is overweight. I'm instantly furious with him. This is the same Dr who drew labs when I asked him not to so I was not his biggest fan. He suggested the diet that is known on EBN as the "Vegas Stew" Diet. Basically, instead of giving Vegas 1 cup of kibble for breakfast and dinner he would get only 1/2 cup twice daily. In place of the missing kibble we would give him as much stew as he could or would eat. The stew was a mix of cabbage, tomatoes, green beans, mushrooms and bell peppers. Basically a fiber filled stew. He would eat as much as I would give him, and feel full. Vegas and Orion both loved this.
Before the weight loss: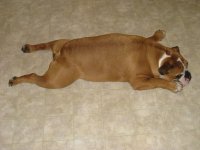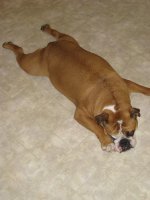 After: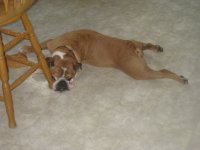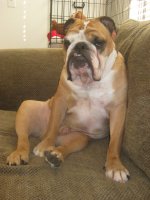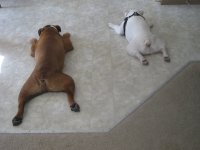 1/22/11 Vegas returns to the clinic to recheck his phenobarbital levels. He has not had any seizures since Christmas, and he weighs in at a beautiful 57.2 pounds. Dr notes in chart: Owner fed his high fiber stew, which they love and he has lost weight. He is much more active and has not limped. Vegas is more playful.
3/2011 My other bulldog Orion, is taken into the clinic with an eye issue. She had been blinking and her eye was 1/2 closed. I thought it might be entropian so I asked for them to check. The Dr tells me that entropian has to be diagnosed by a specialist but he offered to do a dye test to check for an ulcer. He takes her out of the room and returns saying the dye test showed nothing. They gave her an eye drop called neo/poly/dex and sent us on our way. 2 days later I take her to the clinic where she was born, South Hill Vet Hospital. The only reason we left South Hill in the first place was because the other clinic was open 24 hours which we needed when Vegas developed pneumonia. The same exam (2 days later) showed an ulcer and an offending eyelash. An ulcer that was exacerbated by the Dexamethasone in the eye drop that the 24 hour clinic Dr prescribed.
3/31/2011 I scheduled an appointment with the owner of the 24 hour clinic. My appointment was scheduled for 1 pm and by 2 pm she had not acknowledged me. I walked up to the counter and demanded to be seen. Just as my fit was getting started out walked the clinic owner. She invited me into an exam room where I explained why I was leaving her clinic. Not only had they shamelessly charged me for unnecessary tests (The recheck of phenobarbital levels, the test for Myasthenia Gravis, the test to determine Hip Dysplasia and Spina Bifida) but they also misdiagnosed Orion. Not only had they misdiagnosed Orion, but also Vegas. I'd spent thousands and thousands of dollars on worthless tests. I told her how her staff drugged an epileptic dog that wasn't walking so they could rule out hip dysplasia and spina bifida. I asked why her skilled staff didn't look at his charts and take into consideration that ataxia could be the culprit. Why it took hours and hours for them to call his neurologist AND HIS neurologist diagnosed him in the first 5 mins. I walked out of the clinic with a huge refund from the duplicate tests and all their medical records.
Since we've switched back to our original clinic I've noticed they test his blood every 6 months and as he's gotten older, only once a year. The other clinic was doing it every 3 months and why not? At 300.00 a draw....they were robbing me blind!
Vegas's seizures were pretty much under control. During 2011 and 2012 most of them were grandmal seizures that were happening between 2 and 4 am. We purchased an internet camera and put it on Vegas during the day. Vegas has people all over the country that will tune in and bully sit him. They would let me know if he's having a good day or a restless day. Eventually I discovered that I could set a sensitivity level to the camera and it would record any movement longer than a few seconds. Even though I can't help him thru them, I can be aware and document a seizure when they happen.
During the spring of 2012 we brought an issue to Dr Kate that we wanted to work on. Vegas was on 5mg Diazepam twice daily and he was starting to develop behavior issues. Dr. Kate said that Diazepam could cause anger issues and she suggested we switch him to a different benzodiazepine called Clorazepate. She also advised us that he could develop a tolerance to it and it may not be doing anything to help him.
Times were getting tough financially. We found a place in Texas that would compound his potassium bromide for 1/3 the price that the local pharmacy did. We were paying 150.00 every 6 to 8 weeks for this one medication in itself.
Things Take a Turn for the Worse....
It started again. I was taking this video of my silly boy after his bath. Those of you who know me, my life revolves around Vegas. I'm 100% involved in everything he does. I have my eyes on him every chance I get. This, I swear, was a complete shock to me. He was having a hard time in the tub and every time he would shake, he'd fall. I thought it was odd, but not concerning. Vegas is NOT graceful and never has been. Then as I was filming, he did this..........
The following day and had his blood work done. Sure enough, where his blood work the previous month was fine, this one showed extremely high Potassium bromide levels. Only 2 things had changed during this time. 1) We switched him from diazepam to clorazepate AND 2) We started a new bottle of potassium bromide. I immediately called and talked to the online pharmacy. They asked that I send a portion of it back so they could hire a lab to check the compounding. A few weeks later the lab tests came back and the mixture was correct. Somehow...Vegas was metabolizing the medication differently. Was it the clorazepate? At this point...he was not doing well. He was falling down every few steps and bumping into walls. I was really concerned about potential injuries. The worse thing about this? It would take at least 6 weeks for the drug to exit his system. 6 WEEKS?! I was done with the drug. This was the 2nd time he suffered from bromism/ataxia.
I decided I wanted Vegas off of potassium bromide so Dr. Kate put him on Zonisamide instead. This would be the replacement drug for the potassium bromide.
He did not have a good reaction to the drug. In this video (I apologize) I'm yelling stop to Orion. She was freaking out and barking at Vegas. I knew exactly how she felt. I was freaking out also.
We wanted him off this drug too but Dr Kate asked to give it a few more days. We did and the side effects deminished. Finally after 6 weeks of picking him up off the floor, carrying him up and down the stairs, lifting him on and off the bed, he was able to walk by himself.
I'm going to copy and paste my blog entries from English Bulldog News.....it's just easier.
Blog: November 4th 2012
13 days after he had the 2 grand mals in 24 hours, Vegas has had 5 grand mals in 18 hours. It started at 6:30 this morning....Vegas woke up having a grand mal. He woke up and his whole body started to stiffen up. I grabbed him into a bear hug and his breathing started to quicken. By holding him tightly I can keep him upright. If I don't, he falls onto his side and he can aspirate. He did this one time at the age of 2 and ever since, I try and keep him upright. After seizure number 1, Mark took Vegas downstairs and Orion and I were going to go back to sleep. Apparently, Orion had other things on her mind and decided she wanted to play. So I carried her downstairs with me to join Mark and Vegas. Vegas was on the other side of the baby gate (we have a gated off area just for Vegas so he can pace when his brain won't stop firing after a seizure) and once he saw me it was as if I just got home from work. Such a happy and excited boy!!! Mark said he was running into things like crazy. Mark had started to move some things into the other room. The bar-stools and the garbage cans. He moved the camera and stand. A few minutes after my arrival downstairs Vegas had his second grand mal seizure. This one went on and on. At least 3 minutes. I wasn't sure if he was even breathing. Finally it stopped and he started gasping for air. No more than 2 minutes after it was over...he was up and moving around. Just before 7:30am I fed them breakfast then I gave him his treat ball stuffed with frozen green beans. I took Orion upstairs and gave her an identical ball. She was unsettled and was barking like crazy. Right after breakfast another grand mal hit...but a short 20 second one. I tend to classify a grandmal when he falls to the ground and his body tenses up. When his jowls and head shake back and forth and he foams from the mouth. If he doesn't do all of those...I call them a petit mal. His Dr told me this when I asked her...."I would call them all grand mals...."
Vegas chased his ball around for awhile...then I put it up so he could rest. He napped off and on all morning. I did some housework and outside chores and the afternoon was thankfully quiet and uneventful for Vegas. His daddy got home from helping his grandma move and we settled in to watch "The Walking Dead" at 6...then again at 7. At 8pm we watched the Nat Geo special "Seal Team 6". Mark fell asleep during the middle of it and went to bed about 9:45. Shortly after Vegas wanted to go to bed also. I followed him upstairs and helped him into bed. I watched him get settled then went back downstairs to get O settled for bed. I did my nightly walk of the house, turned off the laptop, tv, lights etc. As I was shutting down the laptop, I hear a loud crash from upstairs. I run up to the bedroom and find Mark sprawled across the bed, comforting Vegas who is sprawled across the floor. He was having a petit mal seizure. His body was tensing up, his legs were doing the walking motion...but no violent seizing or foaming from the mouth.
He seemed confused and anxious...pushing his nose to my face and sniffing. I wanted him to come back downstairs with me but he was anxious and unsettled. He was turning in circles and we were both expecting him to have a grand mal. He didn't. He still was not interested in coming down the stairs. Instead, he wanted back into bed. So I helped him back into bed and I laid down next to him. He settled quickly and soon was sleeping. Mark had fallen back to sleep also. About 20 minutes later, Orion started barking from downstairs. I go back down the stairs and continue to shut down the tv..lights and I got sidetracked with the laptop. I'm tinkering around for about 10 minutes when my husband calls down to me. Vegas had another grand mal. I go back upstairs to help...but it's already over. I pick Vegas up and I carry him downstairs. I set him down and I send Orion upstairs to sleep in bed with her daddy. I set Vegas up with his treat ball...which he chased around until another seizure hit about 11:30 pm.
I actually was videoing him...I thought he was just going to turn in circles. But when he fell to the ground I knew it would be another grand mal. In this video you see me holding him upright and trying to hold him down. He gets very confused and he actually lost bowel control during this seizure. I was trying to figure out how to keep him upright, keep his thrashing feet out of it...and get it cleaned before it became a mess. Luckily it was another short seizure.
He got back up and has been chasing his ball for hours. It is 1:42am and I think he's starting to tire out. Yep..he just released a huge sigh and flopped down on the couch pillows. This is where we will be sleeping tonight. I'm not risking him falling out of bed again.
Nope..he got up and had ANOTHER grand mal. I finally decided to give him rectal diazepam. I hope it will help him settle down. He must have tensed up pretty good during the last one. He got up and has been limping.
It is now 3am and he is sleeping. Hopefully it is over. I'm going to lay my head down next to his and try to sleep.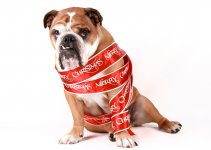 More English Bulldog News Blogs:
December 20th 2012, Jan 4th 2013 and Jan 22nd 2013
I just don't know what to do anymore. It's been hell here for the last month. I've neglected to document his last few grandmal seizures....I don't know why. I guess after everything that has happened my faith is dwindling. We last left off after Vegas has several grand mals in 24 hours, a first in a very long time. Right before Christmas it happened again. On December 20th he had (I believe 6) in a 24 hour period. Then on Jan 4th...right smack dab in the middle of the day while everyone was at work......Vegas has a seizure while in his kennel. We came home to saliva on the walls and an accident in his kennel. What a way to make me feel like the worst bully mama out there. In my head I know that it's better to have him in a kennel and safe than wandering around walking into glass and falling down stairs.
Ever since the new year started Vegas has been having facial seizures daily. These are very irritating to him. Lately, he has started to whine and cry during them. I've contacted his vet and they assure me he is not crying in pain, rather out of frustration.
This morning....I work a later shift. I start at 12:30 so I get to spend the morning with the babies. We got up at 8am and I immediately fed them breakfast. They went out and did their morning bathroom duties and once inside Vegas came over and sat next to me on the couch. And they started. Facial seizures. Every waking moment he has to deal with these. So I fill a treat ball and let him chase it around. Once done, he settles back down. This morning I was going to take a photo of his waist line for a newly started thread. Vegas got up and as I was trying to get a photo...I noticed his demeanor was off. Since I already had the camera in my hands, I turned on the video and I set it on the floor. Vegas was in a forward walking movement but he was caught up in a bar stool. As soon as I got him free he fell to the floor and had a seizure.
This really sucks.
I just want to cry.
I placed a call to his vet asking for help. I don't know if KBr (potassium bromide) would help stop the facial ones.
I know it's unrealistic to get the grand mals to stop. I've accepted the fact that this is our life... but the daily ones are too much. He's gone years without having them....why now? I've been asked to call Dr Kate today so we can talk.....:crying:
Enter Dr Jerry Demuth.
It was suggested that we see a new neurologist and get a second opinion. Dr. Jerry Demuth is unlike any Dr I've ever met. I have hours and hours of video of Vegas and Orion. I document everything. Dr. Demuth is the first Dr. that actually asked to see what I had. Previous Dr's would look at half a video before they are done. You know... time is money. Not Dr Demuth. He watched what I had and asked for more. He acknowledged how detailed I was with Vegas and his care and he complimented me for it. He said Vegas was a complicated case...a very INTRIGUING complicated case.
Vegas was having daily licking fits. Dr Demuth wanted to reintroduce the potassium bromide but at 1/4 of the dose. He was amazed at the previous dose Vegas was on.
Dr Demuth thought that Vegas's body was screaming for some potassium bromide. He said if after 6 weeks he was still having the licking fits he then wanted to do an MRI. If the MRI came back clean, he suggested maybe looking at a different neurological disorder. Some type of "movement" disorder.
Email from Dr Demuth:
"Everything about this makes me suspicious of a "movement disorder" known as paroxysmal dyskinesias. Again, this is a poorly understood and researched area in veterinary medicine. Some people argue that this is a type of "seizure activity" in a section of the brain known as the basal nuclei. This is the same region that gives us diseases like Parkinson's in people.
Please continue to keep me updated on his progress and the transition with the potassium bromide.
Depending on the ongoing response to therapy (or lack there of), I do feel that an MRI would be justifiable"
We since have had our follow up, and for now, the MRI is put on hold. Vegas is having only a handful of licking fits a week. This compared to 20+ in a day.
He still suffers from Grand mal seizures often. He had one on 4/25/13 and one 15 days later on 5/10/13.
We keep our everlasting chew balls (we now own 3) close by. We stuff them full of yummies and let him chase it around the front room until he's ready to stop. Our front room is completely torn apart. Couch on end so the ball doesn't get stuck under it, all lamps and floor decor have been put up and each side of the room is gated off so he can't wander too far.
This is my life now. Until the next decision is made concerning his care, I promise to do the best that I can to take care of him.
*2017 Update* Vegas is almost 10 years old. This momentous birthday will happen on 8/4/17. I can't believe how lucky we are to still have this beautiful bulldog with us. Today is June 12th and since the beginning of the year we've witnessed 14 seizures, 4 of them partial or Petit mal seizures. Blood work last month shows a healthy boy with levels that are very good (dr did say his potassium bromide level was a little low). Vegas has elevated liver enzymes from the Phenobarbital and we were happy when the vet said that the elevation level has lowered. I continue to cherish every day we have with him even though most are challenging. He still has daily neurological issues that cause him to lick the air uncontrollably while finding a corner to put his face in.
We struggle daily with Vegas and his need to eat. The phenobarbital causes him to forage for food and his goal every day is to get as much food and as many cookies as possible. He does this by crying and throwing himself at the glass door acting like he has to potty. Then turning around and sitting on the patio and refusing to budge until he gets his reward for going out. This really sucks when it's raining out or very hot. Or when you are in a hurry. Vegas has also learned that if he goes potty and comes in he gets a cookie... only to go out a second time to go poop.
We also struggle with the pantry. Before he was diagnosed with epilepsy we taught him to close the pantry door. Mark and I are human... we sometimes leave it open. Vegas will come by and close it for a cookie. He will even do this if you are standing in front of the pantry trying to decide what to grab. He also does this with the fridge. He will close it as soon as you open it. All for a treat.
Vegas will randomly perform tricks in hopes of a reward of food.
Getting into the pantry unsupervised.
and lets not forget the "lazy susan". I can't believe he got into the cabinet trying to get food!
I discovered a seizure tracker app on my iphone that allows me to record and log seizures for his doctor. It automatically stores the seizures videos to my YouTube channel if I happen to catch them. The only thing is, I have the option of helping Vegas or holding my phone. I'd rather hold my bulldog. Before, I had a point and shoot camera that I could set down on the floor and it would record until I picked it up. After watching this video and seeing how I could have held him or the camera and I chose the camera for documentation sake... I decided that the seizures would no longer be documented.
Seizure Tracker Event logged on 12/28/16, 8:51 AM with duration of 5 mins 51 secs.
Even watching this video as I'm typing I'm screaming at the video.. PICK HIM UP!! PICK HIM UP!! I hear the phlegm that is in his throat and I'm asking myself "why am I not patting his back?" Stupid camera video. No more!
Several years ago I was asked to join and admin on a Facebook group called Bulldogs with seizures. Entering the group for the first time I was shocked when I discovered that the existing members were criticizing me on a video that they had no idea was mine.
They were saying that I should NEVER EVER touch him during a seizure. This is a myth. I've talked to his neurologist about this and he told me that I know best. After 9 years of seizures I believe I do know Vegas well. He's never been aggressive after a seizure and his seizures have always knocked him down. If he had more violent seizures, got aggressive during the seizures or if during a seizure he tried to get up... things might be different. Vegas has idiopathic epilepsy. There are no known triggers. We don't know why he has them. All I know is that Vegas is the only bulldog that I know of that has dealt with this condition for as long as he has and has survived. In the FB group, people come and go. Sadly it's because their bulldogs do not survive this disease. It's so common to have a stroke during the seizure, or have the seizure deprive them of air for so long the chance of pulling through isn't there. Their bulldogs are diagnosed with epilepsy and very few are idiopathic. Most are caused by trauma, poison, brain lesions or something equally as devastating. Some people can medicate their bulldogs and never have another seizure. Some can medicate and have seizures every few years. Then there is Vegas. Vegas is on 3 different seizure medications and he still has them every 3 weeks. May of 2017 Vegas had 2 grand mal seizures on 5/3 and 1 grand mal and two petit mal on 5/4. On 5/27 Vegas had a very small focal seizure that lasted less than 30 seconds. This was just in his face and it never progressed. Yes my friends... currently we are 40 days from his last grand mal (keep in mind Vegas is home alone during the day while his pawrents work. We do have a camera on him... but if he seems normal when his daddy gets home from work, we don't check the camera)
Vegas is just like every other goofy bulldog. He loves to play and he gets into trouble. We don't feel the need to shelter him in worries that a seizure will be triggered.
Vegas on AFV
Naughty
Curious??
Torturing his sister who is in time out
One of the most requested videos of Vegas wanting food.
It isn't easy being so drugged up
Here is a poem I wrote about how I think it must feel to be Vegas during and after a seizure.
Darkness.
Confusion.
Must move.
I don't want to, but I NEED to.
I can't think.
I can't see.
I can't hear.
Where is my mommy?
I can't see my Daddy!
I feel her hands.
Her gentle touch.
My mommy's smell.
Confusion.
Darkness.
Darkness.
Darkness.
Light.
I can see..but I'm not sure what I'm seeing.
I can hear..but I'm not sure what I'm hearing.
I can smell..but I'm not sure what I'm smelling.
I'm confused.
Why am I on the floor?
Light.
I can smell. I smell my mommy crying.
I can hear. I hear my mommy praying.
I can see. I see my mommy kneeling.
I can think. I think my mommy is hurting.
I smile.
I stand.
I stumble.
I fall.......
But I persevere.
I am a bulldog.
I have epilepsy.
I am loved.
I stand.
--by Libra926
February 2nd 2018 update
Every year a learn more and more about this disease and I meet more and more people who are dealing with all I've gone through.
We started Vegas on CBD oil in September 2017. He had 2 seizures on 10/5/17 and 1 seizure on November 1st 2017.
Then nothing.
Nothing for 85 days.
On January 25th at 10:40pm Vegas had a grandmal seizure. Then another at 11:40 pm and and small petit mal seizure at 12:52pm. We will continue to use this oil and see how far it will take us again.
Vegas is happy and healthy...
He is always hungry.
He continues to be very clumsy and extremely silly.
Man... how I love my Vegas.
9/15/18 update
Vegas started to decline in April when he was struck with what we think was Vestibular disease. The only reason I don't think it was a stroke is because the movement of his eyes was left to right and not up and down. Up and down usually means brain trauma. But.. we really couldn't confirm it since we didn't want him subjected to an MRI.
Eventually he started to recover. He gained back his footing and no longer needed help get around. We made a few changes to the house... the biggest one was taking our bed apart and putting the mattresses right on the floor. This made it easier for him to get up and down. He still had a hard time with that.
Vegas celebrated his 11th birthday on 8/4/18. He had a good day, eating ice cream and playing outside. Around this time we started visiting the ER almost weekly.
On 7/29/18 he tore his eyelid in the corner and it wouldn't stop bleeding. I honestly don't know how it happened... we took him in and instead of stitches, we opted for ointment and close monitoring.
On 8/11/18 Vegas started shivering and breathing heavy. I covered him up and even after an hour he was still cold. I scooped him up (which he doesn't like) and loaded him into the truck. They triaged him in the car and decided he was critical enough to bypass the 3 hour ER wait. I don't know what was done, but several hours later we walked out with all symptoms resolved. All elevated when admitted, his heart rate, temperature and breathing all returned to normal.
On 8/13/18 we took him to his normal vet. He had some sort of scab on his belly (I thought it was from a procedure done during the 8/11 exam, I remember holding Kleenex to his belly as we were waiting for test results) that was still bleeding. They ended up applying glue to it.
9/2/18 we returned to the ER with a cut lip that wouldn't stop. They applied glue to that.
9/5/18 Vegas was very unsettled in his play area. Usually during the day he sleeps non stop. On this day he moved. Not getting up and moving... more like an unsettled toss and turn. That evening I was talking to a friend in South Africa and I was telling him how Vegas's exhaled breath was actually cold. That he was shivering and that I had him wrapped in my electric blanket to warm him up. 45 minutes later he finally stopped. (I believe this is the day that the tumor ruptured)
9/9/18 Vegas would not eat or take his meds. He wasn't wanting to get up. He was shivering and very lethargic. We took him to a different ER and within minutes we were told that he had a large tumor on his spleen that ruptured and he was slowly bleeding to death. Hemangiosarcoma.
I will spare you the details... he didn't come home with us that day. He took his last breath about 1:20 that afternoon.
I can't tell you how painful it is to lose him. He was such a huge part of our life. When you have a special needs furkid, you design your life around them. Every waking moment was about him.
The pain is unbearable.
I'm so glad epilepsy didn't take him. He fought so hard and he won that battle.
I can't believe that this is the end of his story. A close friend said it best... he has left behind a legacy.
Another friend said "Today a great sadness took us in her cold embrace as she stole Vegas away from this world. Vegas the hole you have left will never be filled. It will never shrink with time. Your personality was far greater than the night sky and the sum of her stars. Thank you for the laughter, the shenanigans, the life lessons and the love. Those who knew you and knew of you have all been touched by you. All humans can take a leaf out of your book for your love and zest for life. Our hearts and tears are with your soul people tonight and forever."