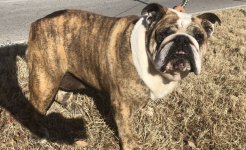 Please welcome Selena to Lone Star Bulldog Club Rescue! She writes: I've seen a lot in my 8 years on this earth. But I never dreamed I would find myself in a shelter for abandoned dogs and cats. The folks I had always lived with took me there and left me. They said something about me being too old, too fat, too sick and too expensive. What's their point? So what if I am all those things? I'm also too full of love to waste my time in a shelter.
That's when this nice man came to visit me. He scooped me up—well, not actually! He tried, but I am a little too heavy. But he did stoop down and love me and hug on me for the longest time. He then told me everything would be alright. He gave me a ride to the pet doctor and told the staff there that I was worth whatever the cost…. They were to give me the works and make me feel like a young gal again.
I'm going to have some work done on my one eye that is cloudy and hurts a lot. They will help fix my teeth, so they don't hurt anymore. When I get all dolled up, the man said they would find me a family that will love a full-figured gal like me! He made it sound so good, I can hardly wait!
1/22/18 Update: Hey bulldog people, it's me Selena checking in on a windy Monday! Lord, if I did not weight 70 lbs. I could have blown away today walking around outside! Hope you noticed I am wearing my mink today in celebration of me being the full figured gal that I was meant to be. Some folks tried to put me on a diet! I was doing the Richard Simmons Walk Away the Fat, and I did Jenny Craig, and the last one I tried was Weight Watchers! If I hear "feel the burn" one more time this fat girl is going to bite someone. I just want to stand up and scream "How do you like me now?" I am fat, fabulous and fun! I do feel like I have lost some weight, however the scale does not reflect all my hard work yet! I must be turning the fat into muscle and muscle weighs more!! I have been incorporating green beans, carrots, and some fruit in my meals. Win, win for me! I love kibble and adding fruits and vegetables is my kinda diet! I may never be that perfect size 7, with that hour glass figure, but add a 0 to that 7 and you got 70 lbs. of a heaping helping bundle of brindle bulldog babe that is perfect for anyone that loves some extra padding in case I slip and fall. Like I am now, I will just tuck and roll!
1/26/18 Update: Selena acknowledges us when we call her "Lena." She arrived at her B&B vacation hotspot on Monday evening. She is the perfect car ride buddy and has a beautiful, kind demeanor. She's very gentle with a tiny face and stunning markings, including the diamond she wears on her chest. She gives you a high 5 when seeking attention and of course, loves belly rubs.
2/5/18 Update: It's been a great week here at the B & B, but I am ready to roll out of here into a comfy, loving home to call my own. I'm enjoying my stay, but there is no place like home. I need a place to call home and I need someone I can unconditionally love & who will love me. I am a very smart gal who does not cause trouble. Did I say "smart?" Yes, I'm very smart and I listen well. I am well mannered and I enjoy my own space. I have been enjoying daily walks, a few times a day, and I am on a diet. It's all good, as I have lost a few pounds and feel great. My legs seem to carry me farther every day.
Play time in the evening is so much fun with all the toys (when my foster brother will share). I get along well with the rest of the pack and enjoy the big people. I'd rather you get down to my level so I can smother you with kisses, if you ask. I would never kiss you unless you ask. I may hit you gently with my paw for a little attention. I am not a beggar and seriously, I'm good on a diet, but I look forward to my breakfast and dinner. I also like apples for snacks. I certainly do not bark and beg like one of the gals I'm staying with? She always wants snacks. I take a joint supplement for my bones and it's making me feel so much better. I like to be brushed. I am fully crate trained, I have a sweet voice with a power bark if someone is at the door. I love my pillow and I do carry it around once in a while, then I take it back to my crate. Yes, I do love to take naps, so no trouble from me at nap or bed time. It's sweet dreams for all. Hey, please come see me next Sunday, as I heard I get to go on another thing I enjoy: a car ride! See you at Cold Beer Company!
2/10/18 Update: Hey, fellas… it's me, Selena, rocking my new red tutu for Valentine's Day! I must say… I am one smoking hot mama and red sure looks good on me. I have been on a weight-lost program, and I was hoping that you all would notice how much weight I THINK I have lost. All I can say is it better be at least 20 lbs or I am going to do some binge eating. My time in rescue has been great, but it's time I found a family to call my own. I LOVE people and I love all dogs that are smaller than me. I get really nervous if the dog is taller or wider than me.
I do walk with a limp and I have one eye that needs drops daily. Oh, and I do love to eat. I am 8 years old and I really am maintenance-free. I love a soft bed, good food, and I love to have my fur brushed. If you're thinking about a hot mama like me, now's the time to submit your app.
3/20/18 Update: Hey y'all, Selena here… I am having a blast at my foster folks place, I got to play with a baby, and she was soo fun that I just hung with her the whole time she was here. They've had me on a diet, and at first I wasn't so happy with that but I'm getting around a little better now and realize this diet thing isn't so bad!! Foster mom finally figured out that I wasn't barking at the vacuum, I was barking to be vacuumed! See I love this, it feels sooo good and I run to it every time someone turns it on! They love me here, and treat me like a queen, but I'm really sad that I haven't found my forever family yet… Anyway, Happy St. Patrick's Day y'all… and don't forget to support your favorite rescue and put in your application!! I'm ready for my furever home!!


​
Wanna Adopt?

Please view the adoption process and fill out an application at their website ---> dfwbulldogrescue.org
To view more available English Bulldogs from this rescue, click this link ---> Lone Star
Please let them know you found them on English Bulldog News!
​