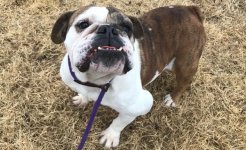 We just pulled sweet Phyllis from a local shelter. We'll have the massive mass on her left front leg addressed as soon as possible. Please keep her in your thoughts.
1/10/18 Update: I her initial exam we discovered she has a large growth on her elbow that will need to be removed. She also has corneal ulcers on both eyes and a double ear infection.
1/12/18 Update: Vet update on 10-year-old foster girl Phyllis: Phyllis does not have bony involvement in this tumor. It's soft tissue only, which is good. There's some arthritis present. She has corneal ulcers on both eyes and ear infections. It also appears that she had babies within the last year. After the tumor is removed, hopefully she will get some relief.
2/6/18 Update: Hey all you Bullie fans, Its me, Phyllis, a stunning newbie to Rescue. I will be eternally grateful for LSBCR's love and devotion to me and other Bullies. My name has several Greek origins but I choose "leaf" because I turned over a new one when I was rescued. My former family did not want me anymore. It breaks my heart to have been abandoned. I am seven years old, at least I act that way according to my doctor. Consider this ageless question, "How old wood you be if you didn't know how old you wuz?" I am becoming more secure and less traumatized and the future is promising. I visited the vet hospital for a wellness check where a tumor on my elbow was removed. I am feeling much better with the stability and security in the hearts and home of my foster family. Foster Mom especially loves on me all the time, from the car ride home to beside her on the sofa every night.
​
They have been loving on me and treating me special. I eat bits of hand fed chopped meats. I have my choice beds around this resort so I am settling in. Another resident Bulldog named Gabby, a Rescue alumna, tells me that I will be safe and happy here until my furever family finds me. Gabby is calm and friendly, which influences and guides me. She says that our serene character and loving nature are our best attributes. She will make certain that I am fully prepared for my adoptive family.
My doctor said that during my recuperation from surgery, I was to lie on soft surfaces. All this safety, security, food, and love are helping me to trust and love again. I am ready to be your Valentine.
2/12/18 Update: Phyllis here, but you can call me Filly-Filly, a la the beer ad. Speaking of beer, I am anxious to star as the quintessential canine Contessa at the Cold Beer Company event next weekend. Any potential adoptive family will find me irresistible. I hope that no rowdy competition erupts over me. I will not even have to wear my LSBCR ball cap for anyone to recognize me.
Foster mom and dad have restored my spirit, which has reinvigorated my loving nature. My broken heart has healed. I am so happy these days that I wiggle my butt frequently. Sometimes, I prance and hop at meal times. I am in the market to be your valentine and ready to make my adoptive family happy. As Pink so eloquently sang, Just give me a reason…
My potty behavior is good, but please take me out to pee every two hours. My arthritis is mild so when I jump my fore paws onto the sofa at night, just boost me up so we can cuddle side by side – oh, yeah, more of that. You do not need to walk me. As a vintage lady, accompanying you from room to room is exercise for me. I am fine with other dogs. We seniors are OK with kids. Just make sure that they understand that I am not a frisky puppy. I will play with toys, but only until I get bored. Permanent doggie denizen Gabby tells me that Bulldog visitors do not last long at this resort. One family scooped up a foster dog after less than two weeks in November and the last two stayed less than one month in December and January. My foster family will ensure that the best match is made between my furever family and me. All it takes is you…
3/10/18 Update: Life is going great these days. I enjoy safety and security, love, great food, and have not a care in the world – except that I long for my own adoptive family. Here are reasons to take me into your heart and home.
· I am a soulful senior, a gentle geriatric and loyal lover
· I am house trained but sometimes pee at night, but adult diapers help with that problem
· We vintage Bulldogs set the example for how others should behave, particularly the frisky fellas
· We exude a spirit of peace; check out this video of me sighting and snoring
· I sleep a lot so I love me some comfy beds
· I don't chew the furniture, your clothes, or anything else for that matter, except my food
· I wait patiently by your feet to be available when you want to love on me
· I am a tad arthritic so you don't have to walk me
· If you have seen the video of me dancing and prancing at mealtime, you know that I summon energy on demand
· My eased energy level has a calming effect
As a lady who has experienced some of the lesser values of humanity, I am more appreciative of all you do for me. I have gained back my weight and am at full health. My foster parents love me and have prepared me move on with my retirement years at my new home. So what are you waiting for? Send in your application and maybe you and I will be matched together!
3/22/18 Update: Phrincess Phyllis here and a hearty hello to all my admirers, I am modeling my regal finery. Aren't I the dog's woof? Purple is the color of royalty so what do you think of my skirt, boa, and tiara? See how I hold my head up high? I am one phroud Phrincess. In my close up, you can see my pretty face.
No doubt someone is sure to fall in love with a Phrincess and want to adopt me. Be sure to submit your application and start the process to be matched to a dog. Maybe that will be me! I can waddle into your hearts and home in short notice. Foster mom says that I am the most unusual foster Bulldog that they've ever had. I am comical to watch and such fun to be around. I bring them joy because Wanna Adopt?


Please view the adoption process and fill out an application at their website ---> dfwbulldogrescue.org

To view more available English Bulldogs from this rescue, click this link ---> Lone Star

Please let them know you found them on English Bulldog News!

​

of my unique, original character. So in the words of the Supremes, "Come See about Me."



​