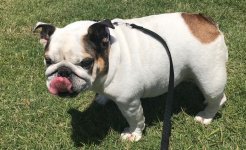 Oo la la! My name is Paris and I am a beautiful six year old girl.
I have heard of people surrendering their dogs because the dogs became old and ill. But this is not my story. In fact it is the opposite. I was bought as a puppy by a loving family. But over the years my mom has become disabled and now my dad is very ill. They no longer have the physical or financial ability to take care of me like I deserve. They could not even afford to have my nails trimmed or give me spa days a girl like me needs. So with many tears they sent me off to rescue so a new family will treasure me and treat me like I am accustomed and deserve.
I will be 7 in September. I am at the vet for my spa treatment. My nails will be trimmed, they will look at the gunk in my eyes and see what needs to be done to make them sparkle again. And they said I would get a spay treatment at the spa. Not sure what that is, but they said it will make me feel better. I love short walks, love to snuggle next to you in your favorite chair, and I really love to lay out in the mornings and sunbathe! And my best friend was the family cat. Can I come do those things at your house? But only after I get the full treatment at the spa!
7/18/17 Update: Foster girl Paris had her spay surgery (and then some) today. From the vet: Paris had a precancerous lesion on her ovary, bilateral corneal ulcers… yellow staining on her eyes, a large ulcerative lesion inside vulva and we packed her tail with ointment. She woke up testy! She definitely has a opinion. She will stay at the clinic several days to completely recover.
8/14/17 Update: Hey bulldog friends it's me Paris back from a wonderful vacation in a city far far away. Like all beautiful women reaching mid-life I realized that a nip-tuck was in order to maintain the level of perfection that I was born with. My eyes had started to sag, so I had both of them done. Those wolf whistles I used to hear so well were getting harder and harder to hear, so I had both ears done. But the biggest change I made was on my tail. Yep, my tail! I had a total tail reconstruction. Don't get me wrong. Baby still has a booty to wiggle, but now it's not painful for me to sit down after strutting my stuff all day! You may think I am a little to vain for a lady that's 6, but I say noooo way. A lady must do what needs to be done to maintain her body and her attitude. After all I was not named Paris so I would just be average! Like Paris, France I am a masterpiece, a beautiful bulldog, a true treasure to behold. So today I am ready to meet my new family: a family that thinks full figured is just more to love; a family that knows the beauty of Paris; a family that will love me forever!
9/3/17 Update: Ya'll have got to see this spit fire. Paris does not miss a thing, she is in everyone's business. everyone's face and has no fear of any bulldog no matter the size. Paris will make any family happy with her sweet charm and her willingness to be friends.
9/17/17 Update: Paris is more refined, not pushy, not in your face, or in your business. Paris is like the beautiful city: refined, ladylike and a lover of all! Paris needs to find herself a family soon. She has started to bond with me, and makes every step I make. She tries to jump up on my leg, but topples over like Humpty Dumpty. Paris adores affection, adores sitting in a lap, and loves, loves, loves kids. I tell Paris daily that her family is out there just waiting to find her. But, Paris takes rejection hard. If I move her or make her get down, she lowers her head and walks away, looking back over her shoulder. Heartbreaking because I know she misses having a family to call her very own.
10/1/17 Update: C'est moi, Paris, qui tape sur le clavier. I just moved into my new digs this afternoon. Foster parents met me in Allen and they brought new fur sister Gabby. She and I bonded at the butt sniff exchange. We are very similar green dogs, always in energy conservation mode. We are both extra chill-a-docious.
Gabby and I shared the back seat in the Bulldog limo (foster dad's beloved 1999 Subaru) on the drive back to her place. She told me that I was in luck. I will enjoy salmon, duck prime rib, cod, turkey, lamb, shrimp, lobster, pork, ham, lobster, veal… I have no idea what all that is but would like to learn more. Foster Dad says that he will introduce each protein and judge my reaction. Gabby says, "Just eat it girl – this biped knows how to treat him some Bulldog". I am happy to be in such a cozy environment but a bit unsure of the future. Foster Dad and Mom are reassuring me but I have my doubts for now
My new fur sister Gabby has taken me under her forepaws. She explained that I am at a "way station". Hey, I may resemble a sausage but isn't a way station where 18 wheelers go? I am not that heavy! Gabby tells me that this foster parent's home is the place to be. The lodging is 4 stars and the food is 5 stars! We Bullies are all about food so I am in luck. Did someone mention food? I experienced this "appetizer" thing that Gabby mentioned and it was wonderful. One ounce of ham for lunch, wow! Gabby says that turkey appetizer is on the dinner menu. I am settling in and will soon be ready to make a loving addition to your family. Check me out!
10/8/17 Update: Wow, what an interesting first week chez foster family. Foster Dad likes to sing "I love Paris" to me in French. His singing is awful,but he is well-intentioned, so I humor him. I am delighted with this newfound meal regime. Fur sister Gabby was right; just chew, savor, and repeat. After the warmed protein appetizer course, the entrée is Blue Buffalo, an upscale doggy cuisine, finished with a melted virgin coconut oil sauce. Oo la la… I have sampled a few fresh fruits from the dessert tray but that is more of an acquired taste, on which I am working. Did I mention the food is yummy here?
Picture me, a Bulldog with a French name, gracing your home. Just fill out the application and I could be in your home soon. I am improving from dry eye. Foster Mom is a nurse so she knows all the treatment techniques. Besides good food and lodging, comfort and security, I have on-premises medical care. I do not even have to call downstairs to the Concierge. Do you know why? They do not have stairs and I do not have a phone. I admit to a few poop mistakes in the house. Gabby says that it is all part of the transition process and foster parents will love me through it. I stand at the back door or knock on it when I have to go out. We are all working hard on potty protocols. Hey, it has only been one week.
For all y'all prospective adoptive families out there, here is the 822 on me (that is the 411 for you bipeds). I am a calm Bulldog whose desires are simple: love, good nutrition, comfort and security. I am not big into playing. but respond affectionately to your love. While Foster Dad is working, I brush against his leg so he can love on me. I get along with other animals. I do not remember much about kids, but at my age and energy level, we can all get along. My bum is on the mend from my tail removal surgery and my fur is growing back. I am ready for my furever home. All I need is you. Foster Dad has taken to giving me special attention – wow, more of that! I like to hang out with my homie, Gabby. I am always the better-looking one. In the words of songwriter Richard Marx, "I will be right here waiting for you."
10/15/10 Update: I just completed my second week at my new foster home. Get this, foster dad spoke with two people who are interested in adopting me. Well, I have good news for you potential adoptive families. I sailed through the second week without one poop accident. I already do all my pee outside. My house manners will make me a princess in your home.
In other good news, I went to the vet for my eye and ear woes. My ear infections come on quickly but I have new meds and things are getting better. I dropped a few pounds and the vet says that at 48, my weight is ideal. I also enjoyed a spa day. Gabby told me not to get into that shower cuz foster family often treats us to spa days.
Since it was my 7[SUP]
th
[/SUP] birthday in September, foster parents threw a belated party with ICE CREAM. I do not remember having it before but my future adoptive family can tempt me any time with ICE CREAM! Check out the attached video.
The more my foster parents love on me, the more affectionate I become. I now get up on the love seat every night to snuggle up to foster Dad for an hour or so. I squeeze right next to him and he strokes me, Ahhh…What are you waiting for? Fill out the application and, in the words of the Supremes, "
Come see about me
."
10/22/17 Update: I am fully ready for my furever home, can pack and be ready in no time. My health is good, no pee or poop problems in the house, and I am all about love. I know how to knock on the door when I want to go out. If foster Dad is busy, I "woof" him to attention. I am not food aggressive and get along fine with other dogs. At first, I did not to know what to make of this routine but since it involves food, I learned quickly how to catch. We catch better than some of the Dallas Cowboy receivers and we are girls!
I am surprising foster parents with my energy. They have been giving me extra love and I have responded. I now trot out faster to do my business than foster Dad can keep up. Not bad for a vintage Bullie, huh? This foster family is preparing me for my new fur-ever family. Gabby is right, you LSBCR folks help us to put our behinds in the past. Once in Rescue, it gets better all the time. I am ready and happy to grace your home as your new family member.
11/5/17 Update: Wow, that Bull-o-ween night was crazier than France on Bastille Day. I went dressed as a French chef (what else?) but suffered a wardrobe malfunction and had to leave before the judging. Darn it, I certainly would have won the award for most beautiful belle at the ball. Next year, I am lobbying for a Talent category. I am the only English bulldog in LSBCR who understands French. As with the beauty contest, I am a lock to win.
Foster Mom spoke to a potential adoptive family about me at BOW. They were taken by my beauty, grace, and charm. Well, who isn't? When they learned how much of a lover I was, well, let's say I have my paws crossed. Literally, when I lie prone, I cross my hind paws.
I also reconnected with my LSBCR vet, Dr. Leah. She said that I had come a long way. I met so many other Bullies and bipeds that I was over stimulated. Foster Mom took me and fur sister Gabby home early and we munched away our tensions on elk antler bones. Ah, the good life.
Skin sister Brie came home for this weekend and fell in love with me immediately. She took me up on the couch, stroked, and loved on me. I am that kind of Bulldog. I am ready and anxious to get to my furever home. Rescue is so wonderful a concept and foster families put us on the path to a new life. I am well behaved, respond affectionately to love, and will not disappoint you. Fill out the application, schedule a Home Visit, and then come out to Flower Mound to meet me. You could have a Parisienne lover in your home soon. Happy tails to you, until we met again. Keep smilin' until then.
11/20/17 Update: Life at my foster home is comfortable. How comfortable? Check out this photo of me snuggling with Foster Dad. Imagine me snuggling up against you. The security, good food, care and love make me one happy Bulldog. I will take my prim and proper behavior with me to your family. I know this is how things go because I heard it in a love song.
Fur sister, a permanent resident, and I do great together. Our new roomie is a boy, energetic for a senior. Oh yeah, the boy can play. Fur sister and I mostly hangout when we are not getting love or eating. The new boy and Foster Dad like playing with toys. I prefer the more laid-back life. If you want to adopt a sweet, well-behaved and loving senior Bulldog, I am your girl. I am rested and ready for my furever home.
Wanna Adopt?
Please view the adoption process and fill out an application at their website ---> dfwbulldogrescue.org
To view more available English Bulldogs from this rescue, click this link ---> Lone Star
Please let them know you found them on English Bulldog News!