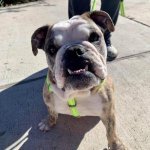 Boomer has spent most of his life living in a cage indoors with his humans just out of reach or outdoors. He is fully appreciative of his new foster family and all the love and snuggles they are happy to give him. Boomer is also learning about toys and how to dog. He's nearly got this 'fetch' thing down, but sometimes the need to snuggle instead is just too overwhelming to keep running for that ball. And as itty bitty as he is, it's easy for him to crawl right up into your lap and settle in. Boomer will need a patient family who will continue to help him learn that his crate is a safe, comfy space he can relax since he seems to harbor some past resentment to it, given how much he's enjoying his newfound freedom and loves his humans. But when he's looking up at you with those big puppy dog eyes and two little pointy teeth constantly poking out, it sure is hard to ask him to be anywhere but in your arm.


Wanna Adopt?
Please view the adoption process and fill out an application at their website --->
https://austinbulldogrescue.com/
To view more available English Bulldogs from this rescue, click this link --->
Austin Bully Butt Rescue
Please let them know you found them on English Bulldog News!