Hey all, during my time in search of an EBD, I can across quite a few EBDs looking for forever homes and thought I could post some to see if anyone in their vicinity might be able to help. I could not post on any of the adoption threads and felt bad for this guy! He seems so sweet, but unfortunately, again my lack of experience with EBDs didn't allow me to adopt him
Below was one of my favorites. I got information on him, and I was told he suffered from severe allergies and therefore needed to be kept strictly on a raw food diet. Below are his details and the contact information.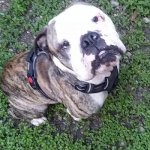 Facts About Me
Breed
English Bulldog Mix
Color
Brindle
Age
Adult
Size
(when grown) Small 25 lbs (11 kg) or less
Weight
Sex
Male
Pet ID
GDR-A-4332
My Story
Rocky aka Virgil English Bulldog: male, 4 yrs " Nacho,Nacho Man...I've got to be a Nacho Man... " What do you mean that's not how it goes? Ohhhh...ok..well I'm pretty macho too. Mind ya business..I sings it the delicious way. I'm Virgil and I am a whole lot of love. Once I was used to breed..something called a stud. I'm still a stud..just not that type. Now I'm a face kissin' ,car riding, best co pilot you ever did have beefcake! I'm about 50 lbs of all the dog you'll ever need. That would suit me just fine,because I'm picky abt dog friends rt now. When I see another dog I tend to revert back to my old ways and then my theme song changes to Sir Mix ALot.. I like biggggg BUTTS....and I cannot lie.. What now? Sigh...fine! Let's just say I'm a bit too amorous still. I like cats...they look like delicious squirrels. Nevermind..foster mumsie is no fun she said no cats. I do really love people once I have time to warm up to them and treats help. I'm 100% pawty trained, so if you smell something it's probably just a fart. Foster mumsie says if you smelt it...you dealt it! I If you're not keen on me snoring in your ear on the pillow next to you it's okay..I will sleep like a baby in my crate without so much as a peep. My foster mumsie even does my twinkle toes! I tolerate my pawdicures like a champ.. if you'd like to throw in a face massage I'm down with that too. I do have something called heartworms,but the nice people are treating me for those and told me not to worry. I will be all done with those very soon so when we go riding on the freeway of love we won't have any stowaways. Adopt me! Rocky...aka..Virgil. New life,new name. Local Adoption Only $300
Rescue
God's Dogs Rescue TX
Contact Info
Rescue
God's Dogs Rescue TX
Contact
Email
[email protected]
Address
Von Ormy, TX 78073
Pet ID
GDR-A-4332
Website
God's Dogs Rescue - "Rescuing God's Lost Dogs" Since 1995
Donation
Their Adoption Process
1. Submit Application
View pets on website Fill out application on line. If local to San Antonio TX, then a meet and greet can be arranged.
2. Pay Fee
If application approved, pay for pet and schedule delivery if out of state.
3. Take the Pet Home
We transport all over the country and have regular routes we run. References available upon request.
Additional Adoption Info
Adoption application required. Adoption Fee is $200-350 local (Local is state of Texas) $500-800 for out of state adoptions (includes transport fees).. The higher prices for Purebred and/or highly desirable pets. Adoption application, adoption contract, return/foster agreement if dog doesn't work out in home.
We work hard to place dogs in the right homes, if the adoption does not work out and we have room to take the dog back into the rescue, we will. However, the sheer number of needy animals in Bexar county TX +usually means we become full quickly after the dog is adopted. So, in those cases we will post the animal, help the adopter screen applicants and help facilitate finding another home for the dog.
Their Adoption Application
https://www.shelterluv.com/matchme/adopt/GDR/Dog