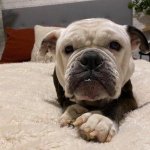 Amazing Grace was found as a stray, filthy, dejected, and in rough shape. We were stunned to find out she does not have any major health issues, except some aging joints and loss of hearing. She is, in fact, deaf, but it sure doesn't slow her down one bit. Grace adores her humans and isn't afraid to express herself with her walrus-y barks and howls when there's something she wants. She also has the most hilarious single snaggle tooth that sticks out of her underbite at all times. Amazing Grace is in a foster home currently with other dogs, and generally ignores both them and the resident kitties. She is also perfectly happy nested in a fluffy dog bed or by your side for a snuggle. Since Grace is deaf, she will take some time to adjust to her new surroundings and might get a little grumbly if she's startled. For that reason, we think she'd do best in a home without a ton of visitors or small children (visiting or living in the home) so that she can feel comfortable in her space.

View attachment 80125





Wanna Adopt?





Please view the adoption process and fill out an application at their website --->

https://austinbulldogrescue.com/





To view more available English Bulldogs from this rescue, click this link ---> Austin Bully Butt Rescue





Please let them know you found them on English Bulldog News!