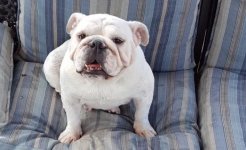 My name is Sweetie Girl and I am 4 years old. My mom bought me at the age of 2 from a breeder in Mexico that kept in a crate for 2 years. My first name was Socks. I love, love, love women and kids; it takes me a while to get to know men. I love to chase cats, and one day, I hope to catch a cat. I love to eat. I wolf down my food and I will wolf down everyone else's food, but don't let me because I will get too fluffy! I travel great and I love to go. I do not like to go outside in the Texas heat, and when I do go out, I will shoot right back in. I love to jump up on people that want to pet me, and I can even dance. My favorite thing is a good belly rub. If you rub bellies, I will be your new best friend. I have been called submissive and very gentle. If I can pick my family, they will be older, not wild and crazy, will talk quietly and be very gentle with me. And naps… They will love naps. And they will let me nap with them. My name is Sweetie Girl and I am just that: as sweet as any girl can be.
8/30/17 Update: Sweetie girl here, living up to my name. I'm the sweetest. All I want is belly rubs and a nice cold floor tile to lay on. Today was a big day: Dr. Ronnie took my stitches out. OK, it was only a big day for my foster parents who have been counting down until I could take a full bath. I smell so nice now, though I don't know why my face has to smell like blueberries and my body like oatmeal. Foster mom says girls like this kind of spa treatment, but I am skeptical.
I am the worst model for picture taking. As soon as someone points a camera at me, I go into full wiggle butt mode. All foster mom can get is my "action shots" ~ aka a white blur. Overall, I am the perfect Bulldog. I am calm, I like people, and I like my foster siblings (although I am still the boss!) and I like kitty cats. My potty manners are great and I've had no accidents. Am I the Bulldog for you?
8/11/17 Update: Morning, ya'll. As you can see, I like summer sunbathing and patio sitting. The waiters here are terrible and never bring me my drink orders. I am sweet, lazy girl who wants to be where you are, the closer, the better. My favorite things are couch snuggles and being toweled dry. Makes those spa treatments worthwhile. Just waiting here on my forever family, and keeping my foster siblings in line. Do you have a couch snuggle for me?
9/3/17 Update: Sweetie Girl here, just lounging around getting my belly rubs. As you can see, I have my foster pop well trained. Wherever the people are, is where I want to be. Foster mom likes to play a game to see if she can walk somewhere in the house without being followed. Well, let me tell you…. Foster Mom: 0; Sweetie Girl: 12. Are you looking for a pocket Bulldog shadow?
9/17/17 Update: I had another busy week at my foster house! As you can see, we celebrated a birthday and while I am a great sport about wearing a hat, foster mom has to be a ninja to take my picture. I assume, if you are looking at me, you want me to be right next to you, so here I come! My potty manners continue to be perfect. When I want to come in, I scratch at the door and then I go sit to the side so you don't have to worry about getting me with the door. Foster mom says I have to learn to use the dog door, but I don't think this face can risk getting any more smushed pushing a door open, do you? My foster family thinks they have got all of my quirks figured out, like how I have appropriate back support at all times. Whenever I go to sit somewhere, it has to be against a wall or a cushion. My foster mom likes to provide the beep-beep sound every time I waddle my back end against something. When I'm not resting my behind on something, I am holding my foster sis down for a good cleaning. She doesn't enjoy baths like I do!
9/27/17 Update: Sweetie girl is the perfect package of mini bulldog (or mini pigs as we call her since her bulldog noises are EPIC). Not one to wait for Foster Mom to put the bed back after cleaning, she folded it in half for extra squishy comfort. Her face says, next time move faster, slave! But her side eye is just for show since she spends most of her time smiling. Her favorite activity is to rain on her foster siblings' parades. If they are playing with a toy, she goes and stands over it. At 40 pounds, she is just too tough for the 55 or 85 pounder to even dare to try to steal it away. We have been really happy this week as she has started playing with more toys, even tug of war! While she waits for her forever family, she's just going to keep convincing her foster parents to lift her onto the couch, even though she is perfectly capable of getting up on her own.
10/1/17 Update: Sweetie girl, here! There's something weird going on at my foster's house. Everything is going into boxes! Foster mom says they have bought a new house, and if I haven't found my furever family, I get to come too! Both options sound pretty good, but I'm really hoping on my furever family to come soon! I spent all weekend helping the foster 'rents pack up things and landscape in the yard. I was so glad when they went to work this morning so I can take a nap. Last night, I climbed into foster mom's lap and flipped over for bellyrubs. She can be a little slow on the uptake so I made my wishes CLEAR. Who can turn down a sweet girl like me?
Wanna Adopt?
Please view the adoption process and fill out an application at their website ---> dfwbulldogrescue.org
To view more available English Bulldogs from this rescue, click this link ---> Lone Star
Please let them know you found them on English Bulldog News!