Moderator

Community Veteran
Dec 9, 2016
5,387
1,019
Country

United States
Bulldog(s) Names

King Louie, Jax (French Bulldog), Ella Mae and Darla Rae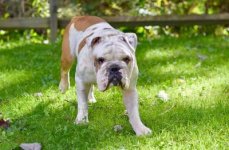 Intake Date: 9-27-2018
Last Update: 10/06/2018
Date Available: 10-6-18
Accepting Applications until:
Age: 8-10 estimated by doc's at VCA
DOB: ??
Gender: Male
Weight: 57
Energy Level:Low
Color & Markings: White w/tan markings
Good with other dogs: Yes
Good with cats: Unknown
Good with kids: BBR Policy states no children under the age of 8+.
Object aggression: None
Special Needs: Luke has limited eye sight and hearing. He seems to hear higher pitched tones better as I can get his attention by whistling. He does much better in day light versus night time.
Medications: Luke is on two permanent eye meds for life for dry eye. Twice weekly ear wash due to severe ear infections. Flea and tick plus heart worm preventative.
Crate Trained: Yes but having separation anxiety at times mostly at night.
House Trained: About 75% there. Poor Luke can't hold it thru the night so he wears a belly band over night.
Physical Fence Required: A fenced in yard would be ideal for Luke as he takes his time doing his business.
Adoption donation:
My Ideal Home: My name is Luke. I am a senior male english bulldog. For those who don't know I came from a hoarding situation in West Virginia. I was left to fend for myself in my house until my owner came back and tried to burn the house down with myself and my brother still inside. Luckily he failed. I have a lot of issues due to my owners neglect for my care. I am deaf and have very limited eye sight among other bulldog issues. My foster parents say I am very resilient as after all I have been through all I want to do is love and be loved by my humans. My foster dad says I am a gentle giant.
Right now I am stuck wearing this crazy cone on my head so I don't damage my stitches from surgical procedures. I was neutered and had something they call entropian fixed on both eyes. I really want to play with my foster fur-sister Lola but am not allowed until I get my stitches out.
I mostly just like to lay around either on my dog bed or sometimes on the couch when my parents let me up there.
My parents say I am very handsome but right now look like I went 12 rounds with Mike Tyson. I know soon I will be back to normal and be able to do normal dog things. I am also working on my house training and have had a couple of accidents so far but mostly do my business outside.
One of my favorite things about my foster home is I get to eat a lot! I love my food and they tell me I still need to put on about 5 pounds to be at my ideal weight of 60 lb.!! Yea, I am a big boy!
My ideal home would be one with a house without steps. My foster home has them now and they are a challenge for me. I also would love a fenced in yard to do my business as I like to take my time in this department. I also like to sniff things and may wander off if I catch a scent. I get along great with my fur-sister so other dogs in the home would be nice. I just need to eat my meals on my own.
Luke is working on potty training. He still has accidents every once in a while. We try and keep him on a schedule for potty breaks which really helps.
Luke is pretty much crate trained. He has only had one accident in the crate since we have had him. We tried to crate him at night but since he knew we were home he had some separation anxiety and barked and cried until we moved him upstairs for the night. He now sleeps in our bedroom on a dog bed.
Luke is a 60 pound lap dog. If he is on the couch with you he has to be on you. He is not much for kisses though but he really loves his belly rubbed.
We have had him on a few walks. Just short walks around the block is about all he will tolerate.
Luke tolerates bath time like a champ. We have been bathing him twice a week with a special medicated shampoo for allergies.
We have had Luke on several long car rides. He does very well and sleeps for most of the ride.
Luke has a fur sister boxer gal. They get along great although Luke isn't much into the chase game Lola likes to play. They do however share several toys with no issues.
Luke is a senior dog and suffers from dry eyes. He is on two permanent eye meds twice daily. He tolerates the eye drops very well. Due to his previous neglect he has very limited hearing and eye sight.
Lukes ideal home would be one with few or no stairs. They are a challenge for him due to his limited eye sight. He will also need a fenced in yard as he does much better doing his business off lead but he does take his time. If given the chance he will probably wander off chasing a scent.
He is one of the laziest dogs we have ever met. It takes him a while to get moving in the morning and at night when it is bed time. We often have to motivate him with a piece of cheese under his nose. He seems to be the most active later in the morning after he eats and again in the afternoon. He spends most of his free time sleeping.
Luke has shown he can be a bit of a bully when food is involved. We keep him and Lola separated during feeding times and when the humans eat.
We have not had him around cats or small children. We really do not think cats will be an issue. Even though he is low energy he is a very strong dog and I would be careful with him around small children.
Feeding time is not an issue with him. He has a voracious appetite and finishes every meal. He is on a grain free diet.​
Intake info: ​ I came from a hoarding situation in West Virginia. I was left to fend for myself in my house until my owner came back and tried to burn the house down with myself and my brother still inside.
Wanna Adopt?
Please view the adoption process and fill out an application at their website ---> buckeyebulldogrescue.org
To view more available English Bulldogs from this rescue, click this link ---> Buckeye Bulldog Rescue
Please let them know you found them on English Bulldog News!