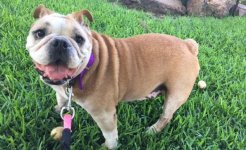 At the age of 10, please welcome Sunnee to rescue! Sunnee is what you might call an Army Brat that traveled here from South Korea. Three years ago she became a Texan living on a Army base with her bulldog brother. And then it happened, the family went their separate ways and Sunnee was caught in the middle with nowhere to go. So Sunnee packed her things and headed our way to find a family that would love and appreciate a senior citizen that still has a lot of pep in her step. She says she can still chase a rabbit, and is available for lots of couch time watching The Voice! Sunnee is great with other dogs, has been raised with kids, and is super friendly. She has some bulldog allergies, but is already spayed, current on shots and had her grooming visit today before arriving so she is cute as a button, smells like a rose and ready for some couch time at your house!
4/16/17 Update: Sunnee is a tiny sleep machine almost 99% of the time. Sunnee's favorite time of any day is meal time. Sunnee loves to eat!
5/28/17 Update: Sunnee is zero problems. Her days are filled with naps, food and treats. Sunnee does not particularly care for other dogs and she will challenge them if they try to take her bed. Sunnee needs a pampering retirement home.
6/12/17 Update: You may have noticed I have been M.I.A. for a few weeks. This was NOT my intentions at all! One day, I woke up and my hair was falling out, my skin had turned a watermelon red and I could not stop sneezing and scratching. I was like, "What the heck has happened to me?" I jumped in the car and headed to the vet and she said, "Sunnee Dee, you are a hot mess!" And then it began… the poking and the prodding, the scrapping and the baths. I was scrubbed places that the sun never shines! Multiple times. I have had shots, medication, special shampoo, fatty acids and now I eat a special dog food that tastes like cardboard. Yep. That's me, a cardboard-eating Bulldog that is one hot mess. Every other Bulldog is eating something tasty with a little cheese on top, and me? I am staring at this grain-free, chicken-free, all-things-that-taste-good-free dog food and I am one mad Sunnee Dee!
And to make matters worse, I have packed on a few pounds and none of my clothes fit any more. I had to get a larger collar, and my walk around the yard has turned into a walk down the street and back! Will someone please adopt me? This is Sunee Dee asking … please! 7/17/17 Update: My tiny Bulldog with a huge appetite still wonders when her furever family is coming. How have they not been found? The biggest thing about her is her body and her appetite. Sunnee continues to expand in size, chase a loose kibble across the floor at record speed, and do some of the cutest things. At age 12, Sunnee will never give up on finding her family.
9/3/17 Update: Sunnee is fighting mad that she is still without a family. At age 12 Sunnee has a spark about her that let's everyone know she is the clean up bulldog and every loose piece of kibble is her's and Lord help the bulldog that is in the way. Unless she get's old over night she has more good years ahead !
Labor Day means no more wearing white for me! I have packed up all my white tutu's and tap shoes and have squeezed into my multii-colored tutu. So let's just say, I might need to go on a diet! Either the dryer shrunk my tutu, or I have been having one too many banana splits while I wait for my forever family to find me. I guess I eat more when I am depressed, because I never thought me, Sunnee Dee, would have trouble finding a forever family. I am really the total package, looks, charm, healthy as a horse with personality plus. I am great around other bulldogs, kids, cats and big people. I am a clean plate eater, well really I just clean up after anyone, if they don't want all their kibble. Like a ninja, I swoop right in and like magic I clean it all up! So, please if you need a clean plate eater, a ninja in waiting, or a lazy bulldog babe send in a application for Sunnee Dee, I just sit here waiting .
9/17/17 Update: This gal danced, pranced and worked the room at our Hollywood Feed event this past weekend. Sunnee ignored all the "diet" comments. She ignored all the people that side stepped her to let her roam the room looking for some treats. Sunnee Dee did NOT appreciate the someone took a pig ear out of her mouth, pointed their finger at her and said "Little lady, it looks like you might have had ONE too many pig ears!" When she first came into rescue, all she heard was "Girl, you are tooooo thin. You need to eat!" And now it's, "Girl, what are you eating?" She can't please everyone, so she has decided to just please herself!
9/25/17 Update: This gal is still upset about being called "fat" at our Hollywood Feed event. Sunnee Dee thinks the people who were throwing around that 'fat" word were bullying her and she wants no part of that. So, if you're wondering if she has gone on a diet to show those people a thing or two… the answer is NO. In fact, she is emotional eating now. Sunnee Dee could not be any cuter if she tried. There is a family for her out there. She will not be happy until someone finds her and adopts her! When Sunnee finds her family, they will be the luckiest family in the world!
Wanna Adopt?
Please view the adoption process and fill out an application at their website ---> dfwbulldogrescue.org
To view more available English Bulldogs from this rescue, click this link ---> Lone Star
Please let them know you found them on English Bulldog News!