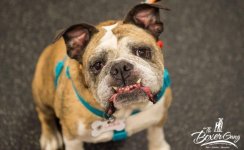 Welcome 7 year old Laura to our rescue family. She is a very pretty brindle and white girl. She was picked up by animal control and taken to a shelter. Even though she was microchipped she was never claimed by her family. Her eyes and tail are a mess and need treatment. She weighs 45 pounds and seems to be very people and dog friendly. She is off to the vet for a checkup and to have her problems treated.
3/15/17 Update: Laura has had her initial vet visit. Laura has rotten teeth, double ear infection, a bad tail infection where her tail used to be (already been removed some time ago), staph infection, dry eye, cough and congestion. They will give her some special baths to clean out the infection and pack the hole with antibiotics. All of these issues can be corrected with a little time and love.
4/17/17 Update: She writes: It's me, Laura. Just wanted to say hi! I am doing good and have everything I need at my foster home. Good food, toys, lots of foster Bulldogs to play with (and a Scottie), and most of all lots of hugs and kisses. Foster mom and dad say I am the sweetest girl, so quiet and they love my ears!
I love to sleep in and wait for my breakfast to be delivered. It's like room service. When we go out to play, I like to watch over everyone from the porch after I run around with my foster sisters, Nola and Scottie. The boys get too rough! I am patiently waiting for my furever family and enjoying life. Laura-bean 5/7/17 Update: Laura-bean here. I finally get to let you all know what I have been up to: absolutely nothing! And it is so great. I love to sleep late in the morning, have breakfast then nap-time. I do love the sunny, warm weather and like to sun-bathe. Foster mom and dad just love me and tell me that my furever family will too! Especially my cute ears!
7/9/17 Update: Dallas Pet Expo and meet a lot of nice people and a bunch of friendly dogs. There were some dogs that were not so nice, but I didn't let that bother me. There were lots of kids there too! I like kids – they are funny. A few weeks ago, I went to Dogtopia for the Lone Star Bulldog Club Rescue Reunion and there was a room full of Bulldogs. I had never seen so many Bulldogs before, and it was really fun. I got to meet a lot of them and they told me all about "life after rescue" and how great it is to be adopted. I also met this nice photographer – Jeff from The Boxer Gang and he took some pics of me that I thought I would include. He said he loved my "ears," so I guess that is my best feature.
I also discovered that I know how to "shake hands!" Who knew! I sure hope my forever family finds me soon. Until then I will relax here and take it easy…. Laura Bean
9/17/17 Update: Laura Bean here…I also answer to "Dorbs or Dorbie" as Foster mom has been calling me. I think it is short for "Adorable", she keeps telling me that I am ADORABLE!
I am disappointed that I did not get to go to Hollywood Feed yesterday with Eddie G. We had been planning on hanging out together and meeting a lot of new bullie friends and people friends. Foster mom did not think I should go, since I had surgery on Thursday, again on my tail area. She keeps saying it is like a "Bullie Butt Lift"! Foster mom stayed with me during my surgery and she said she even has pictures, Yuck! I was so tired after, I fell asleep as soon as I got in the car and when I got home! So for now I am just resting and letting everyone wait on me. "Can you get me a treat, maybe some food, gotta go potty, another treat please, fluff my bed, I'm thirsty, etc…" I have my foster family trained! I hear the next event is "Brunch with the Bulldogs" at Country Dog Services in Blue Ridge, TX. Well I like to eat and I am a Bulldog, so I will be there. Hope to see you all there!
10/20/17 Update: Foster girl Laura had a great time at the Bulldog Bonanza at
BAR 2909 – West 7th Fort Worth
. What a cool place to hangout and see a bunch of our Lone Star Bulldog Club Rescue friends. We met a lot of nice people looking to adopt a Bulldog. We are hoping I made a good impression on them so they will consider me. We are excited about Bull-O-Ween and cannot wait to go. Hope to see everyone there!
Wanna Adopt?
Please view the adoption process and fill out an application at their website ---> dfwbulldogrescue.org
To view more available English Bulldogs from this rescue, click this link ---> Lone Star
Please let them know you found them on English Bulldog News!