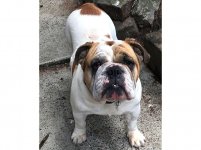 My foster mom calls me her "street girl" since she says I am a survivor and know my way around the tough streets where I was found as a stray. I think I about 4 years old, although when I start playing with a plastic water bottle, people think I am much younger. I love toys and I don't always like to share them so will need ongoing training with learning that giving them up doesn't mean they are gone forever. My mom thinks someone encouraged rough play with me when I was a puppy and didn't teach me some of the basic manners that most puppies learn from their owners. I don't mean to be too pushy and am learning fast and catching up on the things I didn't learn when I was little. I get really excited about meeting new people since I love attention from everyone but also need to learn how to temper my introductions. I love my foster mom and dad and will give kisses to both whenever I get a chance.
I have made great progress with my potty training. When I trade my foster home for my forever home, I will need a new parent who will be patient and continue my training either with installing a dog door or being home so I can be let in the yard to potty.
I love napping in the sun in the afternoon. My other big favorite things are breakfast and dinner and all treats, ear scratches, and belly rubs. I have something call dry eye and will need cyclosporine eye drops twice daily for life. It's no big deal, I am used to having them put in my eyes every morning and before I go to bed. I have been spayed and have all my vaccines and am microchipped. My mom says I can go with a neutered well-socialized boy (of my same size or larger) who can put up with my bossiness about toys. I am not sure how I feel about cats so don't think I would be a good roommate for one. Since I will continue to need training, no kids under 16 years.
Please read my profile carefully to see if you meet the requirements for my adoption and if you would like further info make sure you have completed an application on file.
Home check required prior to adoption.
Will be placed in Northern California only.
If you think Darla might be the dog you are looking for please complete an application.
Adoption fee $450. I think I am a bargain and so does my foster mom.


View attachment 80211



​
Please view the adoption process and fill out an application at their website ---> norcalbulldogrescue.org
To view more available English Bulldogs from this rescue, click this link ---> NorCal Bulldog Rescue
Please let them know you found them on English Bulldog News!
​

​