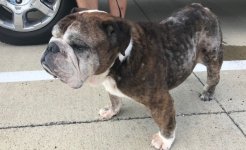 Like so many before him, Vinny was found roaming the streets of a big city, was captured, and taken to the shelter. There he waited for a special someone to come and take him home. But no one came! Vinny is not very good looking right now. He is missing half of his hair because of infections from flea bites. He was also covered with ticks. And he will need eye surgery. Most people will not take on that responsibility for an older dog, but we are glad to do it.
Vinny is approximately 7 years old, and only weighs 47 pounds. His eyes, ears and skin are a mess, but he will soon blossom into a beautiful Bulldog. He has been sweet around adults, children and other dogs.
7/17/17 Update: Our first foster Vinny is going to steal a family's heart.
Day 1
Vinny enjoyed the car ride to his B & B foster home. He settled in very well and had no issues with his foster sisters Lady Violet &
Rosebud. Lady Violet thinks she is the Queen and the King has arrived. He is very charming and curious about everything. He is an active boy that loves the toy box. He's very polite and follows every move you make. He is not interested in a nap, nor is he a guard dog as he slept right though Mr. B's 3 a.m. arrival from work! He does bark at shadows and things outside the window. He tried to jump in the tub & thought he would check out the walk in shower well. He did this at least 5 times last night, so I went in the shower and he just looked at me as if to say, "Where is the water?" So I gave him a little medicated shower and he was in heaven and didn't want me to stop. He was out for the count in my lap, while snuggling. After I moved him, he slept from 11 p.m. to 6:30 a.m. in the exact same spot & position. He snores lightly. He has already shown us his manners and sits for a treat & walks well on the leash. Just say, "let's go potty" and he is happy to go out. After he has done his business, we walk back & he scratches at the door, like someone's inside to let us in. He takes his medications with no issues. He has a voice and tried to tell you a story when you pet him. He would love to jump on the furniture, but he can't do it because of his lack of strength. If you get too close, you better be ready for some love as he will put his nose right in your neck. He'll give you lots of kisses and then try for the hickey. You just say "gentle" and he calms down. He listens very well.
Day 2
We had a very playful day, which included a pool party. We will follow up with videos soon.
7/23/17 Update: Vinny had a very fun-filled week. During the few days, Vinny was very active. On day 4, he learned he better take a nap. I think he was just so excited to be loved and fed, he didn't want to close his eyes unless he was in your lap. He cannot jump on the furniture or do stairs very well. His back legs seem to give out every once in a while, but can run and play hard. He loves his spa treatments and is looking so much better every day. Vinny does not like to be locked in his crate (or his "room," as we call it). He will let you know about it if you close the door. He will cry hard. Mr B was a softy and couldn't stand the crying so he did a little test and let him hang with the girls for a short while. When he returned, Vinny was fast asleep in his room. Vinny is a momma's boy, just wanting cuddles and kisses. He doesn't seem very interested in kids. He just ignores them, but we will have another test with children tomorrow. He has enjoyed the visitors and has the best Bulldog manners we have ever seen. Vinny is such a great guy, full of love just wanting to please you in every way.
8/29/17 Update: It was a very happy yet sad day for Vinny three weeks ago. We thought Vinny had found his forever family. He had a great meet & greet and a perfect ride to his new home but his new sister a beautiful bulldog was not very nice to him once he entered her turf. Unfortunately he came back to our B & B within 1 1/2 hours a totally different Vinny with a few war wounds which have now healed nicely. This was heart breaking for everyone. We have had a few behavioral issues since his return. Day by day we are seeing him become the Vinny that first came to us. Vinny has a nick name , Bambi due to his back legs buckling be hide him when he first stands up; we have been enjoying aqua therapy & we are seeing a difference he just cant seem to get enough of water. This is your perfect senior boy as sweet as they come.
9/3/17 Updates: Vinny has been under the weather this week, foster momma was happy she was on vacation to stay home and tend to me. I've had an ear infection with a little fever that has just made me want to sleep and hang in my man cave, or find a spot away from the action . I'm not happy that my water therapy has stopped it's on hold until my ears get better. Everyone is taking care of me and my foster sister is showing me extra love.
9/10/17 Update: It's been another quiet week for Vinny. This ol' guy has been taking it easy. He's not very interested in a walk or a car ride this week. His infection is looking better and his eye drops are helping with his minor cherry eye popping in and out. He seems much more comfortable and decided he would play a bit. It was a happy moment for us, as we were missing the happy guy we first met. He still won't touch the giggle ball he loved, but he decided today he would enjoy the company of the stuffed tiger. Vinny's pleasure is hanging with the skin folk; just being your shadow or taking a good snooze.
9/17/17 Update: Vinny got to do what he loves best this week, he was back in the pool doing his water therapy . This treatment changes his whole personality to Mr Happy with peep in his step. When not in the water he is a slow paced shadow that doesn't move very fast , he does think he is lap dog. He is a leaner & a licker. He has to be close to you and lean on you or be licking you. Vinny prefers to stay away from the craziness of the young ones skin people & fur people. He would much rather stay close and quiet next to a grown up.
10/1/17 Update: Big Vinnie here checking in. I've been chillin with my foster sibling but Saturday I got to check out a brunch at County Services what a fabulous time that was . Thank you Country Services we all had a great time! I enjoyed the toys & the cool floor just being an observer. I do love to chill , I sometimes get a little spurt of energy to roll a ball around, Im a ole guy that goes with the flow, enjoys a tad of sun bathing & lots of cuddles. If you missed the event Saturday you sure missed a good time and don't want to miss the next one. If you are looking for a bulldog kid to join your family you will want to attend Lone Stars upcoming events to me meet me & all my foster brothers & sisters. Oh got to go it's shower time & I love it!
10/8/17 Update: Ok PEEPS… get busy and fill out the adoption application. I got another foster brother today here at my B & B. Don't get me wrong… life is good here, but it sure would be nice if we could get our own place.
10/15/10 Update: Having a relaxing time Chillin at the B & B. Waiting on the perfect meet & greet. Foster momma has been working on the perfect Costume for our up coming Bull-O-ween party. I sure hope to meet you there if not before. I may not look impressed but truth be told I enjoy hats & I'm happy to try on all the costumes.
Wanna Adopt?
Please view the adoption process and fill out an application at their website ---> dfwbulldogrescue.org
To view more available English Bulldogs from this rescue, click this link ---> Lone Star
Please let them know you found them on English Bulldog News!