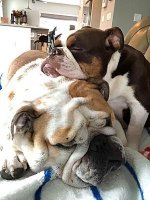 I came into CEBR separately but have formed such a close bond and love for my foster brother Tank that CEBR has decided that we should be adopted as a bonded pair and stay with each other forever – Yay for us.
You may have heard of us by our celebrity couple name #Truby.
I'm 16 a month old beautiful and sweet 33lb female slowly coming out of my shell and gaining trust in the world again – Tank is helping me with that and I love him like my big brother.
CEBR rescued me after I was taken to a vet in Iowa by a back yard breeder – you see, I had a hematoma (lump) on my neck and my owner didn't want to investigate it or help me get better. Thankfully, a wonderful vet tech contacted CEBR who leapt to my rescue.
CEBR, the vet and specialists quickly investigated my hematoma and found out it wasn't cancerous. My bloodwork also showed some odd things with my red blood cell count and iron. They put me on steroids and had my foster family closely monitor my progress. The hematoma went completely away within a couple of weeks and the doctor has been slowly reducing my steroids and checking my bloodwork every two weeks. My latest test on October 17th showed that my blood was clear and normal. Hooray! We've reduced my steroid intake further and I have another check-up in two weeks. My long term goal is to have no need for any steroid or medication. The vet and the specialist don't really know what caused my issues in the first place but believe close monitoring and slow changes are the best for me right now. Due to all of this, we are currently waiting to fix my cherry eye (which I get a couple of over the counter eye drops in every day) and have my spay surgery. Fingers crossed we can get all these done soon.
Honestly folks, you'd never know I was dealing with any of this stuff as I look healthy, have a shiny coat, the cutest pink belly and eat like a horse – I could eat for days. In fact, I often try to eat Tanks breakfast too. I do have a small amount of separation anxiety – when my foster mom and dad leave I will sit at the back door waiting for her to come home - I don't bark or whimper, I think I'm just nervous that she won't come back. If my foster family are gone longer than an hour they do crate me – I really don't mind as my crate is set up next to Tank's and I get to listen to him snore the whole time – it's quite relaxing. I don't think Tank needs to be crated but he's willing to do it for me – that's how much we love each other.
I am shy around new people and places but as the weeks go by I'm getting better. Tank has really helped me to feel at home and out in the world – he protects me and we love to horse around together. We play like little monsters and I've taught him to like toys – we play tug of war and even snuggle together. By the way, I'll have you know that it was me who taught Tank how to play fetch with the balls. I also like to groom him – you know, his ears sometimes need a good licking! He's my best friend in the whole world. I also love to walk – it's so not Bulldog but that's the way I am.
If you can see yourself with this dynamic duo of love and cuddles please fill out an application to adopt us. Love Tank and Ruby aka #truby
I came into CEBR separately but formed such a close bond with my foster sister Ruby and love her that CEBR has decided that we should be adopted as a bonded pair and stay with each other forever – Yay for us.
I'm a three year old neutered male and a complete lover. Snuggles, yes, kisses, yes, sit next to you and stare at you adoringly, yes, gently tap you with my bear size paw when I need more love, yes. I am truly a love bug.
My journey is also one of love. Life sometimes creates situations where impossible decisions have to be made. My family found themselves faced with making those impossible decisions and luckily found CEBR who made it possible for me to have a future where I would be safe, loved and cared for in a stress free environment. I know this decision was the toughest they have ever made and that they did it out of their love for me. CEBR was there to assist them and help me.
I'm working on my best body. I'm currently down to a handsome 70lb. My health team have a target weight of 55-60lb. My foster family keeps talking about a fit bit? Does anyone know what that is?
I also have a few medical things my family will need to take control of for me to ensure I live a long, happy and comfortable life. I don't produce tears very well and my left eye has something they call dry eye. This means my family will need to put this special eye drop in my eye every day twice a day for life. I don't mind it and sometimes just try and wiggle away but my foster family is fast. I also have something called Cystinuria which caused me to get kidney and bladder stones once in the past which I had surgically removed. This could happen again in the future. Ensuring I eat a prescription diet low in protein and drink fresh water regularly can really help slow down or lengthen the amount of time before the stones might return. My vet team also recommends that my urine be tested every 6 months to keep an eye on my condition.
I love puppies and most small dogs but am an Alpha at heart so I like to feel in charge and will assert myself with other large dogs, especially males. As such my family helps me by keeping me on a leash in these scenarios and providing cues and direction for me. I love sitting out front of my foster home and watching the world go by. I find I get a lot of attention out there and I LOVE it. I love ALL HUMANS especially kids and will seek them out. I will waddle down the block to check out what they are doing outside, say hello and get pets.
I am good at stairs but having some carpet or treads has really helped me in my foster home. As I lose weight I continue to become more athletic - I recently discovered that playing fetch is so much fun. I would also like to mention I like to keep up my handsome appearance and love nothing more than "spa" time. I will roll over to be brushed and also actually like having a bath. I feel so fresh after.
​
View attachment 83328

​
Please view the adoption process and fill out an application at their website ---> ebullymatch.com
To view more available English Bulldogs from this rescue, click this link ---> Chicago English Bulldog Rescue
Please let them know you found them on English Bulldog News!
​