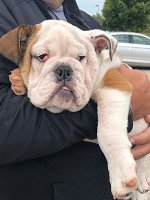 Before you get too excited about seeing me, you oughta know that CEBR will only adopt me to a PRIOR CEBR Adopter. CEBR believes strongly that people that have shown a prior and concerted commitment to our rescue in the past, should have the first chance at adopting puppies. We are RARE in rescue indeed!
So…if you are prior rescuer with CEBR, read on!
Hey there super fans, I'm Flash, and faster then the speed of light! Literally I can steal your heart and your shoe faster then you could imagine! I'm approximately 14 weeks old and pure puppy. I came from a puppy mill and am so happy to be in a loving foster home with CEBR. I am learning all the things the big dogs I live here with already know like where I'm supposed to go potty, taking walks, playing with toys, and snuggling. I am a puppy though so I make lots of mistakes and I get into lots of things I'm not supposed to. Like I said, I'll chew your shoes, your kids toys, their homework (My human foster brother who's 8 appreciates this though) books, remotes, really anything I can get my sharp puppy teeth on so I need to be watched constantly. The big people here tell me NO but I'm just not sure I know what that means quite yet!
I have the biggest floppiest ears, everyone I meet comments on them. They're almost as big as my personality, almost! I am going to be getting some work done on my eye, they say I have a cherry eye but I'll be fixed up soon so it's no big deal really. I will also be neutered soon too then looking for my forever home.
I seem to really love other dogs to play with (I live with 2 now, another bulldog and a Boston Terrier mix) and kids too so a home with one or both would be great. I know I said it before but remember I am a puppy so I need a home who will continue to teach me all the things I need to know to be a good boy and have lots of patience with me. I need lots of potty breaks since I am so young and still learning so a family where someone works from home or does not work would be great for me.
If you think you need a super hero in your life I'm up for the job! I'll be waiting for you, cape ready!
XOXO
Flash
Must be prior CEBR adopter. No exceptions
Children are ok as are other pets
Must be able to carry on with puppy training so he develops into a well mannered adult
​
View attachment 83328

​
Please view the adoption process and fill out an application at their website ---> ebullymatch.com
To view more available English Bulldogs from this rescue, click this link ---> Chicago English Bulldog Rescue
Please let them know you found them on English Bulldog News!
​