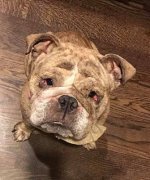 Hello! My name is Frida, and I'm a 4 year-old little lady being fostered in Chicago. I'm a very petite bulldog, with long legs, a beautiful tiger stripe brindle, and the softest, sweetest face in the world! I'm gentle and loving, a little shy at first, but ready to give (and receive!) love from my future family.
For an English Bulldog, I'm unusually long and lean, which means I'm pretty active, and enjoy brisk walks. I'm happy to climb up and down stairs as well, and can easily jump onto your couch, although only if I'm invited. I have excellent manners, and will come to my name, sit, and even stay for a treat. My favorite things are eating and sleeping, and I am EXCELLENT at both. When I came into foster care, I was a little underweight, but am doing a great job at filling
out my delicate little frame.
Before I came to CEBR, I was with an owner who loved me, but couldn't afford to take me to the vet, so I sadly suffered from an untreated UTI for several months. As a result, I've been struggling with some bladder control inside the house. Although I definitely have been house-trained in the past, I currently still have occasional accidents in the house. I also got into the habit of drinking
copious amounts of water while I was sick, and I still need to be careful how much I drink at once so I don't make myself sick. But I am on the mend, and with care and attention, I expect to be 100% back to normal very soon.
I did not have a sibling in my previous home, but since I've been in foster care, I've learned the joy of having a little sister! I'm happy to snuggle and walk with my foster sister, and I've had a great time meeting other bulldogs off-leash. When I am on the leash, I will sometimes bark at other dogs just because I want to meet them so bad! I'm a real sweetie, but as my foster mom says, I have a "big voice" and sometimes my bark makes me sound a little scary! Other than that, I'm very easy on the leash, and happy to go on long walks, even in the
rain! For a bulldog, that makes me very adventurous! Inside, I'm happiest when I'm on the couch with my people, but a close second is when I can snuggle in my crate. My crate is a happy cozy place for me, and my home should have a nice big crate that I can snooze and feel safe in.
My current home is in the city with a foster sibling, but I could be happy in the city or the suburbs, alone or with some low-key sibs. I love love love people, big or small, and am very gentle so I'd be just fine with children in the house. I need someone who will be able to take care of my sweet little nose folds, help me get back my bladder control, and nourish my gentle spirit with love and affection. I'm happy to snooze away the day when you're not around, but should either be at day care or have a dog walker if you're away for 6 hours or more. Other than that, I am easy as Sunday morning, and can't wait to meet the lucky family that will give me my forever home!
I may be just a little bulldog, but I have a heart bigger than most, and it has so much room in it for you!
Our adoption criteria for Frida are as follows:
A home willing to work with Frida to continue to re-habilitate from her bladder issues
Must be able to offer frequent (3-4 hour) potty breaks, at least
initially
Roomy crate for Frida to snooze in
​
View attachment 83328

​
Please view the adoption process and fill out an application at their website ---> ebullymatch.com
To view more available English Bulldogs from this rescue, click this link ---> Chicago English Bulldog Rescue
Please let them know you found them on English Bulldog News!
​