Moderator

Jun 25, 2013
3,292
301
Country

United States
Bulldog(s) Names

Ruthie(died 11/27/18) Brutus & Hazel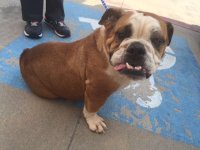 Blythe is a 4 yr. old female that weighs 50 lbs.
Blythe joined rescue as an owner surrender. She will be going to the clinic for a check-up and to be spayed. Once that is complete, she will join her foster family and begin her search for the perfect forever home.
10/4/2015 Update: Blythe is a sweet little very submissive girl who just wants to be velcroed to my leg at all times. She has the twisted shoulders and the largest under bite I have ever seen! But the most beautiful brown sorrowful eyes…..she will be the super prize for her new family that's for sure. We had a few potty issues Sat…we couldn't get our timing right but this morning that's going very smoothly, yay! She just wants to be constantly pressed against you…so she hasn't really even shown us her personality yet but it will come. She was very very anxious Sat and became a little calmer today…so I'm hoping by the end of the week she is becoming the new bulldog she was meant to be. No major health or skin issues just a little dry eye and she has no issue with me treating that. My hope is for a real report next Sunday telling about the real Blythe that is emerging But I don't believe she will be here long. …those eyes and the bashfulness just draw you near. She's had no real reaction to my foster dobie and my daughter's English Mastiff pup….she pretends their not there
10/11/2015 Update: We picked up Blythe last Sat from Dr W's after her spay. As Kim brought her out she just rushed over to me , coward down and peed! She was just so happy to get the attention and go to a new home. Blythe just wants love and attention……she is slowly detaching herself from my side and seeing that she can walk around the house or go outside (thru the doggy door ) on her own. She was quite anxious the first few days but is going to do great! The first time outside she went right over to the big water pan….stepped right in and SAT DOWN….probably the only way she could stay cool in her old place. She hasn't shown any interest in toys or really even interacting with the other dogs yet…..but I believe it will come-she just has to realize the goodness isn't going away. How could anyone ignore those big beautiful eyes or pouting underbite…lol
10/25/2015 Update: We had planned to attend Bull-o-ween but that morning Blythe was.not herself. She had to be woke up….then when I went into the food closet she didnt come running and dancing….she refused breakfast (this girl doesnt refuse ANY ONE'S FOOD )…lol. She didn't even take her cookie after her eye drops :/
She layed and slept on the couch all day…but by 6pm when the food closet was opened…..Boom! Down she came and danxing and acting like she hadnt eaten in months. Oh well, better safe then sorry. But there were several people there I REALLY wanted to meet.
Blythe had a good week until her refusing to eat Sat. She is NOT a fan of the rain. She had 1 accident so then during the lulls I took her out in a leash to make sure she accomplished her mission and all was good…no more accidents. Blythe is starting to play with some of the toys and interact with the other resident dogs but if I try to encourage or play with…she just turns all her attention to me and wants to play :/ She would rather be all snuggly all foster Mommy all the time .Blythe sits for her bath well, doesn't mind a toe nail trim or a very tight tail pocket clean….as long as she gets her cookie and a snuggle she's good! I believe she would fit into any savvy dog owner family easily and will bat those beautiful eyes into their hearts quickly
11/8/2015 Update: Blythe is doing so well and adjustimg in quite nicely. She is one of the smartest bulldogs I've been around…..she ACTUALLY comes when you call her name….lol!! Blythe in typical bulldog fashion is always ready to eat and the first few days I had to keep her on lease when feeding because she would finish in 2 seconds flat than proceed to the other 2 dogs bowls. They both are finicky eaters and very non-confrontational (even tho 3times her size) so they would just let her have the bowl. Just about 3 days of a water squirt bottle and No and she stays away…..she thinks about it the whole time and is just quivering with anticipation but the No will hold her off untill their done…..then she gets to check for any missed food. She knows when I lay the big ole quilt down on the tile that its knuckle bone time and she ruuunns to the quilt most times jumping around on it that I cant get it all laid out till I give her her bone. She has started playing with toys and even playing with the other dogs. She loves everybody and will stay right by your side if you pet on her. She loves to put her paw on you and will let you hold her foot as long as you will.She loves to sit on the couch with me and will "mouth " my hand for as long as I let her….she doesn't bite just rolls it around in her mouth. She will make any family a wonderful dog cause she is always happy and actually quite low maintenance.
11/15/2015 Update: Another good week with Blythe! This girl just goes with the flow..easy..peasy. She LOVES being with people….had a visit from the HVAC tuneup man and she just wouldn't leave him alone..shw wanted to make sure he knew it was okay to pet her…
11/22/2015 Update: Little Miss Bylthe had a good week….until yesterday morning. She slid down off the couch and commenced to let out a screeeeam! I checked her all over and didn't feel anything was seriously wrong….maybe just a pulled muscle. But in the hours following her dismount…she wouldn't move and if she tried…she just screamed. So a quick txt to LSBR and we were off to see Dr Randy at Cityview in FTW. Of course after carrying her to the car, carrying her to the treatment room…she didn't make a peep and she walked down the hallway gingerly….but she walked! Partial torn ACL and bed rest for awhile. He said she should heal but now will be susceptible to injury and may at some point have to have surgery. I on the other hand must have sucker stamped on my forehead. My aged girl Holly B in her last year had me waiting on her hand and paw…bringing her food and water and Bylthe is no different. She cried when we got home and wouldn't walk. So I've been pulling her on her quilt pallet while she rides like the queen and then lift her up and out off the back deck and down the stairs to place her on the grass. Then when she's done…I lift her back up the stairs and onto her pallet for the ride back into the living room where she rests in all her glory. I did catch her about 330am this morning, gingerly walking out thru the doggy door and back to her pallet when she was done. At 730 am she wouldn't walk for me…..so I'll give her a few days grace. She really is the cutest thing!
Wanna Adopt?
Please view the adoption process and fill out an application at their website ---> dfwbulldogrescue.org
To view more available English Bulldogs from this rescue, click this link ---> Lone Star
Please let them know you found them on English Bulldog News!