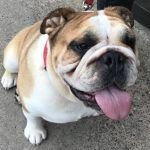 Unfortunately things did not work out for Winston in his new home so he has returned to rescue for further evaluation.
The Winston Churchill joined Lone Star Bulldog Club Rescue today. And he does have a little weight to throw around! His owner is moving to the Northeast to start medical school. She knew he would hate the cold weather and she knew with her studies and work, she would have no time to nurture him. She also knew he deserved better, so she reached out to rescue for help. She took 45 minutes today to tell him goodbye. Winston is 4 years old and weighs 64 pounds. He came with plenty of food, bedding and toys. He is very friendly and LOVES to play with his tennis ball. He is also very healthy, with the exception of some looseness in his right knee that we will have an orthopedic doctor examine. Our vet thinks it is a good possibility that therapy will solve the problem without surgery. He loves belly rubs more than any dog you have seen. He will be a very special friend for the right family.
5/22/17 Update: Winston received a thorough examination by the orthopedic doctor this weekend. His legs are stable, but he walks with a little strange gait because of an old tear that has since healed. The doctor recommends a little therapy and no surgery. He is ready to move on to his foster home.
6/4/17 Update: Oh. My. Goodness. Winston Churchill is such a slobbery ball of LOVE! He is always trying to sit on your feet or lie on top of you so you can pet him. He's going to make some active family so happy. He loves chasing his ball, going on walks, and is always on the go. He reminds me of a baby in so many ways. He HATES taking his medicine, he's scared of loud noises, and he loves it when we baby talk at him. The first time we put a harness on him in PetSmart, he pancaked and refused to get up for the ten minutes we were in there. After a week, he's become used to having one on again and walks like a gentleman with it. We have had multiple instances of him marking things inside, so that's the one behavioral issue with him, and I don't think it'll take too long to correct. He's just so utterly perfect in every other way.
11/5/17 Update: Please welcome back Winston Churchill to rescue! Winston was adopted earlier this year, but after months of trying, his family felt it would be best and most fair to him to find a family without kids or at least much older. Winston is 4 years old and as sweet as can be. Even though his world has changed again, he is adjusting remarkably well. He may have left small kids in his wake, but he joined this foster family with several dogs! Even though he is still decompressing and opening up, it appears that Winston would do best in a calm home. He gets along with laid back dogs that don't get in his face. He loves to play and snuggle, and he even knows some commands. Crate trained and house trained, Winston just wants a family to call his own.
11/20/17 Update: This has been a fantastic week for Winston. This boy just amazes us every day, as he blossoms into the Bulldog that he is meant to be. His manners with his foster siblings have improved so much… he is very smart! Winston very much wants to please his people. He is very quiet about it, almost shy in showing how much he wants to be with you. Almost like he is afraid of rejection. But in our house, he gets lots of belly and butt rubs and lots of kisses. A family with no small kids would be best for Winston, as he still has some moments of being startled from loud noises. A little bit of patience goes a long way with Winston and he is totally worth it.
Wanna Adopt?
Please view the adoption process and fill out an application at their website ---> dfwbulldogrescue.org
To view more available English Bulldogs from this rescue, click this link ---> Lone Star
Please let them know you found them on English Bulldog News!