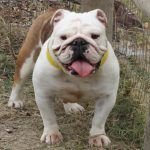 Wearing #240 and 3 years old, Genesis has found her freedom. Scares up her side from C-sections reveal a life of birthing babies, having primitive vet care, and of multiple litters. Saturday when Genesis was placed on the table at the puppy mill auction and lifted in the air all anyone heard was Bulldog #240, a good healthy bulldog that has many years of making you lot's of money. And the bidding starts, and the interest is great, but it had already been determined that she would be bought by Lone Star Dog Ranch, and the "breeding her for profit" would end that day forever. Genesis did not know that. All she knew was how she felt living in a wire cage being bred to death. Today Genesis celebrates freedom! She walks a few feet, then stops and tries to run, we try again, she walks a few she stops and she tries to run. Progress is slow. And progress takes times. Much thanks to Lone Star Dog Ranch for saving Genesis, a bulldog that was known as #240 but never again will she be known as a number and not have a name.
11/12/17 Update: She's a happy, little Bulldog who can't wait to get out and PLAY! Genesis is a tiny chunk of love. She is dog-friendly. She is just a great little pint-size Bulldog who I would expect to do great in any home.
11/20/17 Update: Genesis, aka Gigi, has been in our home for about 5 days and she is already a favorite! All of her foster siblings love her and so do her foster parents! Fostering Gigi is like watching a baby discover just about everything. From just the basics of laying on a bed or blankets and chewing a bone, to having a kind hand touch her with love and affection. I have called Gigi my baby chick, as she is always on my heels, going from room to room, while performing the normal and mundane tasks of doing laundry or cleaning house. Her eyes are bright and curious and she just melts your heart. Gigi is 3 years old and about 43 lbs. We are working to put a few pounds on her, but she will always be tiny. House training is coming along and she easily will go into her crate for you when you ask. Meal times are definitely one of her favorite times of the day and it is such a joy to watch her gobble up her food. Gigi will require patience in her forever home, which should be a calmer one. Noises do scare her, but I think she will get used to all the sounds that go on in a home.
Wanna Adopt?
Please view the adoption process and fill out an application at their website ---> dfwbulldogrescue.org
To view more available English Bulldogs from this rescue, click this link ---> Lone Star
Please let them know you found them on English Bulldog News!