Moderator

Community Veteran
Dec 9, 2016
5,246
659
Country

United States
Bulldog(s) Names

King Louie, Jax (French Bulldog), Ella Mae and Darla Rae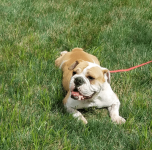 Intake Date: 7-31-18
Last Update: 9/21/18
Date Available: 9/21/18
Accepting Applications until:
Age: n/a, believed to be about 5?
DOB: n/a
Gender: Female
Weight: 41 lbs
Energy Level: Low/cautious.
Color & Markings: Fawn & White
Good with other dogs: Yes
Good with cats: Yes
Good with kids: BBR Policy states no children under the age of 8+.
Object aggression: None noticed
Special Needs: Needs work on house training. Daily cleaning is a must. She can walk up a short set of stairs, but does not go down, needs carried to the door to go outside.
Medications: Heartworm and Flee/tick
Crate Trained: Yes
House Trained: No
Physical Fence Required: Has not gone outside without a leash
Adoption donation: $525
My Ideal Home:
​Potty training
Has dramatically improved attitude/willingness regarding going outside. Initially Lulu was very scared and hesitant towards the outdoors. She goes out a minimum of 5-6 times daily, working to get her on a schedule. She has to go out all the usual times (when you get home, right after eating, right after playing, right after waking up, etc) plus a couple extra times for good keeping. She still has indoor accidents almost daily, but they have gone down in frequency. We believe due to her previous life, she only knew about the indoors, so it will be a tough journey of breaking her bad potty habits. When taking her outside, she can occasionally act like she isn't quite comfortable/"safe" feeling enough to do her business, so we have worked on always praising her when she does her business properly outside, evening treating her randomly. This has seemed to vastly improve her attitude towards outside, but there is plenty of work to be done.
Crate training
Lu enjoys staying in her safe zone (ie her kennel), although she has been gaining confidence almost daily and wandering out on her own will. When we first got her, she would not come out of her kennel for anything. Now she comes bolting out if she even hears the food bin being opened! She sleeps in the kennel nightly, bedding is changed out every other day due to her potty issues. She has never acted upset/anxious about being placed in her kennel for any reason. Her kennel has never been used as a punishment for bad behavior.
Cuddles
If you wanted the definition of "I need cuddles now" in a dog, Lulu is the one for you! If come down to her level, she WILL come right up to you and squirm around until you give her lots of pets and cuddles. As soon as you stop she'll start squirming again and trying to get closer to you, even when she's already laying in your lap. She is on the heavier side of shedding though, so be aware that you will come away with evidence of Lu being on you.
Walks
Short walks (half mile or less) are all we have ventured on with Lu. The outdoors are very scary at times, but when her human has a good pace going she wants to follow along on your left side. The further away from busy streets and noises she can be, the better. When walking in the same direction she never pulls on the leash. She will occasionally try to back out of her harness if you walk her somewhere too unfamiliar/loud/generally scary. If you stop walking, she'll almost always take that opportunity to lay down in the grass!
Bath time
Bath time seems uneventful. Ran a warm bath inside, placed her in it and she basically just stood there as she was washed. Doesn't appear scared or upset. She appears to enjoy the towel dry-off/cuddle time right after though. An oatmeal-based baby soap was utilized.
Car time
Initial car ride home ~3 weeks ago, she was very calm, just laid in the back seat and judged her new foster parents!
Recently taken to VCA Midpark for suture removal/checkup (2nd car ride with fosters), and she nervously paced back and forth in back seat during city driving. She appeared anxious, and jittery at car movements. When on a highway/smoother drive, she does calm down considerably. If she has a human to cuddle with she visibly calms down and just wants to be held!
Sleeping
Lulu sleeps wonderfully, napping during the day as well as sleeping throughout the night. She is left in her kennel with the door open at night so she has access to training pads in the same room her kennel is located. Refer to notes in house/potty training. For being a short-nose breed, she seems to be on the quieter side. She makes minimal snores/noises when sleeping.
Getting along with other dogs/cats/kids/humans
Lulu is an absolute sweetheart and has never shown aggression towards other humans or when encountering other dogs. She absolutely loves to cuddle, and will take any opportunity she can get to smother you. We have not had any experience with cats or close proximity to children. She has not shown food aggression, but does eat her food as quickly as possible. We have found that giving her recommended amount to her in 3-4 servings helps her to not gobble all her food down at once. When giving her treats she tends to hungry-hungry hippo snatch them from your hand, it spooks you the first couple times but she just really likes treats.
Playing with toys
Lulu's favorite activities are sleeping or stealing toys (if cuddles are not an option!) She loves toys and will usually take them to her kennel. She is not scared of squeaker toys. Due to her dental issues, she's only had access to plush/soft toys, no hard bones, etc. She has not destroyed any soft toys to date. Just gums the hell out of them!
Health issues
Pull from medical record
How meds are distributed
Lulu does fine taking medications orally with food. Have only dealt with pills for her.
Stairs
Lu does not go down stairs yet, but she is able to walk up a small (5-6 steps) flight of wooden steps no problem to return inside. Weighing about 40 lbs., she is carried down the small flight of steps to go out. Will be working on getting her to go down a shallower flight of steps in the coming days/weeks.
Wanna Adopt?
Please view the adoption process and fill out an application at their website ---> buckeyebulldogrescue.org
To view more available English Bulldogs from this rescue, click this link ---> Buckeye Bulldog Rescue
Please let them know you found them on English Bulldog News!