Moderator

Jun 25, 2013
3,292
301
Country

United States
Bulldog(s) Names

Ruthie(died 11/27/18) Brutus & Hazel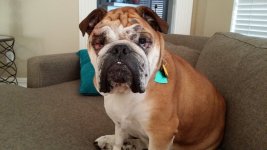 Sophia Marie is a 5 yr. old female that weighs 63lbs.
Sophia Marie joined rescue today as an owner surrender. Her family was unable to spend enough time with her and made the tough decision to allow her to find a family that could spoil her rotten. Sophia Marie is good with other dogs and humans of all sizes. She has not been cat tested yet. She made a stop at the clinic to get a check-up, where it was found that she has entropin and dry eye. Sophia Marie also has some skin issues on her face. The entropin surgery has been scheduled for Monday and medication for her skin issues start today. She has moved in with her foster family and the spoiling has begun. More details on Sophia Marie as she begins her journey to find her forever family.
7/12/2015 Update: Sophia Marie had no problems riding in a car. She hopped right into our daughter's car seat and was ready to meet the rest of the pack. First order of business was a bath and to start her eye drops for dry eye and her antibiotic for her skin infection. Sophia was very nervous and spent the first few hours walking from room to room in our house. She warmed up to our 3 children with a little back and belly scratching. When it was time for bed, she snuggled up next to our bulldog on the chair. She has made a new best friend with our 4 year old. They love to sit together and watch Monster High. Sophia is scheduled for surgery tomorrow for her Entropin. I think as Sophia heals and gains comfort in her new surroundings, we will see her personality shine. We can't wait to help her feel better.
7/18/2015 Update: Sophia Marie had her Entropion surgery on Monday. Her hotspots are healing, and her eyes are now clear. We moved her to a higher quality food which seems to help with her itchy skin. She is more comfortable in her new surroundings, and is being more social with the other dogs. She seeks them out and wants to be in the same room as them and has even started playing with her foster brother. Sophia loves attention and would let you scratch her for days. We had a house full of kids this weekend, and she was great mingling and soaking up all the attention. She is gentle and sweet. Sophia Marie would be a great addition to a family that is ready to spoil her with belly rubs and back scratches.
7/25/2015 Update: What a difference a couple of weeks has made for Sophia! She has made herself right at home, and fallen into the routine of the rest of the pack. Her eyes are healing and the largest hotspot on her face is drying up. She has found the toys too. She loves a good bone and stuffed toy. She gives a little bark at the door when she needs out. Sophia loves to lounge around. She is sweet as pie and loves people, especially the ones that give her a good scratch. She is being treated for a corneal abrasion that she got while scratching her hot spots before they healed.
8/2/2015 Update: If there is anyone sweeter than Miss Petunia (we are calling her Tootie), I don't know who it is. Her personality has come out a lot this week. She did great with her spay and is healing nicely. Dr. W said she is very healthy. She is starting to play with her fur foster siblings and humans. She is even giving kisses!!! She has become a little attached to her foster daddy and stays by his side. She doesn't bark or fuss about anything except a couple of times when her fur siblings were pestering her. She has the cutest snorty sounds and won't refuse a cookie. She is still a little apprehensive at times, but getting used to life with lots of loves. She is well potty trained and has had only one accident in the house when she first got here. She has not been kid tested. If you want a quiet, sweet, gentle little girl that likes to chill and get belly rubs, Petunia is your girl.
8/9/015 Update: Sophia had her Entropion surgery redone this week. She is doing great! She continues to come out of her shell. Sophia is an easy, breezy dog. She sleeps through the night, no accidents in the house, doesn't chew on anything other than her toys and is great with other dogs and kids. She can slso roam the house freely while we are gone for long periods if time without worry of distruction. She is a perfect lady. Sophia is looking for someone that will hand out scratches galore. Check out her video to see her tricks.
8/15/2015 Update: Sophia Marie continues to show us her skills. She has proven to be an excellent guard dog. I always know when someone is about to knock on the door. She also let's me know when the mailman has left a package on the porch. She loves playing with her foster brother. They have been 'sharing' toys. This means they will chew on Santa Eeyore, the rope, or bone at the same time. They move in perfect unison and are equally stubborn. She continues to be a sweetie pie to all she comes in contact with dog or human.
8/22/2015 Update: Sophia is such a great dog. With the heat, she prefers to nap all day and play in the evening. She has taken over the toddler bed that I have been meaning to get rid of, but it looks like it is here to stay. She is still working on getting rid of her skin infection, but her biopsy results showed just what she needed. She continues to look better and better everyday.
9/6/2015 Update: Sophia Marie has returned to us after having to spend almost a week at the vet for observation on her new antibiotic. This one is doing the trick on her bacterial skin infection. She looks so good! She was so happy to be back around her little people and fur friends. She slipped right into her routine. Sophia is a cool breeze. She barks once when she needs out, goes out and does her business, then she is right back in looking for a nice spot to nap. Heavy duty antibiotics make this girl sleepy. You don't get sweeter than this girl. If you are looking for easy going and sweet, then Sophia Marie is your girl.
9/13/2015 Update: Sophia is done with all her medicines and her skin has improved so much. She has been a champ through it all. She is very easy-going. She loves her naps, but she also enjoys her playtime with her foster brother and toys. If he won't play with her, then she tosses the bone to herself. You can see her do this in the video. The heavy breathing heard in the video is Buddy
Wanna Adopt?
Please view the adoption process and fill out an application at their website ---> dfwbulldogrescue.org
To view more available English Bulldogs from this rescue, click this link ---> Lone Star
Please let them know you found them on English Bulldog News!