Bully lov'in wonder from down under

Mar 25, 2012
6,731
420
Country

Australia
Bulldog(s) Names

Ftse
BENTLEY AND

LILLY
Bentley and Lilly are both in need of a forever home.
Bentley is 11-years-old and Lilly is 9-years-old. Both are spayed/neutered. Both are chill and for the most part relaxed… very friendly bully seniors. Due to current health issues with their current foster mom, she can no longer foster them & they need a new home.
Some quirky & unique things about them:
Lilly has food allergies to certain foods and will break out in hives and can have skin issues…a good quality diet can really help to control this. She has a tendency to mark (pee) on her bedding sometimes so it would be something to watch out for…it's a dominance thing.
Bentley is a bruiser, a big ball of muscle …doesn't know his own strength. He's a lover, but if you are playing with him, he will trample on you LOL. He was attacked by a dog when he was younger, so, he has aggression issues with larger dogs…he is fine with small dogs. He gets yeast infections in his ears, so have to keep them clean as his ears can be chronic.
Overall, they have been healthy Bulldogs. Lilly had bladder stones surgery a year ago, but she is doing great now. Lilly & Bentley are senior dogs so, like all of us as we age, we slow down and tend to get a bit of arthritis. These sweet Bullys are just looking for a soft place to fall and live out the rest of their days. They are a package deal.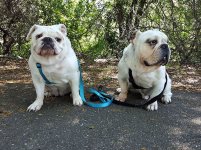 Foster Dad Update:
These two have been in foster care for quite a while. They are looking for a home to live out their Golden Years.
Bentley is 11 years old and acts like a three-year-old. Although he gets ear infections occasionally, and has a slight heart issue (he'll faint if he plays too hard), he is in great health and still chugging along! He wakes up at 0830 and sits by his food dish waiting to be fed. He'll then head outside to do his business then goes back to bed for two more hours. He's very lively in the morning, sings the song of his people, and wants to play vigorously…like a three-year-old. Take him for a walk to help him burn off some energy. In the afternoon he'll settle down and take a nap. While I'm at work, he'll sleep all day at home and is happy when you return to feed him and play with him. He'll know when it's bedtime and will head to the bedroom to sleep on his plush, comfy doggie bed.
Lilly is 9 years old. Such a love! She is calm and passive. She sleeps on my bed and likes to be close to me. She loves a good scratch on her chest and backside. She'll even paw at your hand/arm to pull it towards you and give her scratches. Lilly occasionally plays but would rather take a nap and/or keep an eye on Bentley and watch him play. She is slightly food aggressive (not vicious) with Bentley and will show him who's 'Queen of the Castle'. He'll leave her alone so she can eat…
They are not brother and sister, more like an old married couple. haha
They love, love, love to go for a car ride! They both sit calmly looking out the window or snoozing on the way to the park. A short walk in the park is a plus for them. They walk well on the leash and Lilly is so funny, she likes to stay on one's right-hand side. So cute!
No other animals.
No young children. (Bentley is too rough)
HOW TO ADOPT:
Please view the adoption process and fill out an application at their website ---> norcalbulldogrescue.org
To view more available English Bulldogs from this rescue, click this link ---> NorCal Bulldog Rescue
Please let them know you found them on English Bulldog News!