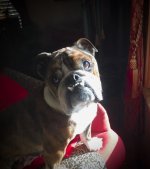 One toothy smile from Foxie, and you can't help but fall in love. Estimated to be eight years old, this sweet bully is spayed and was surrendered to a shelter "due to allergies."
Foxie is a friend to humans of all ages. Just keep an eye on those adorable and protruding teeth. She does adore affection from everyone but doesn't demand it. Her beautiful face gets her a lot of attention from strangers and she eats it up.
Dog-wise, this lady prefers her canine pals young, and absolutely loves social playtime. (With older dogs, Foxie has shown some toy aggression, but is not a barker). Though she is something of a couch potato, she does enjoy daily play with her humans as well. If off leash, Foxie's foster mom tells us that this cutie is known to spontaneously break into "runs and dashes of happiness." A huge fan of the joyride, Foxie is the perfect Sunday driving co-pilot. When on a drive, she proudly sticks her head out the window of the car to get people to notice her. Even if you have hours of errands to run, Foxie is thrilled to come along. She is something of a joiner! Though she doesn't have separation anxiety, it's clear this social lass prefers company, human and canine. An ideal "bring to work" candidate, Foxie is a friendly and well-mannered girl who will go to anyone.. Foxie would do well in a home with a younger female dog.
This easy-going gal is also patient and amenable to upkeep (baths, nail clipping, ear wiping...even vet visits!) Foxie is also a curious girl who prefers people watching to napping wherever she has opportunity! Foxie also loves to play fetch with her humans, and a good game of tug of war with her rope toys. Those chompers also enjoy a workout with antlers and and non-digestible nylabones. In true bully fashion, Foxie will sit on command...in time!
As for meal times, there are no worries about begging with this gal. Foxie is not a table scraps kinda pup, and is allergic to beef, chicken/fowl, soy, corn, wheat, preservatives, dairy, and dyes. She does have a particular food that works for her, along with Fruitables digestive accompaniment at each meal. Foxie is a creature of habit and prefers eating regularly at 7am and 5pm, with one or two bathroom runs during the day.
Regular baths with special shampoo have kept this lovely girl's coat (and cute folds) itch-free! A small daily dose of Apoquel helps as well. Foxie is housebroken but does wear a diaper due to a rectal polyp which causing some bleeding, in addition to occasional involuntary urine leakage. Her small rectal polyp will pop out during a bowel movement or from excessive barking. When this happens, a small amount of blood trickles out and needs to be wiped. Also, the polyp needs to be pushed back in to prevent threat of infection. (She wears a diaper in the house 24/7 and is fine with that.) After each bathroom break, she should be wiped.
Though comfy with her crate, Foxie will not choose to be in its confines. Foxie loves her blanky and settles in for a cuddle several times a day. We've shared a video of her and her blanky so you can see how much she loves it!
A home where stairs could be avoided would be ideal for this little lady's joints, as climbing can be a bit of a struggle for her. (She loves spurts of exercise, but long walks would not be ideal).
Sweet Foxie likes to be near her people, but will also give you space….provided she gets to sleep with her people. This one is on Foxie's short list of non-negotiables! (Co-sleeping and of course car rides). Ear-plugs should help with her snoring, and this girl will let you sleep in!
- See more at:
Foxie
View attachment 80131
Wanna Adopt?
Please view the adoption process and fill out an application at their website ---> snortrescue.org
To view more available English Bulldogs from this rescue, click this link ---> S.N.O.R.T.
Please let them know you found them on English Bulldog News!