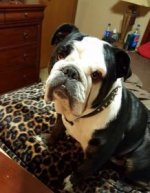 Good Day Everyone!
My name is Stitch. I'm about 5 years old and came to this wonderful rescue because my owner wasn't able to get my CCL surgery (whatever that is), and they wanted the best for me. All I know is that my leg hurt A LOT, so these wonderful folks at IEBR made it all better after I went to the Dogtor. They say I still have a week or so to get back on my paw all the way but I'm telling you I feel great! I really want to make friends with the other dogs in my foster home but I don't really know how to do that yet because I was an "only" pet so I'll need some practice with that so I learn to mind my manners and not jump on everyone in my excitement or pull on my leash. "Socialization" is what they call it but all I know is that I'm feeling so great I want to play, play, play and make friends. But guess what? I know how to let you know when I need to go outside and I can sit, shake, and lie down, too, because I am s.m.a.r.t. and have a TON of energy. Foster mom says I'm a good boy and really love all humans even if I am an enthusiastic greeter. I know I'll learn everything. I just need the right family to teach me what to do. Oh, I SO hope to pick my forever home very soon. I can't wait to meet you! Love and slobber kisses, Stitch
If you are interested in Stitch, please visit our website: Illinois English Bulldog Rescue, and read through our adoption criteria to see if you meet our requirements. If you do, please fill out an application to adopt.
Stitch's adoption fee is: $550
​
HOW TO ADOPT:

Please view the adoption process and fill out an application at their website ---> ilenglishbulldogrescue.org
To view more available English Bulldogs from this rescue, click this link ---> Illinois English Bulldog Rescue
Please let them know you found them on English Bulldog News!
​