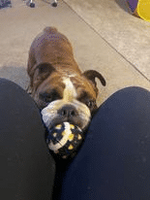 I would like to introduce the newest member of our family, Princess. She's 5 years old and was most likely used as a momma for a few years before being surrendered to our local rescue in Florida. She is so sweet, loves everyone, is very active, and her favorite thing in the world is playing fetch with her squeaky ball. We just picked her up last night and I know all of these things already...lol. She's a good girl, for sure, and I feel blessed to have found her.
I had to let my girl, Daisy, cross the rainbow bridge in August. I had been contemplating getting a different breed of dog, but I knew in my heart that I needed a bulldog, so I applied for a rescue. You guys don't know it, but you were a lot of help when Daisy was sick and I was looking for answers.
Her foster mom had been feeding her Royal Canin Bulldog for about a week only because it was donated. She's been a little itchy since I brought her home. I switched her to Nature's Logic without a transition since she was itching and it had only been a week on the other food. Fingers crossed that the itchiness resolves quickly.