Moderator

Community Veteran
Dec 9, 2016
5,292
764
Country

United States
Bulldog(s) Names

King Louie, Jax (French Bulldog), Ella Mae and Darla Rae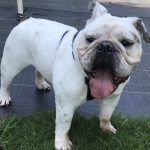 Age: 7 Yrs. Old
Gender: Male
Adoption Fee: $450.00
Special Needs: No
Tolerant of children
Tolerant of dogs
Tolerant of cats
Tears fell like rain today when Lugnut's family said goodbye. With one ear standing up and one ear folded over, Lugnut is as cute as they come.
As in all families, change happens, and Lugnut found himself needing to find a Bulldog-savvy family that knows about special food and medicated baths. Like many Bulldogs, Lugnut needs grain-free dog food, grain-free treats and a whole lot of Bulldog love. Lugnut loves people, loves sittingin laps and loves a long walk when the weather is nice.
Lugnut brought with him some of his favorite toys, a bag of food and some treats. Lugnut will be off to the vet clinic for a once over, and then to a foster home. He's now thinking about a new family that will love a Bulldog with one ear up, one ear down and a whole lot of spots all over!
9/7/18 Update: I left the vet two days ago. A really nice lady picked me up and drove me to this place called a foster home. I'm really new to this process so bear with me. I love making new friends, but can we skip the weird sniffing, please? 😒 Yes, I know I'm a sexy beast. 🐶 So look at my beautiful face and keep your nose away from where the sun don't shine 😎. Being aggressive isn't in my nature. I have been exploring all around this huge place. There are so many new faces here, it's crazy! I do love that I have my own crib. Apparently, there is a routine here of nice food. Oh, I can't complain one bit! Holy cow… it's like being fed at a 5-star hotel everyday. We get our kibble, cheese, joint supplements, and a treat, if we go outside to do our business. Once inside, there is a huge doggie bed. My foster parents call it a couch, but we are the only ones on it most of the time. With this many 🐶🐶🐶🐶🐶🐶🐶🐶🐶🐶 here, I say we are a mixture of greatness. I would really like to find my own home soon, so please share my story.
Wanna Adopt?
Please view the adoption process and fill out an application at their website ---> dfwbulldogrescue.org
To view more available English Bulldogs from this rescue, click this link ---> Lone Star
Please let them know you found them on English Bulldog News!