Moderator

Community Veteran
Dec 9, 2016
5,300
789
Country

United States
Bulldog(s) Names

King Louie, Jax (French Bulldog), Ella Mae and Darla Rae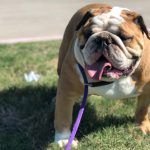 Age: 4 Yrs. Old
Gender: Female
Adoption Fee: $550.00
Special Needs: No
Tolerant of children
Tolerant of dogs
Tolerant of cats
Some people say I am f*t. I can't even say the nasty word. Do I look f*t to you? I only weigh 74 pounds. If I wanted, I could be a lot bigger!
Anyway, enough of that negativity. I lived with an older woman who is having some health issues and she is no longer able to take care of me and some of my issues. So she decided to surrender me to rescue so they could fix me up for my next family!
I have very bad entropion in one eye and I need some attention paid to my teeth. I have already been spayed, so the nice doctor is taking care of those other things in a few days. Then I will be ready to start my new life. But when I come live with you, I don't want to hear that f*t word, or I just might have to leave. And don't even think about that d**t word!
***DISCLAIMER: Shhhh…. don't tell Molly Jane, but yes, there will most likely be some green beans in her near future.***
9/16/18 Update: I had a great first week here at my foster home, but I'm not going to lie… I was pretty worried at first. It felt like so much was changing at one time and how's a girl supposed to handle all of that? But my foster parents showed me so much love and told me my perfect furever family will find me soon.
And guess what? There are 5 other 4-legged fur friends here who kind of look like me. We all get along great! A couple are smaller, a few are boys and I'd like to think at least 1 is bigger than me. I did overhear this lady in a white coat say something about losing a few pounds, 🤷🏼*♀️ but don't worry. I took a quick look in the mirror and told myself she was talking about someone else because, I mean, look at me, I am PAWlicious 😉
Foster Pa moved my super comfy orthopedic bed next to his bed. He told me it was because my snoring helps him sleep, but I know it's because he just wants me near him.💗 To show him my appreciation, I got his T-shirt, took it to my bed and I sleep with it every night. My skin foster brother has taught me how to go up and down the stairs. He was so patient and encouraging. Now, I try to get him to race me up the stairs, but he just chuckles and tells me, "Take it easy girl."
Foster Ma is such a sweetheart, but who told this lady she can cook? She's been serving me stuff like Salmon Tunalini, Hasen Duckenpfeffer, and Lamb and Lentil. Like, what is all of that?And no Foster Ma, a little shredded cheese on top is not going to fool me! Can a girl just get some beef and taters, please?! Well, I guess that's all for now. Thanks for listening and a big thank you to everyone here at rescue. All my love, Molly Jane
Wanna Adopt?
Please view the adoption process and fill out an application at their website ---> dfwbulldogrescue.org
To view more available English Bulldogs from this rescue, click this link ---> Lone Star
Please let them know you found them on English Bulldog News!