Moderator

Community Veteran
Dec 9, 2016
5,390
1,022
Country

United States
Bulldog(s) Names

King Louie, Jax (French Bulldog), Ella Mae and Darla Rae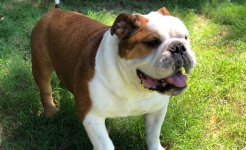 Age: 2 Yrs. Old
Gender: Male
Adoption Fee: $600.00
Special Needs: No
Tolerant of children
Tolerant of dogs
Tolerant of cats
Hey everybody! I came into rescue as Gabriel, and I am back as Gus! I was adopted by this wonderful family who loved me so much. But you have never seen a family who had so much bad luck and struggle. They tried everything to keep me and rescue was there to help. But we all decided it was best for me to find a new family.
You might not recognize me. I had the worst legs and walk, but I have gained some weight and muscle and my walking is so much better. I am at the clinic getting treatment for an ear infection and getting a bad tooth pulled. After that I will be ready to hit the ground running…all the way to your house as my new furever home. So get that application completed!
Our special lil man Gabriel now known as "Gus" by his sweet 3 year old furever companion & family has been adopted. This family is very special to understand and accept Gabriel's handicap and his chilled attitude which can be discriminating sometimes towards other fur babies. Gus's new furever mom teaches and works with kids who have learning disabilities — it makes this adoption very special.
Lone Star Bulldog Club Rescue now has its very own Christmas angel named Gabriel. He is 2 years old and weighs 50 pounds.
We think he may have been dumped on the side of the road in the country. He was found by a nice man who has cared for him for the past month and helped him gain several pounds. But Gabriel chewed through the man's fence a few days ago and ran off. He was then found by another person who took him to the local animal shelter. The nice man with the damaged fence found Gabriel at the shelter, but decided it would be best for Gabriel to come to us so we can find him a perfect home. He said Gabriel was good around his two dogs and his cat. Gabriel is now at the vet to get his shots and a good physical. We do know already that he is heartworm negative (YAY!). He has considerable hip dysplasia, but he can still move around well. Stay tuned for more details on this boy.
12/20/16 Update: Gabriel remains at our vet for evaluation. Everything checks out great except his hip dysplasia. We are having a specialist look at him for possible surgery. If he is a good candidate it should improve his walk and give him pain relief and enable him to run like a normal Bulldog. The cost of the surgery will be approximately $1,500.
1/2/17 Update: We picked up our new little foster addition, Gabriel, on New Years Eve. He is one of the sweetest, flippy floppy lil bullys I know. He is very shy. The poor baby's hind legs don't work well and sometimes drag. Gabriel loves playing with kids and his foster siblings. He just cannot get enough of others! He is good at resting, and needs to put on a few healthy pounds, but he is as sweet and loyal as they come.
1/8/17 Update: Gabriel has totally come out of his shyness. He has made his way through the house, checking it out and ignoring the cats as they followed him. Gabe is potty trained, but sometimes needs to be supported (leash) and led outside due to his hind legs. He just needs a little help up, not always, but sometimes. He also needs a lil' push outside — his bladder must hold a gallon.
Gabe loves to rough house and enjoys time alone during the day. He will just go to his bed and nap or wait for me to come and get him. Sweet Gabriel (and he is sweet) has a very sweet composure. He will not move room to room, as does his other fur sibs. He waits for us to call his name. He waits for his next direction or command from us. He wants to be needed and he wants to please us, which is a role reversal for me. His hind legs, due to his hip dysplasia, do not hinder him from rough housing. He might be tousling from the ground, laying down, but he is good. He also can get up on a lap to be loved.
1/11/17 Update: This sweet lil dude had a krazy fun time at Mutts Canine Cantina yesterday — he was so in love with every fur female especially Sweet Pea. Our sweet lil Gabriel hung out at Mutts Cantina not showing he was tired till we walked towards the car that his hind legs were dragging. He was so happy to be there with other fur friends that his disability did not keep him from having a ball socializing with the girls. I opened the car door to assist him in "Nooo he just jumps in the front seat and goes to the back like nothing" His hind legs might have been tiring but his SPIRIT wasn't. Sweet Gabe is a low key kind a guy, he watches, sits back plays it cool, waits for your direction, respects your space and most of all Gabe doesn't have FOMO!! He has SWAG!!
3/26/17 Update: Our lil dude has made some incredible improvements! When we picked up Gabe and brought him home, he was super thin (you could count his rib and back bones) and his hip dysplasia was pretty bad. Gabe is not in any pain, but he does get uncomfortable, always repositioning himself and at times, has difficulty getting up. Our sweet Gabe gets daily morning and evening massages. It really helps his hind legs. Gabe really loves trolling the front and back doors of his new foster home. Gabe just sprawls out like a cat in front of the doors and waits for the opportune time to slowly jump into action by beating you to the car. You have to squeeze your body tightly between the door and door frame because he does have some "Jackie Chan" moves. Gabe is slick and he has those pouty "Zoolander" lips LOVEBUG! Gabe enjoys the outdoors, and is great on a leash. He knows some commands and we are working on more. Gabe is easy going. He's a happy lil dud and just enjoys himself wherever he is.
Gabe loves to play games and his favorite is what we call the water bowl face. He will go to the water bowl and just splash the water. Then he comes over to tap me on my foot or leg, so I look up to see his lil face, which is wet, real wet, drooling wet. I then wipe it dry and give him lots of lil kisses. Then he will go do it again and again…
7/1/18 Update: We currently have Gus (aka Lovebug). Gus brings so much joy to our home! He is such a pleasure. He is incredibly well behaved and so good with our small kids, strangers and other dogs. He is completely house trained. He sleeps in his bed and is great when he is home alone. We have not used a crate for him because it hasn't been needed.
His favorite thing to do is ride in the car. As soon as you put his leash on and walk outside, he starts heading to the car and even climbs in, if the door is open. We have tried taking him on walks, but he can't make it more than 1-2 houses down our street because of his hips. Dusty took him to work with him for two days last week while the rest of the family was out of town and he was a perfect angel.
He seems to have a very hard time hearing. He really acts more like a typical 12-year-old dog… He has low energy and sleeps a lot. He is a great cuddle bug and just loves to have his belly rubbed. He can't really jump and seems to prefer a ramp that we have to go into the backyard instead of stairs.
Wanna Adopt?
Please view the adoption process and fill out an application at their website ---> dfwbulldogrescue.org
To view more available English Bulldogs from this rescue, click this link ---> Lone Star
Please let them know you found them on English Bulldog News!