Moderator

Community Veteran
Dec 9, 2016
5,289
759
Country

United States
Bulldog(s) Names

King Louie, Jax (French Bulldog), Ella Mae and Darla Rae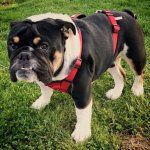 Age: 1 and a half years old
DOB: I'm an Autumn Prince born on the tenth day of the month of October in the year 2016!
Gender: Handsome man
Weight: 47 pounds! Not bad for a little guy with special needs, eh?
Energy Level: Medium - I'm a young pup still so I love to play but I'malso a bulldog so I'm a little on the lazy side at times.
Color & Markings: I'm black and white, and I have bits of tan! Aren't I just the most handsome?
Can go to a home with other dogs: If I go to a home with other dogs it'll have to be a dog smaller than me or very submissive. I need to be the dominant one. I will need to be fed separate from my canine siblings and all their food must be put up or I'll eat theirs too!
Can go to a home with cats: I've never been around a cat yet but my foster family thinks I'd do fine.
Good with kids: BBR Policy states no children under the age of 8+ so, my ideal home will have: Any home with children ages 8+ is welcome and encouraged to apply!
Object Aggression: I will get a little aggressive with another canine only over toys.
Special Needs: I have something called Ambulatory paraparesis with moderate proprioceptive ataxia (weak/wobbly pelvic limbs) and Pelvic limb deficits. I have a cart to help me get around if I need it but I haven't had to use it in quite some time. I've been doing really well on my own even though I will sometimes have weakness in my legs. I do take a daily joint supplement to help make me strong. But my new family should be aware that my condition should be monitored by a vet on a regular basis so that any issues that may arise can be taken care of. I also have a very thick and tight wrinkle on my face that will need wiped out daily with malacetic wipes. This is very important and cannot be skipped as infection can grow in that area and no one wants that
.
​Medications: I need my daily joint supplements, I also will need flea and heart worm prevention meds, I also get 2 eye creams in my eyes twice daily for my dry eyes (this is a 2 person job) I am also getting medicated baths until mid May, these baths will not be a permanent thing, just a little something to help my skin!
Crate Trained: I am crate trained but still have some accidents in my crate.
House Trained: I occasionally have accidents but I know I'm supposed to go outside. I go outside more than I do in.
Physical Fence Required: not for me! But if you don't have a Fence it's a good idea to take me out on a leash. I potty outside just fine on my leash!
Wanna Adopt?
Please view the adoption process and fill out an application at their website ---> buckeyebulldogrescue.org
To view more available English Bulldogs from this rescue, click this link ---> Buckeye Bulldog Rescue
Please let them know you found them on English Bulldog News!