Owner/Administrator

Staff member
Community Veteran
Jan 28, 2010
24,756
1,245
Country

USA
Bulldog(s) Names

The Home of the Desert Sky Pack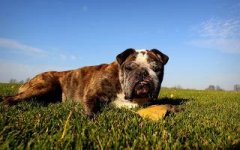 Hi! My name is Ella (EllaBella Puddingface if your talkin' to my foster family and friends!) and I'm looking for my forever home! I am soooo easy going, I just like to chill out, nose around the backyard, go for walks on beautiful days and did I mention chill out? My favorite place to chill is wherever it's soft and comfy! Couches, beds, chairs…wherever I feel like it at that moment.I am fully house trained and will wait politely at the door when I need out, but just remember, my bladder isn't 3 years old anymore! I can only hold it so long so please pay attention when I ask.I really love to eat too! I love my treats and my warm dinners my foster Mom cooks me and I feel so much better now that my allergies are being managed through a healthy diet and I don't have to take all kinds of pills and drugs. I do have dry eye though and my foster Mom has to give me drops morning and night but that's it! Eye drops! Easy peasy stuff!I love people and I love meeting other dogs. I know they get a little freaked out because my teeth are showing but after a bit they come to realize that's just the way I'm made, I'm not being mean or warning them away, I just want to be friends!K, my foster Mom says she has important stuff to tell you about me now!Hi, I'm Kailan, Ella's foster Mom and I just want to say, if you're looking for a happy, sweet, laid back dog then this might be your girl! But, she is special needs, requires daily attention and a very strict, tailored diet to manage her many allergies without daily medication. I believe the key to keeping Ella healthy is a 'less is more' approach. Less pharmaceutical, less junky fillers in her food and treats, just real food and natural products to help her create a balanced and healthy system. Ella came to us with a medical record an inch and a half thick and was still suffering chronic ear infections, yeast and bacterial infections, severely underweight, itchy and stinky despite thousands of dollars thrown into meds and prescription kibble diets. If you're not willing to commit to Ella's raw diet and twice daily care routine of cleaning her ears, eyes, tail curl and wrinkles then this sweet ol' lady may not be the right companion for you. But! If you're willing to learn and would like to join Ella on her journey to a clean, natural lifestyle we would love to meet you and help in any way we can. This lovely girl deserves to live the rest of her years healthy, happy and itch and pain free!
Wanna Adopt?
Please view the adoption process and fill out an application at their website ---> homewardboundrescue.ca
To view more available English Bulldogs from this rescue, click this link ---> Homeward Bound
Please let them know you found them on English Bulldog News!