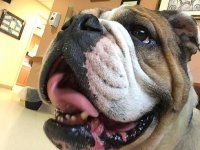 My name is Buckeye and I am a big, handsome, gentle 4 year old bulldog. I have a huge personality and energy to match. I am healthy, naughty (I love to get into things in the house...like the pantry) but also sweet as can be and want to curl up on your lap on the couch.
I am good with my younger foster sister who loves to play and tolerate my older foster sister. But it takes me a few weeks to warm up to new dogs so introductions with others have to be slow.
I had lost my way and was so happy when I was found and given to a shelter. They immediately reached out to Chicago English Bulldog Rescue to get me into a foster home so I can find my forever home.
What can I tell you about me? I am 60 pounds of sweet and gentle bulldog and I really love people and want to be with people, especially on a sofa, on a special person. I have settled into my foster home nicely and am learning the routine. I like to play, go on walks, lay on the sofa and chill in my crate.
My foster parents are working on my manners and I am learning to sit and not jump up on people. Really, I jump up very gently and want you to hold me and never let me go. I am quite strong and like to go for a long walk but pull very hard sometimes, particularly if I want to go and meet another dog. Or if I smell a good smell. Or if I want to go another way. Or if a person is coming towards me that I want to meet. Hey, I am just learning! I response well to praise and really want to make you happy. I am completely housebroken which makes my foster parents believed I lived in a house before I got lost. I am living with 2 other bulldogs and doing just fine with them, but the boy can be a little overwhelming for me so if he is being too crazy, I leave and go back to my crate. Curling up with human is more my speed!
I went to the vet last week and have a clean bill of health so I am ready for my forever home.
My perfect family is one who will love me and give me lots of attention, they will appreciate my sweetness and gentle spirit and will enjoy having a loyal, tender boy at their side. They will help me on my manners and appreciate all that I bring. I promise to your best boy and give you my heart forever.
Are you my family?
With love and hope,
Buckeye
Placement Criterion for Buckeye:
Willingness to work on manners, including jumping and pulling.
Other young, playful (probably female) dog would be ok
NO CATS!



Please view the adoption process and fill out an application at their website ---> ebullymatch.com

To view more available English Bulldogs from this rescue, click this link ---> Chicago English Bulldog Rescue

Please let them know you found them on English Bulldog News!

​

[SUB][SUP]
[/SUP][/SUB]
​