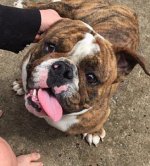 Jack is a 1 ½ year old male who started life in the wrong home. Jack was caged for most of his life and neglected as well, which has led to severe anxiety and hyperexcitability. Jack also developed an inoperable cyst in his spine that caused loss of mobility in his hind legs, but Jack was never taken to a veterinarian, so he was in pathetic shape when he came into rescue. Jack was unable to relax or calm himself, and was unable to use his hind legs.
CEBR immediately provided medical treatment. The cyst could not be removed, but with medication Jack regained the use of his hind legs. Jack has some residual weakness, but he gets around just fine.
Jack was also assessed by one of the best animal behaviorists in the Midwest who diagnosed the severe anxiety and hyperexcitability, and prescribed the appropriate medications.
Because of his unfortunate past, Jack will be adopted into a low-activity home with no kids under the age of 14. Although medication has helped tremendously, Jack is still prone to hyperexcitability, which is why he needs a calm environment. The ideal household will also be very patient and will work with a trainer to continue building on the progress that Jack has made.
Jack is housebroken, leash-trained and gets along well with other dogs. He even has a few tricks that he will show off … as long as the pay-off is a tasty treat or two! Jack is very loving and wants to be as close to you as possible, which is understandable given his history of neglect. Jack is still a puppy – in mind and body – but he never had a chance to be one. Jack deserves a home where he will be showered with love, patience, attention … and lots of toys and treats – like any puppy deserves!



Please view the adoption process and fill out an application at their website ---> ebullymatch.com

To view more available English Bulldogs from this rescue, click this link ---> Chicago English Bulldog Rescue

Please let them know you found them on English Bulldog News!

​

[SUB][SUP]
[/SUP][/SUB]
​