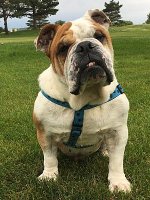 Bertie is a very sweet, loving boy who we believe came into rescue after having spent 5 years locked up outside in a cage (his entire life). Because of this, he has no social skills and is still learning the ropes on how to interact with his humans and living in a home.
He has some bad manners such as 'mouthing' when he gets frustrated, as he doesn't know how to express himself, and his new family must be committed to continue working with Bertie to help him adjust with his trainer Steve Frost from A Sound Beginning, to help him and his family stay on track.
Bertie loves going out for walks, loves his food and is very well mannered with his foster mom. He needs to bond with his new family and build trust up, so that he can blossom into the boy he is. He is extremely good natured, very loving, laid back and gentle, with very minimum health issues.
Area that require work is:
Bertie is not good with any type of strangers coming into the home, or strangers petting him and needs to learn that these are all good interactions. His frustration escalates to 'mouthing' the stranger and he is currently in training to redirect this behavior.
He also has an aversion to being crated which really distresses him. Minimum to no crating Bertie – he's spent 5 years locked up – please no more!
A home with no kids is a must, as well as a quiet household. A family that is bulldog savvy would be ideal that is confident to manage his behavior, patient, and understanding that this boy has had a rough start to his life, but given the opportunity, he will flourish into a wonderful, loving family member.
​
Please view the adoption process and fill out an application at their website ---> ebullymatch.com
To view more available English Bulldogs from this rescue, click this link ---> Chicago English Bulldog Rescue
Please let them know you found them on English Bulldog News!
​