Moderator

Jun 25, 2013
3,292
301
Country

United States
Bulldog(s) Names

Ruthie(died 11/27/18) Brutus & Hazel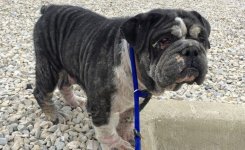 Welcome our newest buddy, Bear, to Rescue. He came from a local shelter as a stray and no one claimed the poor guy. He tested positive for demodex mange and is missing a lot of his hair. He also appears to have dry eye and one cherry eye and may need entropion surgery. He also appears to have some cysts on one foot. He is not neutered and has not been tested yet for heart worms (say a prayer). He is so sweet and cuddly. When I led him outside he shelter, he gave me that special look that makes my heart melt. He is so happy to be out of that place. He reminds me of a sweet little bear cub, hence the name. The shelter thought he was probably two. We think he is closer to one and still has some puppy in him. He will make someone an awesome pup! He weighs 47 pounds and has some growing to do to grow into his big feet.
6/1/16 Update: Bad news for little bear today. Bear will need to have his double cherry eyes fixed, be neutered and be treated for demodex mange. On top of that, the poor dude is heartworm positive. Please keep him in your thoughts as he starts this long road to recovery.
6/20/16 Update: My world has gone Bear-shaped. I look at that cute, square teddy bear-shaped head, and I get lost in my Bear Shaped World. Who could have done this to this sweet baby? Someone probably paid a lot of money for Bear. We all know that he is what some call a "designer" Bulldog, bred only for his unusual color. Because his hair is so sparse, it is hard to tell what all of his colors are! Obviously, black and the rest is a question. Is he white or is he tan? I don't know, but I am going to guess he is a tri with black/white/tan. We will soon see! What we do know is that this boy is just one hot mess! Last Saturday, I didn't want to give him a bath his first day in my home, so I tolerated the smell. By Sunday afternoon, I couldn't take the smell anymore and put him in the tub for a medicated bath. He was an amazingly good boy. No fuss, no fear! He stood there and took it like a Bear. I think he likes it. Drying a dog that is covered in crust and scabs is not an easy task. We are all used to vigorously rubbing our dogs with a towel until they zoom away, bouncing off all the walls and furniture. Not Bear. With Bear, you must very gently pat dry with a very soft towel to minimize the bleeding.
I did a little bit more trimming of the "talons" he has for nails. I have them as far back as they can go without making him bleed. It was a delicate task because his feet hurt from all the cysts that are in between his toes. He even has cysts on his back feet. The cysts have been opening up and draining and so I must constantly clean and dry his feet. Bear is now on the same nutritional program that I used for Mercy, Parker and Martin. Bear doesn't like to have his back touched. It hurts him. His skin is very sensitive. So I rub his soft velvety ears and he starts to purr. I have never heard a Bulldog purr until now! Bear is now "Baby Bear." He's only a baby, not even a year old. He has behaviors of a baby that was removed from his mother way too soon. That's what those "designer dog factories" do. They pull them from their mamas around 5 weeks old and put them on the market. They have to get them in the window while they are still little babies. Bear is loving his new life! We have dog beds in every room in the house and he likes to go from room to room, bouncing on every bed. He has discovered the various toy boxes about the house, as well, and loves a good stuffy toy to play with. While in his crate, he keeps himself occupied with bones. He has not had a single accident in the house or in his crate. He is a good little Bear. He sleeps all night long and doesn't make a peep. The only time he ever complains is when he whines at meal time. He, like every other Bulldog in the house, doesn't think I fix the meals fast enough. He has unfortunately learned from his foster brother and sister to complain about the meal service.
Please continue to keep Baby Bear in your prayers. He has a long road ahead of him, and all his issues have to be dealt with one at a time. First priority is to build him up and get his skin issues under control so he can handle all the medical procedures that he will have to go through down the road. He gets a medicated bath every other day to help his skin and is getting three square meals a day with lots of nutritious goat's milk and fish stock.
6/27/16 Update: He's starting to get more hair! Cysts between his toes are gone. His skin has started the sloughing off process. I call it the Demodex Dandruff…it's a mess! His bedding has to be washed daily (just from the skin stuff… he never ever has an accident on his bedding). I have to constantly sweep the floors! Still getting his baths every other day. He is so worth it all!
Wanna Adopt?
Please view the adoption process and fill out an application at their website ---> dfwbulldogrescue.org
To view more available English Bulldogs from this rescue, click this link ---> Lone Star
Please let them know you found them on English Bulldog News!