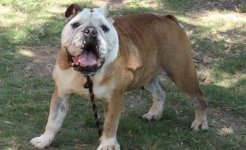 Twinkie, 7 years old, was found in Bryan yesterday. It looks like life has been anything but a fairytale for Twinkie. We look forward to making her feel and look better. She is chipped, but neither the primary or secondary contacts have responded. So, we'll take her in and get her the care (and food!) she needs.
6/25/17 Update: I'm Twinkie! I was surrendered to a nice lady with Lone Star Bulldog Club Rescue because I was found wondering and lost. No one really knows my full back story or my exact age or what might have happened to me — BUT, what we do know is that when rescue took me in, I was so unbelievably emaciated — it was painful to look at me. In fact, I overheard someone saying they had never seen a dog that thin.
I didn't feel so hot for a long while. It took some time for me to recover and put on much-needed weight. I also was a little depressed for a while.
Fast forward, I feel so much better now and my true personality has started to emerge and let me tell you — I am one heck of an adorable Bulldog! I am so happy to be a chunky monkey now. I will flop over anywhere at anytime to let you rub my belly. I love to trot alongside my caregivers, always wanting to be close and in on anything exciting that might happen. I have lots of playful energy, but I also like a nice comfy couch to snuggle up on. I am so loving. I love to be picked up and held close, kissed and told how beautiful I am. I can't wait to meet my forever people. It's been so long since I have had a very own home and family of my own. I will do best in a single pet home that loves affectionate, spunky little girls like me!
7/2/17 Update: Foster girl Twinkie is ready to celebrate the 4th with maybe a little bite of burger… she's grown accustomed to better meals over the last few months!
11/12/17 Update: Twinkie is a chubby little gal — she's no trouble at all. She loves to play ball and then she is passed out cold for the day. She enjoys attention and loves to be petted. She won't overwhelm anyone with neediness, but I also think Twinkie would be up for adventures. When Twinkie came to us she was so thin, it brought tears to my eyes. She was starved… needless to say she loves her food and nothing makes her happier than eating (I know the feeling). Twinkie has been ready for a real home for SO very long. Twinkie doesn't love other dogs, so I know how hard that makes it to find a home. Please share our little Twinkers (that's what we like to call her). I am really hoping a home for her is in the near future! She deserves to live the rest of her years with a furever family.
Wanna Adopt?
Please view the adoption process and fill out an application at their website ---> dfwbulldogrescue.org
To view more available English Bulldogs from this rescue, click this link ---> Lone Star
Please let them know you found them on English Bulldog News!