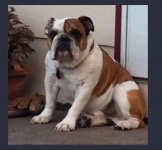 Hercules here. I found myself in need of a new home because my mom is moving out of the country. I will have you know that my personality fits my name. I am 9 years young and I am the best bulldog if you just ask me. I share my treats and my toys with my sisters, most of the time. I always get first pick though. I've been with a couple of families so far. They all loved me and have had to find me new homes on no fault of mine. I love to suck on my stuffed animals. I get with other dogs just fine. We all go to the dog park and I play and play. I love humans of all sizes. I don't bite but do nip sometimes when I don't like what you are doing. Especially if I find your shoe and you try to take it away from me. I like shoes. I sometimes try to take them, so foster mom says you should keep your shoes in the closet with the door closed. I have been known to take clothes too if they happen to land on the floor. Heck, I want everything to be mine.
I do not like vacuums, hair dryers or shovels they scare me. I have my quirks but my foster mom says I am a good boy despite them. I am potty trained and I love car rides and the park. I like kids too but I am a bit too rough to be in a forever home with them. I would need my family to monitor my time with children because I am a bulldog afterall.
I listen most of the time except when I take something I shouldn't. I do it just to get treats so foster mom can take it away. I'm really smart, you see? I like to snuggle and sleep so close to my foster mom at night I almost push her out of the bed. I am awesome on the leash and love to go for (short) walks. I will bark at you for rubs, hee hee..oh and if the doorbell rings.
Are you my forever home?
Love Herc
HOW TO ADOPT:
Please view the adoption process and fill out an application at their website ---> ilenglishbulldogrescue.org
To view more available English Bulldogs from this rescue, click this link ---> Illinois English Bulldog Rescue
Please let them know you found them on English Bulldog News!