Moderator

Community Veteran
Dec 9, 2016
5,355
940
Country

United States
Bulldog(s) Names

King Louie, Jax (French Bulldog), Ella Mae and Darla Rae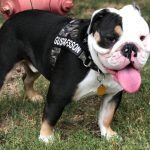 Hey everybody, remember me? My name is Buster and I was here just over a year ago. My adopted family changed my name, but I think I'll go back to just plain Buster. I had a birthday since I left. I am a year and eight months old now! Sometimes life throws you a curve and you just land on your feet and keep going. That's what happened to me.
I thought rescue found me the perfect family. But sometimes even the best match doesn't work out the way you think it will. Stuff happens, things change, a puppy gets a little too rambunctious… You know. I am completely house trained. My old family taught me to ring a bell when I needed to go outside. It's fun. I also had a fur sister I loved and we played tug-of-war until we were too tired to move. I am not the best on a leash, I get so excited that I just want to run like the wind. I need someone who is patient with a puppy still learning and will help me stay within the boundaries set. Because of my youth and playfulness I will do better with older children.
I sure hope another nice family adopts me real soon! I promise to try my best to be your best friend.
Buster has been adopted! From his foster pops: Buster (now Gus) has been adopted by a wonder, young, Bulldog-savvy family. Their girl, Flower Pot, was looking for a new playmate and she will enjoy little Gus. Will, Leslie and their boys could not be happier to finally meet Gus today and spend time with him. They brought all kinds of toys with them and already have a beautiful new bed waiting for him. He left strapped in the middle of the front seat between his new parents ready to meet Houston. He was sitting up and looked like he owned the world. I could not be happier for my new little buddy and look forward to many future pictures. I am told he will soon have his own Instagram account.
Please welcome faster-than-a-racehorse Buster to our rescue family! From volunteer Dianne: Buster is 7 months old and absolutely the cutest Bulldog I have seen. Buster has no sad story. He's always had a family that loved him; he just has those razor sharp teeth that makes playing with the small kids in the family hard. Buster had found himself staying in a crate too long and he was pretty sad about that. So, Buster loaded up his things and is looking for a very active family that he can join.
5/23/17 Update: Buster has been settling in at his new foster home and loving it! He is such a happy fellow and so much fun to be around. He is well behaved and loves to walk on a leash. But he is still a puppy and he LOVES to play with his foster sibling puppy brother. They would never stop if you didn't make them rest. For a puppy he does not chew as much as we expected, which is so nice.
Wanna Adopt?
Please view the adoption process and fill out an application at their website ---> dfwbulldogrescue.org
To view more available English Bulldogs from this rescue, click this link ---> Lone Star
Please let them know you found them on English Bulldog News!