Moderator

Jun 25, 2013
3,292
301
Country

United States
Bulldog(s) Names

Ruthie(died 11/27/18) Brutus & Hazel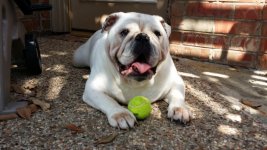 Buddy Holly (Buddy) is a 6 yr. old male that weighs 75lbs.
Buddy Holly (Buddy) joined Lone Star Bulldog Club Rescue today as an owner surrender. He will be making a quick stop at the clinic to get a check-up and hopefully a clean bill of health. From there, it is on to his foster home. Stay tuned for more details about this big bundle of bulldog.
8/22/2015 Update:Buddy Holly is a hunk of burning love. Buddy is a giant teddy bear that prances when he walks. He craves attention. He will follow you from room to room in case you want to hand out scratches or need a lick at any given moment. He is still adjusting to his new surroundings, but so far he gets along with the other dogs and little people in the house. We have found he loves to play with balls. He is a little protective of his toys with the other dogs, but he doesn't mind little hands grabbing the ball. He is battling ear infections, a skin infection and hookworm at the moment. We can't wait to see more of his personality come out as he gets down his road to recovery..
8/30/2015 Update: Buddy likes nothing more than a squeaky football and a cold piece of tile to take a nap. He is easy like Sunday morning, this guy. He will give you a gentle paw tap when he feels you are in a good position for some back scratching. We caught him a few times cozying up to Sophia Marie. He is a cutie!
9/6/2015 Update: Buddy Holly is a quirky one. He mainly keeps to himself in a different room unless another dog is going outside. He likes to follow each one out to see what is going on. He has free roam of the house, but he prefers to hang out in the bedroom. He does venture out to chew on a toy or a bone or take a nap on the cool tile. He also takes his meals away from the other dogs. He is not food aggressive, but he gets scared if people or dogs walk up behind him while eating. He will tuck nub and run off. He is still timid, but I think we will see his personality shine as he gets more adjusted. The big guy does love to sunbathe early in the morning. He is just a big lovable guy that loves a good ear scratch.
9/13/2015 Update: Buddy seems to love everyone he comes in contact. He will sit and let you pet him all day long, and he will pay you back in sweet looks and drool. He is a cutie. Buddy needs regular baths to keep him from getting itchy. He has found that losing a few pounds has allowed for him to join the other dogs on the couch. Buddy is still a 'big boy', so he moves at his own slow pace. He does have a few smelly accidents in the house if he doesn't get his business out of the way a couple of times in the morning. Buddy is now taking all his meals with the other dogs in the kitchen. He looks for opportunities to snuggle up with fellow foster Sophia Marie any chance he gets. He had a great time with all the scratches at Hollywood Feed on Sunday. He is worn out!
Wanna Adopt?
Please view the adoption process and fill out an application at their website ---> dfwbulldogrescue.org
To view more available English Bulldogs from this rescue, click this link ---> Lone Star
Please let them know you found them on English Bulldog News!