Moderator

Community Veteran
Dec 9, 2016
5,287
754
Country

United States
Bulldog(s) Names

King Louie, Jax (French Bulldog), Ella Mae and Darla Rae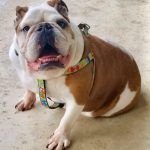 Age: 8 Yrs. Old
Gender: Female
Adoption Fee: $350.00
Special Needs: No
Tolerant of children
Tolerant of dogs
Tolerant of cats
My name is Gertrude. My family called me 'Gertie.' I am 8 years old and have lived with my family since I was a puppy. They love me and I love them. They also love my daughter, Matilda, we call her Tillie for short. Tillie is just 5 years old and has been with me and our family since I had her. But, today we had to say goodbye to our family. Our daddy cried and it made us sad. He loves us, but he knows that as his job takes him overseas, there is no way for us Bulldogs to join the family. Our hearts are a little broken, but we promised Dad we would be strong and make him proud and would be SO GOOD for our new family. We hope our new family will love us both and will let us stay together forever. We have never been apart and that would just be too much to bear. Here is a little more about us:
Gertrude 'Gertie-Lynn'
I am 8 years old. I will actually be 9 on the 17th of September (… but who is counting?)
I am a beautiful fawn and white girl. I like people, kids, rubber toys, napping and EATING! Some may say I am a bit 'fluffy' (actually, this rescue lady said something about a diet, but then the other rescue guy with a goat-beard said 'not if Dianne has anything to say about it' – I don't know who Dianne is, but I sure hope she has something to say about it… No diet! Girls my age should have to sacrifice with a diet! Geez! This is rescue not jail or diet camp!)
Wanna Adopt?
Please view the adoption process and fill out an application at their website ---> dfwbulldogrescue.org
To view more available English Bulldogs from this rescue, click this link ---> Lone Star
Please let them know you found them on English Bulldog News!