Moderator

Jun 25, 2013
3,292
301
Country

United States
Bulldog(s) Names

Ruthie(died 11/27/18) Brutus & Hazel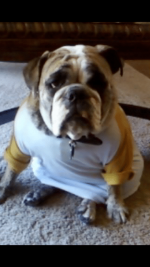 Kayla is a 5 1/2 yr. old female that weighs 48 lbs.
Kayla joined rescue as an owner surrender. She is heartworm positive so she will need 30 days of strict crate rest. Once that is complete she will begin her search for the perfect forever family.
11/1/2015 Update: Kayla is on bed rest right now while she completes her heart worm treatment but that's not going to stop us from giving her rave reviews. Kayla is very sweet and gentle with everyone. She will come up to you and sit at your feet to wait patiently for scratches. She loves to chew on Nylabones and will get a little feisty with foster sister even though she has 3 sitting in her bed. It is all bark and no bite and they stop as quickly as they started and everyone will politely go back to their corner to resume the gnawing. Kayla is completely potty trained and will sit at the back door to let you know she needs to use it. If you don't see her she taps the door with her paw. Even the rain didn't stop her from going outside. She sleeps in her bed at night and doesn't move so there has been no need for a crate. Kayla LOVES car rides and eagerly obliged when we had to pay Dr. W a visit to get her spay stitches out. If I'm unloading groceries I always will go out to the garage for another arm load and Kayla is sitting in the car ready to go. She doesn't like that I make her go back in the house and lay down. That's no fun for her. Kayla loves food and gobbles her bowl in 10 seconds. Flat. No joke. Kayla has been the perfect houseguest and her 30 days of rest will fly by because she is so easy going and low maintenance.
11/15/2015 Update: Kayla is doing great! She is my little shadow and has decided that she even wants to sleep with us now. That's ok…we'll always make room. Kayla is the first Bulldog I've ever had that comes when their name is called. I'm betting she thinks she's getting food but we'll go with, "Kayla is a good girl who follows instructions." Yesterday was bath day and Kayla did just fine. She didn't fight, squirm, or try to jump out. She stood there and took it like a Bully. Kayla loves her foster sisters and even gives them a nightly cleaning. She licks their ears and paws and head and whatever else she has time for. We've really enjoyed our time with this lady!
11/22/2015 Update: Kayla has had another great week! She is looking for that cuddle buddy now that the weather has turned more favorable for the Bullies. Kayla thinks she'll make the perfect Christmas present and you don't even have to stand in those silly Black Friday lines for her either. Her coloring will perfectly accent a nice red bow!
Wanna Adopt?
Please view the adoption process and fill out an application at their website ---> dfwbulldogrescue.org
To view more available English Bulldogs from this rescue, click this link ---> Lone Star
Please let them know you found them on English Bulldog News!