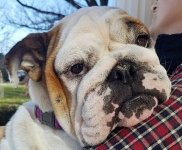 My name is Izzy and I feel so, so lucky to have been rescued by some awesome people. You see, the first few years of my life were pretty rough. I was overbred-- probably by a puppy mill--I got very sick, and was tied up in a field in Wisconsin and left alone for what could have been a very sad ending. Some amazing heroes found me, a local humane society took me in and fixed up my medical problems, and they were kind enough to ask CEBR if they could find the perfect home for me.
Physically, I'm feeling so good! I'm a little thin but other than that, I'm very healthy. My face is full of beautiful, squishy folds but I'm pretty understanding about getting my daily facial. Because the first part of my life was pretty rough, I'm very cautious when it comes to trusting humans, but I have to tell you, once I figure out that people just want to love me and not hurt me, I'm like a marshmallow. It took me a while to warm up to my foster mom but wow, now I love to cuddle, get belly rubs, and give bulldog kisses. I really like having my own space--peace and quiet are my favorite--and I don't like loud noises or fast movement. I do not like it when people try to touch my head from above and I like routines and places I know (not so much new places). I love chewing on bones and cuddling with soft stuffed animals. I have my own bed with pillows and blankets--so awesome! Yesterday my foster mom found me curled up in a chair--that I hopped into all by myself!
I think I'm five or six years old (it's hard to keep track), and I'm a little girl, about 32 pounds, but my foster mom says I'm about the prettiest little bulldog she's seen. I have a very special bulldog wiggle I show off when it's time to eat. I'm learning to go outside to do "my business" (who knew I had a business?!) but I'm also using potty pads. It's all new to me.
I have foster brothers and sisters (cats and a dog) and I'm not bothered by them at all. I'm happiest curled up on my pillows and blankets.
Special considerations: Izzy needs a loving, quiet, constant, patient family. She requires slow introductions to all new humans in her life. She might do well with another confident-yet-not-overwhelming dog. She has deep facial folds and tail pocket that need to be cleaned daily (which she doesn't mind!).
HOW TO ADOPT:
Please view the adoption process and fill out an application at their website ---> ebullymatch.com
To view more available English Bulldogs from this rescue, click this link ---> Chicago English Bulldog Rescue
Please let them know you found them on English Bulldog News!