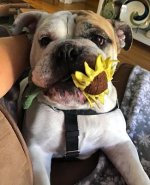 Hello!
I am Harvey and I am a very handsome 7 year old bulldog. When I was a little puppy, an awesome man picked me out and we lived together and played together and were really happy for most of my life. Then he met a woman, and she didn't like me. And then they had a baby… And then I got dropped me off in the scariest place in the world. I didn't do anything wrong, at least, I don't think I did anything wrong but he didn't love me anymore… I am so sad and confused… I am heartbroken.
The nice people at the shelter immediately knew that I should not be there and called Chicago English Bulldog Rescue to come and get me into one of their foster homes. So now I am in a foster home and getting settled in. My foster parents see my big, funny personality already, I simply love toys, particularly big blue balls. I go everywhere with my blue ball, I take it on walks with me, I put it in my crate, I bring it to the sofa and I tease you to try to take it away from me. And you never will. Sometimes, I play with a red ball and try to stuff two balls in my mouth. I am very ball silly. I like to take a walk, as long as my ball goes too and am fully housebroken. I am getting into the routine but have been pretty nervous and anxious. I am much happier when my foster dad is with me and love to be with him. I was nervous with my foster mom and told her so but she just kept talking to me in a happy voice and giving me my space and now I like her too!
I am a healthy boy, with bright eyes and a cute little nub of a tail. I have a history of bladder stones which is controlled by my prescription diet and I have had allergies which is completely controlled by a daily dose of Apoquel.
My foster parents have seen some quirks in me which they are respecting. I am possessive of my crate, no one is allowed to touch it when I am inside! I am also possessive of my food bowl when I am eating, don't touch me! And I never give you back a toy, it is mine! They say these rules are just fine and we all can live with them. They are pretty laid back and awesome. I love to lean on them, get butt scratches, smack them with my toys and sleep with my foster dad. This is not so bad but I would like a family of my own.
My perfect family is one who knows bulldogs and our big personalities, who will appreciate my funny side and my quirky side and give me the opportunity to settle in and finally feel secure. I promise to be a loyal, loving, playful buddy and give you my heart forever.
Please help me heal my heart,
Harvey
Placement Criterion for Harvey:
Bulldog experience.
Willingness to maintain prescription diet and allergy medications.
No children.
Able to respect his space.




​

Please view the adoption process and fill out an application at their website ---> ebullymatch.com

To view more available English Bulldogs from this rescue, click this link ---> Chicago English Bulldog Rescue

Please let them know you found them on English Bulldog News!

​

[SUB][SUP]
[/SUP][/SUB]
​