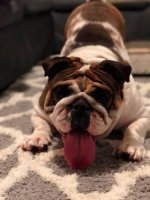 Intake Date: 9/28/2017
Last Update: 10/31/2017
Date Available: 11/1/2017
Age: 3
DOB: September 2014
Gender: Female
Weight: 60lbs
Energy Level: Medium
Color & Markings: White and brindle
Can go to a home with other dogs: No. I need to be the only dog in the house. I have a foster brother and i do not get along with him
Can go to a home with cats: unknown
Good with kids: BBR Policy states no children under the age of 8+ so, my ideal home will have kids with the maturity to handle my energy and treat me like a family member. I have human foster siblings that are teenagers and I love them! I can't wait for them to come from school and I follow them around and play well with them
Object Aggression: None
Special Needs: I need daily eye drops forever. I sit nicely for them and I allow my humans to give me my meds because I know they will help me. I will also need daily facial fold cleaning as I have deep folds and dirt and food and sweat can accumulate in there and get stinky.
​Medications: Daily eye meds, regular flea and heart worm treatment
Crate Trained: Yes
House Trained: Yes, I have only had one accident since coming to my foster home.
Physical Fence Required: No, but if there is no fence, I need to be on a leash and supervised
​Adoption Donation: $600​

Prior to applying to adopt Cooper please review our adoption process on our website with rules and process information.


Adopt a Bulldog


​
My Ideal Home:

I just love to snuggle and be with my humans. I am sweet as ever and my foster mom says I'm a roly poly girl and I think she means I'm a little chunky. But I love to sit on your lap and cuddle. I also love to play fetch with my toys. If you throw them, I will go get them. Over and over and over.
I have older human foster siblings and I love to play with them. I love the attention they give me! I wait patiently for them to come home from school and once they're home, I follow them around to make up for lost time away from them.
I need to be on a grain free food to keep my coat nice and shiny and to keep the itchies away. I really like it. I eat it all right away!
Because I love my humans and my toys and my food and my space so much, I must be the only dog. I have a foster brother right now and do not like him very much. So just me please so I can get alllll the kisses!
I have so much love to give and my foster mom said I'm just perfect. I'm as sweet as can be. So hopefully you will want to love me just as much as she does and I can find my forever home




Intake info:
Cooper was surrendered to BBR due to her health issues. She has compromised airways and cherry eye. She is with our vets getting the treatment she needs prior to being adopted.
View attachment 80123
Wanna Adopt?
Please view the adoption process and fill out an application at their website ---> buckeyebulldogrescue.org
To view more available English Bulldogs from this rescue, click this link ---> Buckeye Bulldog Rescue
Please let them know you found them on English Bulldog News!

​