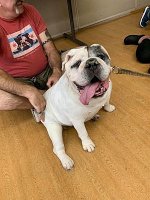 Well hello there! My name is Bella, and yes, I really am that beautiful! I know, it's hard to take your eyes off this gorgeous hunk of a bulldog! Let me tell you a little about myself.
I am a 9 year old spayed female, whose owners had to surrender. I have had chronic issues with my eyes, so I don't see so well, but there is medicine I take which helps. I also don't hear very well, but the doctor says my ears actually look pretty good, so I have more medicine for that. Because I don't see or hear so well, I can get startled sometimes if you decide to come up to me, so just be slow and gentle and I'll return the favor!
One thing which works just fine is my nose: if you open up the fridge, or a bag of food or treats, or start cooking something, I'll be right there! In fact, along with my 2 foster brothers, my foster family says I would make a great sous chef! Now I don't know what that means, but let me tell you, if there is food involved, I'm right there! I weigh 62 pounds, and my foster Daddy calls me voluptuous, which again I don't know what that means except I'm beautiful!
Like most older lady bulldogs, I can be a little slow moving at times, and I'm a little cautious going down stairs, but I move just fine! In fact, you should see me trotting in from the yard or jumping up on the couch! I like to be fed twice a day, am very good about going outside to do my business, and love to sleep in my bed or a nice sunny spot. I'm not really the snuggly sort, but I do like to sit near my foster Mommy & Daddy and get pets, which if you stop, I will give you my paw to tell you I want more! I also get along great with my foster brothers.
So, if you're looking for a beautiful, sweet, older lady to love, I'm your gal! Remember, that's Bella the voluptuous!




​

Please view the adoption process and fill out an application at their website ---> ebullymatch.com

To view more available English Bulldogs from this rescue, click this link ---> Chicago English Bulldog Rescue

Please let them know you found them on English Bulldog News!

​

[SUB][SUP]
[/SUP][/SUB]
​