Flip'n'bullies stole my heart!

Jan 10, 2013
4,668
281
Country

USA
Bulldog(s) Names

Mabel (20??-2017) Ariel
To inquire about adopting this Bulldog, please use the Contact Information shown below. Please allow up to two weeks for a response to your inquiry.
Name:
Wally
Age:
6
Gender:
Male
Location:
Twin Cities, MN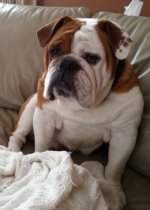 Reason given up for adoption:

moved to
Temperament:

Good
Health Condition:

good, but may have some skin allergies
Placement Limitations:

no children under the age of 6, fenced yard
Special Needs:

No
Contact Information:


[email protected]



Comments:

"Hi! I'm Wally, but I like the name Walter too. I came into rescue because my owner is in the military and served time overseas. He gave me to his parents to take care of while he was in Iraq. Unfortunately, when his tour of duty was up and he came back the US, he was not able to find a place to live that would allow me to stay with him. So he realized it was not fair to me to have to stay with someone who really didn't want to have me around and that I needed a home where I could be appreciated for who I am.
After I came into rescue, I had to be neutered. I was also vaccinated and checked for heartworm. I tested negative and am very happy to hear that. I was also microchipped, so now I am good to go to my new home.
I am a pretty easy-going fellow. I wasn't every really leash-trained, so a fenced yard is something I need because my owner didn't really train me to walk calmly on a leash. I like to pull and I am strong! So taking me for walks every day just to go potty would be a challenge for my new mom or dad. I also don't quite realize how big I am, so small children may not be the best idea. I also have an elbow injury that I am still healing from, so my not having to drag a person behind me while I look for a potty spot multiple times a day would be a good thing.
My foster mom noticed that I seemed kind of itchy at times, so she switched me to a grain-free food to see if that helps. She is also giving me Benadryl every day and that helps. I had ear infections in both of my ears when I first came to her house, but I am on medication now for that.
I get along great with my foster "brothers", but am not quite sure what to make of the cats in the house. One like to swat at me and the other one likes to rub on me, but I haven't tried to bite them or chase them, so I think I could learn to get along with a cat in time."
Because Wally is very strong and not well-leashed trained, a home with a fenced is considered a necessity for him. Because of his size a home with no small children would be best for him.
Please fill out the online application before inquiring about Wally. Anyone inquiring about Wally who has not filled out the application online prior to emailing may not receive a response. We do not ship dogs, please do not ask. We prefer to place Wally within a two hours' drive of the Twin Cities metro.
Wanna Adopt?
Please view the adoption process and fill out an application at their website ---> rescuebulldogs.org
To view more available English Bulldogs from this rescue, click this link ---> Minnesota BCARN
Please let them know you found them on English Bulldog News!