Flip'n'bullies stole my heart!

Jan 10, 2013
4,668
281
Country

USA
Bulldog(s) Names

Mabel (20??-2017) Ariel
Name: Olive-adoption pending
Age: 7
Gender: Female
Location: St. Paul, MN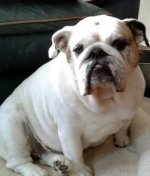 Reason given up for adoption:
not getting along with other dog

Temperament:
excellent

Health Condition:
very good

Placement Limitations:
no other dogs

Special Needs:
No

Contact Information:


[email protected]



Comments:
Olive is a very sweet dog that is well behaved and a joy to have around. As long as she does not have to share her home with other dogs, then all is right in her world. She is OK around submissive dogs, but is bossy towards them if she wants what they have, such as attention from a human. So for that reason, a home where she does not have to share the spotlight will be the best one for her. She did not tolerate other dogs that would not submit to her authority as the Alpha and that is when problems arose at her former home.

Olive is a very healthy girl. She has no health issues or skin allergies. She is good around children. She does not jump up on people and loves attention. She is spayed and is up to date on vaccinations. Olive is an "easy keeper" and needs to lose some weight, but she does not have difficulty getting around and likes to go for walks. She is crate-trained and loves car rides. She has not been around cats.

Please fill out the online application before inquiring about Olive. Anyone inquiring about Olive who has not filled out the application online prior to emailing may not receive a response. We do not ship dogs, please do not ask. We prefer to place Olive within a two hours' drive of the Twin Cities metro.


Update: I've been ADOPTED!
To view more available English Bulldogs from this rescue, click this link ---> Minnesota BCARN
Please let them know you found them on English Bulldog News!