Flip'n'bullies stole my heart!

Jan 10, 2013
4,668
281
Country

USA
Bulldog(s) Names

Mabel (20??-2017) Ariel
Status: Available
Age: 6
Gender: Male
Location: Minneapolis, MN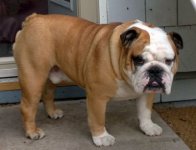 ---
Reason given up for adoption: New baby, not enough time
Temperament: excellent
Health Condition: very good
Placement Limitations: no male dogs, no children under age 5
Special Needs: No
---
Comments:
Monty is a lovely, sweet tempered fellow who just turned six on May 29th. He was surrendered by an owner who had a high pressure job and a new baby. She couldn't keep up with all the demands on her time and reluctantly made the decision to surrender the dogs to our rescue so that they could get the attention they deserve. Monty and his brother, Tiger were well-loved, but sometimes love is not enough. They also needed attention and training, something Monty's former owner didn't have much time for. Monty is in good health and has no health concerns at this time. Monty was neutered when he came into rescue.

Monty is an easy-going and affectionate boy. He was an intact male for most of his life and the alpha in the relationship with his brother, so he needs to go to a home without another male dog. He has spent time with adult female dogs and gets along fine with them, so should be OK in a home with just one female dog. He is also OK with cats. Monty has been around children and should be fine in a home with older children. Since he has never spent time around toddlers or little ones on a daily basis, he will not be placed in a home with children under the age of 5. A fenced yard is also a preference.

Monty walks nicely on a leash and is crate trained. He is house trained, but may still occasionally mark at first in a new environment due to his recent status as an intact male. Monty loves people, toys and car rides. Like all Bulldogs, he should never be left alone in a vehicle. He is a bit of a "couch potato", so not prone to getting into much mischief. He just wants to be near someone as much as he can. He just wants to hang out and be someone's good buddy. He loves towel massages. Monty is in good health, but is a bit over-weight and can't handle too long of walks just yet and does not tolerate heat and humidity very well. New owners are requested to enter him in a basic obedience class to encourage a good transition to his new life.

Monty is up-to-date on vaccinations, has been heartworm checked and is microchipped.

Please fill out the online application before inquiring about Monty. Anyone inquiring about Monty who has not filled out the application online prior to emailing may not receive a response. We do not ship dogs, please do not ask. We prefer to place Monty within a two hours' drive of the Twin Cities metro.



Wanna Adopt?





Please view the adoption process and fill out an application at their website ---> rescuebulldogs.org





To view more available English Bulldogs from this rescue, click this link ---> Minnesota BCARN





Please let them know you found them on English Bulldog News!