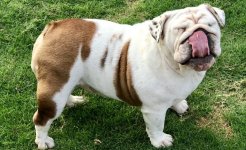 Yesterday, The Six Pack grew by two members! From volunteer Ronnie: Lola (age 4) and Petunia (age 7) joined our rescue family. They came from the same breeder in Conroe where we got The Six Pack last week. They are very bonded and really like staying side by side. Petunia is already spayed, but will need her eyes addressed. Lola needs to be spayed. Other than that, they look pretty healthy. Their skin is in better shape than the others in The Six Pack. When you put a leash on Lola, get ready for a show. She runs around and jumps in the air and twists. She reminds me of a bucking bronco. Wish I had been able to take a video today. One exciting thing is that they got to meet their "sister" Zoie at the clinic and they all danced with each other.
6/12/17 Update: Hi, it's me Petunia. Let me introduce myself. I am a shy, mature female that craves attention. Also, I am petite, by Bulldog standards. Settling into my new foster home seems to be easy. There are so many others here, it reminds me of my old home. I love routines and picking up on these new ones. The big ordeal with me was learning how to walk and not attack my leash. It's going slowly, but surely. There is another older foster here named Tonka. It's nice to have him around. We generally lay next to each other. I do have a soft coat of fur, if I do say so myself. I'm looking for a family that would love to put this elegant figure (me!) in their home. I'm still working on my potty training, but I think it's just my new surroundings. I love kids and haven't met another fur thing I haven't liked. I'll check back in with everyone next week. Please share my story, so I can find my furever home.
6/23/17 Update: Petunia back again I must say I have been living the good life lately. I have learned to walk on a leash, ok learning lol. I have a bright personality which craves your love. If you want to ever go outside with me I'm your girl! Still working on my potty training, but I don't make a big mess. I really appreciate foster pops letting Tonka and myself have our own room when he is gone. I love it because it has a nice twin size bed, water on tap, and even a big tv. I can be a bed hog sometimes and Tonka doesn't seem to mind. He is my buddy and we go everywhere together. Excited for another day outside today. If you want this bundle of happiness in your home please submit and application on our website.
7/2/17 Update: Come one, come all to an expedition of a life time! Join me, Petunia, on an epic voyage that will last many years. We will discover new things in the wild. If sharing lots of laughs, excitement and occasional scares is your thing, apply online. I will be a great guide on our adventures. We will set aside time for cuddling and napping, so no worries. There are endless possibilities for us to explore.
9/12/17 Update: Pocket size Petunia here. Lol, yes that is my niche. Everyone I meet seems to fall in love with me. They can't seem to get enough of my cuteness. I am very curious and always want to know what you are doing. I have gotten better and will give foster pops his space lately. I will just stay about 3 feet away and take a nap until he calls me over. Oh but when he does call me I am all paws! I get up on his lap and try to lick his face off. He laughs and tolerates me because its my thing. If he sits on the couch to watch tv then I know it's super nap time. Super nap time means I can dream away and constantly get the top of my head, side of my face, and body rub till he gets done. Oh it's the best feeling in the world! He constantly cleans my face to keep my mug smelling fresh. I would love to meet you and hopefully make a love connection. Please help me find my furever home and share my story.
11/22/17 Update: Petunia here, First, I would like to wish everyone a Happy Thanksgiving tomorrow. I have thought about my life lately and I am thankful for rescue. They have taken me in my time of need. I had a little attitude in the beginning, but now it's only love you will get from me. Even though there are so many in rescue where I reside. My foster parents always make time for me. I am thankful that my foster pops lets me cuddle with him at night on the King bed. He bundles me up like a little burrito every morning while he gets ready for work. I know he has to leave, but I play like I am asleep so he has to kiss me to wake me up. Haha I get him every time and I love the extra attention. I am a small gal that would love to find a family for Christmas this year. Please like and share my update.
Wanna Adopt?
Please view the adoption process and fill out an application at their website ---> dfwbulldogrescue.org
To view more available English Bulldogs from this rescue, click this link ---> Lone Star
Please let them know you found them on English Bulldog News!